GCSE Examination Results 2018
GCSE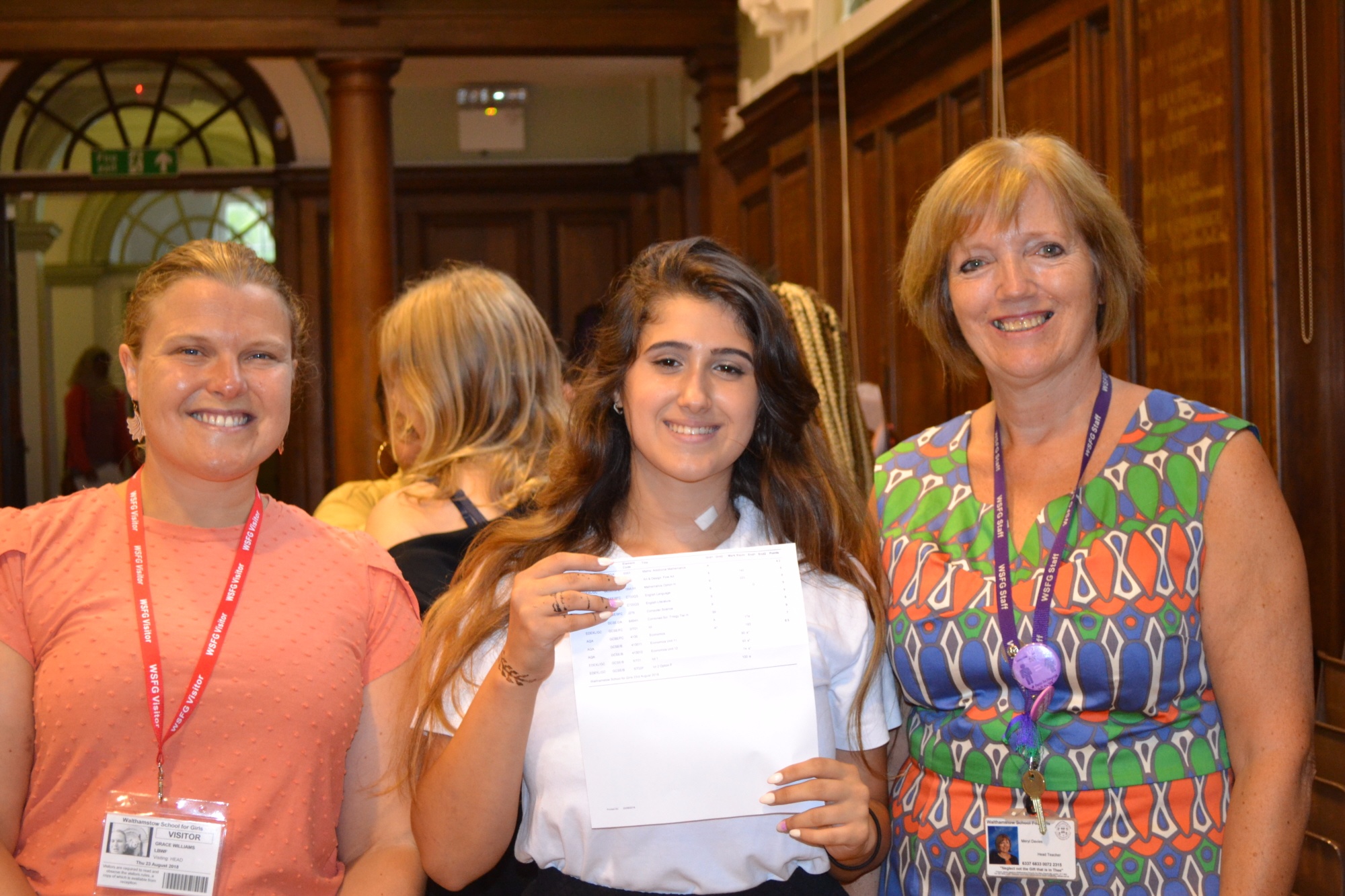 students arrived at Walthamstow School for Girls on Results Day to be greeted by the Headteacher Meryl Davies, the Chair of Governors Gillian Barker and Councillor Grace Williams, Cabinet Member for Children, Young People and Families, London Borough of Waltham Forest, who came to add her support.
Overall provisional results point to another very successful year for WSFG with 77% achieving a standard pass in English and Mathematics. 28% of entries from all subjects were awarded a grade 7-9 (previously grade A-A*). The majority of subjects have now switched to the more challenging, reformed GCSE two year examination courses which are graded from 9-1 rather than A*-E.
English, Mathematics and Science GCSE results were strong, with English at 91%, Mathematics at 78% and 75% for the Sciences. Despite a predicted national drop in the number of grade 9s awarded, 7 WSFG students achieved the highest grade 9 in Mathematics, 15 in English and a spectacular 20 grade 9s were achieved in the Sciences. One student achieved seven grade 9s, an 8 and an A*. Another student achieved 7 grade 9s and 2 grade 8s.
Meryl Davies, Headteacher, commented, "This has been another good year for WSFG, with spectacular results for the students this summer, following our Outstanding Ofsted judgement in June. Today we can celebrate not only the academic achievements but also the considerable progress made by all our students during their time at WSFG. We look forward to seeing how our results compare with the national picture, but are confident that they will continue to be very strong and significantly above the national average."
More detailed information on our results can be found in our Greensheet of 6 September 2018