Headteacher's Weekly Message
Dear Parents and Carers,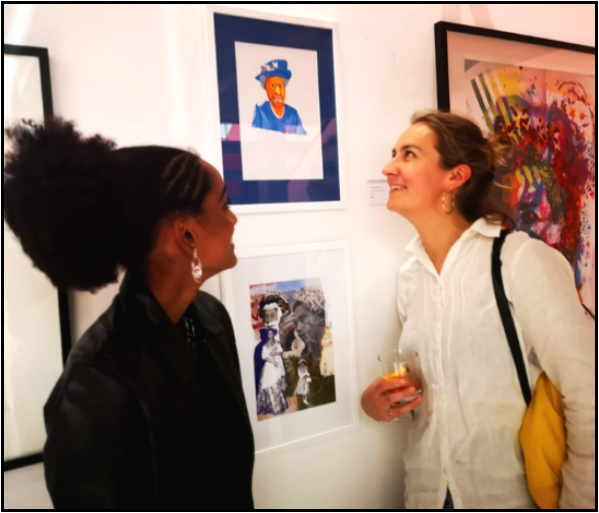 This week's message begins with an event that I attended last Thursday evening, together with Ms Wills our Head of Art. During her work experience last term, GCSE Art student Chikara was asked to produce a picture of the Queen. She told me that this took her approximately an hour to complete. To her surprise, her work was selected for exhibition in the group show 'God Save the Queen' held in West London. Her work hung alongside works by Rankin and Terry O'Neill and other established and renowned artists.
She was also the youngest exhibitor there. We would like to thank to Ms Bhatti, Chikara's mother, for inviting us to the Private View. Incidentally Chikara's work, entitled "In all her Glory" was on sale with a price ticket of £890!
On Tuesday our netball team, comprising of students from Years 10 and 11, won both their games by a considerable margin. Details can be found within this week's Greensheet – congratulations to all the students who took part.
After school, on a very damp evening, we held our Year 7 Parent Information Evening, the first one for parents/carers of students who joined us in September.
It was lovely to meet so many of our new parents and carers and to hear how well their daughters were settling into school already. The presentation slides are available here.
On Wednesday a group of students from Year 9 took part in the borough netball rally – a challenging day of competitions with neighbouring schools. Our Year 9 team was placed 3rd, which is a great achievement considering the large number of schools competing and the stamina needed to play the game for half of the day. Well done to all the members of our Year 9 netball team!
Workshops also began on Wednesday for our Year 9 Drama students as part of their 'Take the Stage' project, a collaboration which we run with the Donmar Warehouse Theatre. Students participate in a series of workshops over the following weeks in preparation for a performance at the Donmar Theatre. Ms Cornford co-organises this project each year and our students find it extremely beneficial for their development within the subject, as well as giving them an insight into the workings of a theatre company.
Concluding the school week is our curry, quiz and auction night in aid of our 2020 trip to Zanzibar, hosted by our MP Stella Creasy. With tickets sold out and many interesting items to be auctioned, it looks to be a fun night and I look forward to seeing many parents there and spending lots of money!
A reminder that we have an early closure at 2.30pm on Thursday 10th October to enable staff to prepare for our annual Open Evening. This is followed by an INSET Day on Friday when the school will be closed to students. School will resume at the normal time on Monday 14th October.
Meryl Davies
Headteacher