Headteacher's Weekly Message
Dear Parents and Carers,
It has been another busy week for us here.
On Tuesday, the Year 9 Netball Team took part in the semi-final of the borough competition. Our team won the game 4-2 against Holy Family. The team then played the final game afterwards against Chingford and narrowly lost but came an honorable second overall in the competition. Well done to the team! Later in the evening, Ms Cornford took a group of students to the Garrick Theatre to see 'Noises Off', a play based on the 'behind-the-scenes' goings on of a flop production. Students enjoyed the lighthearted performance and shared many laughs.
On Wednesday, the English Faculty took the entire Year 8 group to see 'Johnny English Strikes Again' which is being shown as part of the Into Film Festival. My thanks to Ms Schaber and the English Faculty for organising this trip. Also, on Wednesday (and continuing to Thursday), Year 11 GCSE Art students began their mock exams, ahead of the written examinations for the whole year group which begin next week for three weeks. A reminder to students that the English Language exam takes place Monday morning, with Science taking place in the afternoon.
On Thursday, we held the Year 7 Sharing Evening, at which all of our talented Year 7 students performed to an audience of their family, friends and teachers. Year 7s took part in rehearsals all week leading up to the evening with Ms Bradshaw, and their effort and hard work was demonstrated clearly in their wonderful performances. My thanks to Ms Bradshaw and Mr Hitchman for all their work preparing our students and supporting them on the night. The WSfG Alumnae Group also held a fundraising Quiz Night after school on Thursday. There were a variety of teams including school staff, alumnae members and the wider local community who all contributed to raising money for school projects.
On Friday, Ms Healy took a group of Year 10 students to the Excel Centre for a 'STEM in Aviation Event' where students watched presentations from representatives working in the STEM and aviation industries. It was a good opportunity for our students to see how their current subjects are equipping them with the skills and knowledge that they will need to go into these industries, as well as promoting the increase of the recruitment of women in such industries.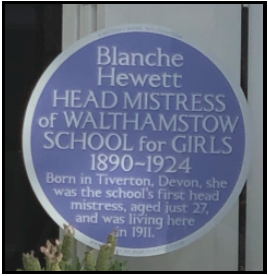 Whilst walking to a meeting at Waltham Forest Town Hall this week, I noticed this plaque in the window of a local home. So not only did Miss Hewett spend 35 years of her working life here, she also lived locally, within one hundred yards of the school.
Finally, our resident Art Teacher Ms Hepworth is exhibiting work again in 'View from the Art Room', an exhibition taking place at Gnome House next week. The Private View takes place next Tuesday from 5 – 8pm and Ms Hepworth would be delighted to see members of the school community at the event. Further information can be found in this week's edition of the Greensheet.
Wishing everyone a good weekend and that our Year 11 students have a relaxing one before the start of their mock exams on Monday – good luck!
Meryl Davies
Headteacher