History Snippets
Evacuation - A Cinderella Story
I came across this story in the 1940 edition of the Iris. It takes place when our school was evacuated during World War II,
Ms O Kelly
LRC Manager
CINDERELLA

With an envious sigh Cinderella watched her two ugly sisters as they prepared to embark for the annual A.R.P. dance at the Y.M.C.A. Hastily shouting instructions to Cinderella for the evening's housework, they galloped toward their bicycles and soon disappeared in the direction of the Central Hall.

Wearily fetching pen and ink, Cinderella was about to tackle the onerous task of filling in the ration books, when there was a resounding crash and a terrific rattling of windows. Before she could throw herself flat on the floor, she was confronted by the startling apparition of an aeroplane landing clumsily on the kitchen table, seemingly from the window. Its occupant, an even more startling apparition in flying goggles and voluminous purple robes, seeing the dismay on Cinderella's face, promptly produced her identity card, proclaiming herself to be the fairy godmother.

Thus reassured, the mystified Cinderella upon the request of the eccentric visitor, led the way to the back garden. Assuring Cinderella that she would attend the dance, the fairy godmother proceeded to demonstrate her mystic abilities. With one majestic sweep of the stirrup-pump, the Anderson shelter rapidly assumed the gleaming proportions of a super sports-car. Yet another flourish, and Cinderella's rags translated themselves into a magnificent creation of foaming chiffon and pink rose-buds.

"But", warned the fairy godmother as Cinderella leapt lightly into the car, "Be back by twelve o'clock or disaster will overtake you."

Arriving at the Y.M.C.A., Cinderella was greeted by her Prince Charming, resplendent in battle-dress and glittering array of medals. Completely ignoring the worthy members of the A.T.S. and W.V.S., he partnered Cinderella for the rest of the evening. So happy was Cinderella that she forgot the fairy godmother's warning until she heard the fatal chimes of midnight. Leaving her partner stranded in the middle of Lambeth Walk, she rushed out into the darkness, only to find the car floating sadly away into thin air accompanied by the mournful music of an air-­raid siren.

Sprinting past the Granville Hotel, Cinderella managed to get home before the ugly sisters arrived.

Just as the sisters were retiring, there was a thunderous knock at the door. Blanched with terror, the ugliest sister hurried to answer, with fearful recollections of the enormous fines for black-out offences. Instead, however, of the local warden, there stood the most handsome member of His Majesty's Forces. He told them that he had found the gas mask belonging to his mys­terious partner at the dance, and he was looking for the owner. With hasty fingers, the ugly sisters contrived to wear the gas mask, but with obviously unsuccessful results. Then, amid the loudly voiced scorn of the unsuccessful candidates, Cinderella was re­quested to don the respirator.

One graceful movement and the gas mask was transferred to her flower-like face, and, needless to say, fitted perfectly.

With a loud cry of joy the Prince Charming swept his Cinderella into his arms, and, as you may have guessed, lived happily ever after.

VIOLET RANDALL (VI)
Walthamstow County High Goes to War - Evacuation
Many Waltham Forest schools were evacuated during the Second World War.
The school was moved to Kettering and then on to Wellingborough.
Below is a drawing by a student of the time, Daphne Francis in Form VI.
Ms O Kelly
LRC Manager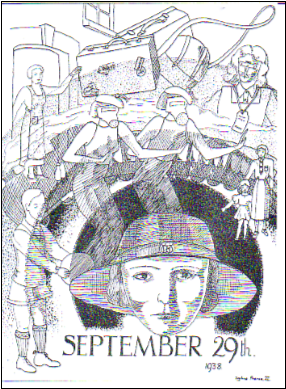 Episodes in School Life

Here is a cartoon from the December 1929 edition of the Iris magazine. School life is much the same but life is somewhat easier when ink spots do not have to be sanded off the wooden tables!
Ms Kelly
LRC Manager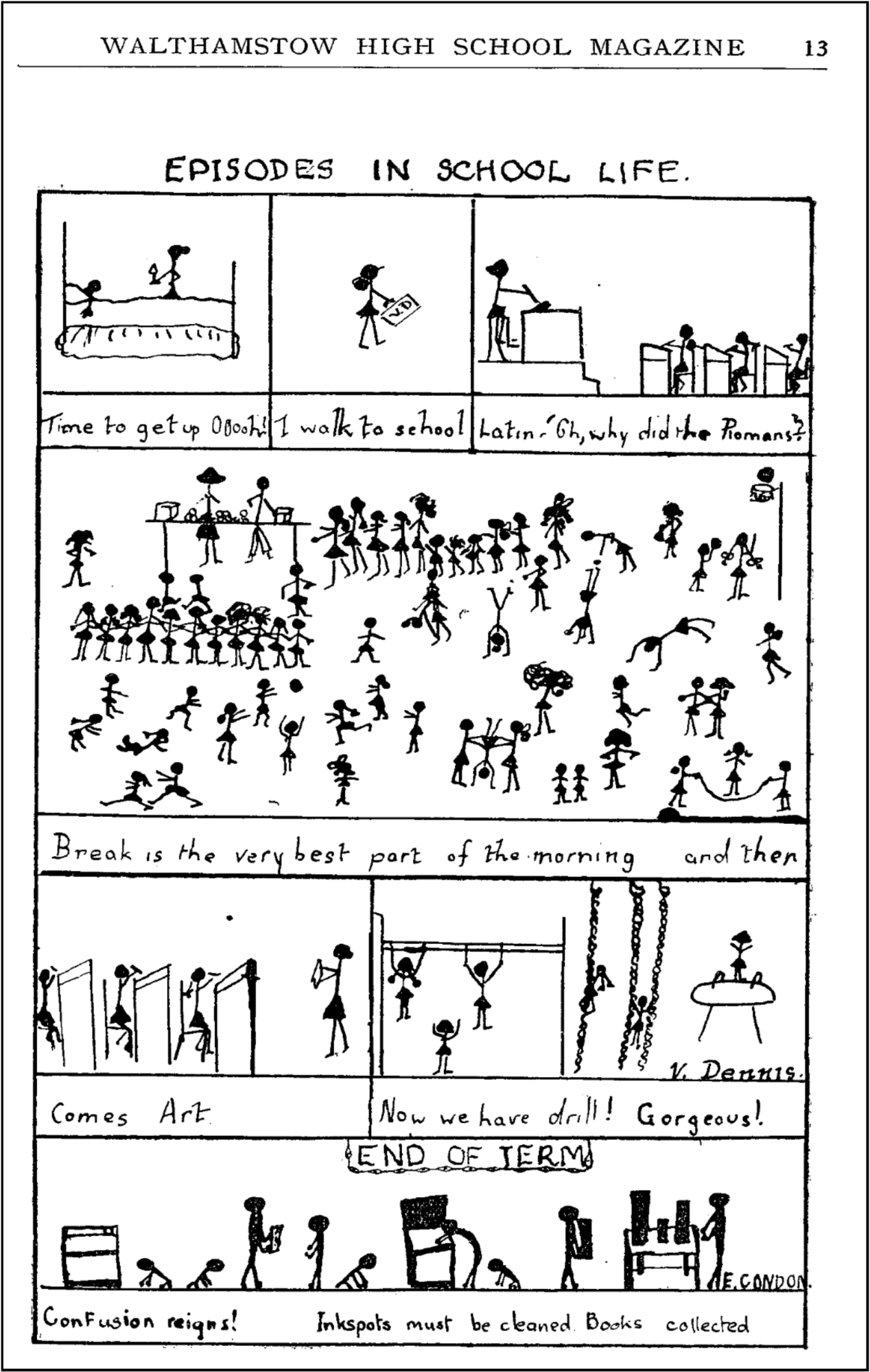 Our Greek Amphitheatre Origins

With the production of the Greek Theatre Players of Richard the Second this week, here as an excerpt from the School History book 2010 by Ethel Matteson née Britton, describing the origins of the Greek Theatre.
Ms Kelly
LRC Manager
WSFG 1923-1929

I was at Walthamstow High School for one term with Miss Hewett, the first ever Head Mistress, and then with Miss Norris, who was a Classics scholar, and it was she who had the Greek Theatre built.

When excavations began, we thought it was going to be a swimming pool, but after the initial disappointment, I for one was delighted. It was opened by the Ben Greet Company with 'Medea', with Sybil Thorndyke in the title role.

Later, when the school put on 'Androcles and the Lion', Miss Brown, the art teacher, made wonderful helmets for the Roman soldiers, from buckrum, painted with metallic paint."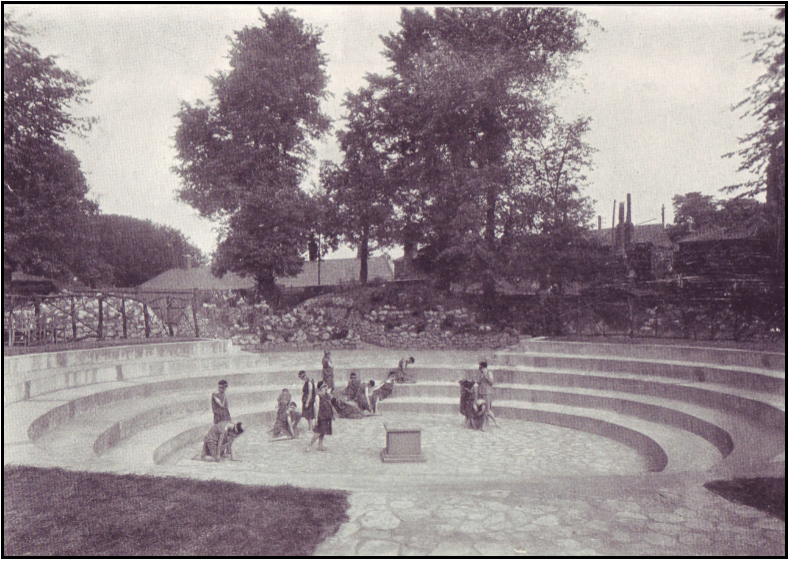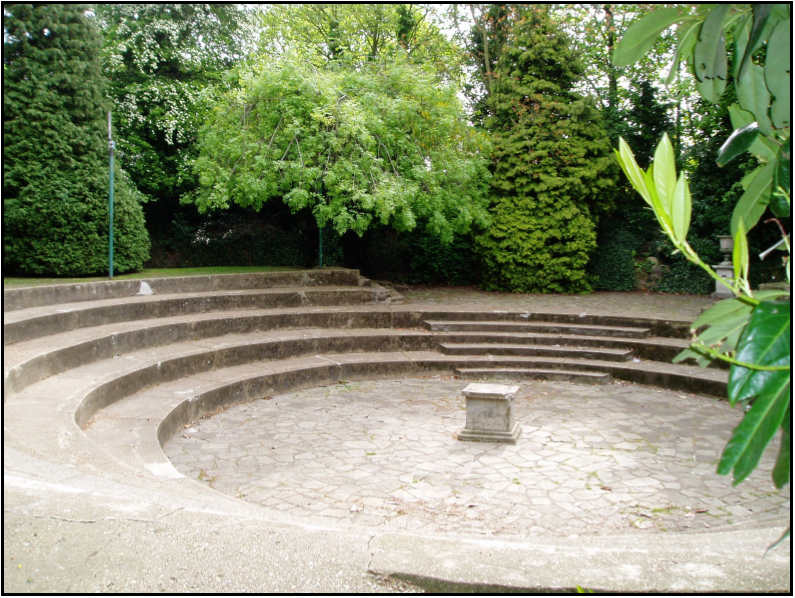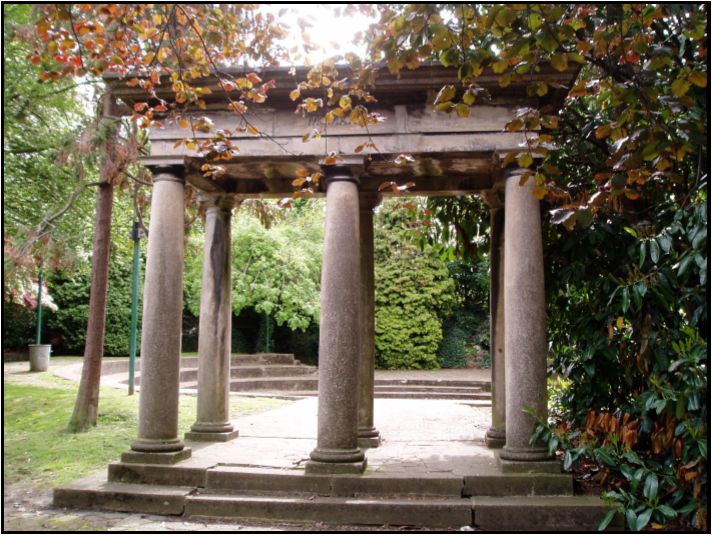 From the Sublime to the Ridiculous!

A Poem from 1957
From the Sublime to the Ridiculous

"By Jove!" said Zeus, "the time is late,

Our chariots are out of date­

Di immortales, let us go

To the Earls Court Motor Show!"

So now his lordship doth rejoice

In a stately Rolls-Royce;

But Mars, who found the Rolls "too fiddly"

Invested in an Armstrong-Siddely;

Apollo scans the Zodiac

From a speeding Cadillac;

Neptune watches o'er the deep

From a Naval jeep;

Silvans liked to take things gently,

So bought an antiquated Bentley,

Mithras rattled through the heaven

In an ancient Austin Seven;

Bacchus' Ford was confiscated

For "driving while intoxicated,"

Hermes, cop on his daily rota,

Sports a streamlined Singer Motor.

Vulcan's Vanguard caused some fear

By reversing in top gear.

Poor Cupid could not see quite straight,

And put his brakes on far too late­-

His splendid Jaguar Mark Six

Is bogged down in the river Styx;

Morpheus, the god of slumber,

Went to bed inside his Humber.

Goddesses, not to be outdone,

Decided they would join the fun;

Diana her pot shots doth take

From a sturdy shooting brake.

Athene's taste was somewhat finer ­-

Her savings bought a Morris Minor;

Psyche, in her Hillman Minx

With Aesculapins had high jinx ­-

(the latter, now a "flying doctor"

Does his rounds by helicopter).

The reckless driver's perfect dream -­

No Zebras, police, or "one way stream,"

Till Pluto, full of rage and spite,

Made an Olympian traffic light

And on the great Olympian Way

Put "NO THROUGH ROAD - SOME OTHER DAY!"

LORNA ROWE, VI
Mr and Mrs Hazell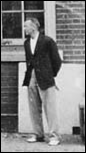 I came across this snippet in the 1955 Iris. Mr Hazell was our Caretaker and Mrs Hazell used to run the tuck shop etc. Its nice to know that after living in the school, they were re-housed in the almshouses (they left our school in 1946).
As a sequel our prefects were invited to the opening of the soundly reconstructed section of the Almshouses. They witnessed Col. Sir Stuart Mallinson cutting the ribbon with his own penknife, inspected the four charming new flats that combine the best of old and new, and partook of a splendid tea in the Great Hall in company with boys who represented the Monoux School. W.H.S. had given some tea and pots of flowers to greet the incoming tenants of the alms-houses to all of whom our greetings go out, especially to our old friends Mr. and Mrs. Hazell, who for so long looked after us all so well.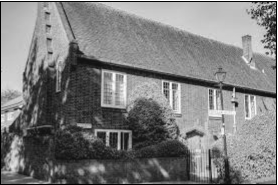 Joining the French Resistance

Here is an article from the Iris of 1939 about Renee Edwards and Grace Davey, ex-students, who visited Germany just before the outbreak of war.
Renee Edwards went on to work with the French Resistance during World War II.
GERMANY WITH THE INTERNATIONAL SUMMER SCHOOLS
JULY 1939

. . . We were rewarded in our search for evidence of tyranny by finding notices outside parks, certain shops and public institutions, to the effect that Jew's were "verboten," by seeing the Jewish synagogue in Berlin that had been burnt down, the many soldiers in Berlin, the superfluity of swastikas; and we also dis­covered that politics might be discussed only in an intriguingly mysterious way, and with a promise not to betray the author of any outspoken sentiments. This prevented neither us nor our friends in Germany, from discussing Hitler's regime, and we learnt that the majority of them believed their Fuehrer to be a new Christ and a Miracle Man, whose work was to put Germany back on to the footing it deserved, with new confidence inspired by the unity of Teutonic peoples. The restrictions and implicit trust demanded were but temporary, and only the means to greater comfort and security in the future. Some, however, admitted that should Germany be led to encroach on the possessions of other nations and exceed the aims put forward by Hitler to the nation, they would promptly change their opinion.

It was necessary, however to exercise a little tact in order to encourage them to discuss their ruler's policy and the general situation in an unbiased way, for not only were they inclined to treat us rather off-handedly, because of our sex, until we revealed some interest and proved that we could discuss other matters than dress, scandal and so on, but unless questioned in a disinterested way, they would refuse to discuss the subject further and would act as if they assumed we were narrow-minded critics. On the other hand, when the discussion was more in the nature of ques­tions and one was prepared to treat one's own country's policy in a patriotic but unbiased way, the talk was considerably more interesting and revealed their true reactions.

There were, too, pictures of the Storm Troopers in our minds-terrifying men, we had thought; yet among our guides were schoolmasters, who voluntarily accepted the arduous task of con­ducting these tours during their holidays, and some of these were also "'S.S.'s." No one, meeting these men, could reconcile in her mind their kindness, thoughtfulness and gentleness, with the atrocity stories all too common in the newspapers at the present time.

. . . Least of all shall we forget the first part of the journey home from Eltville to Koblenz on a Rhine steamer, the most beautiful stretch of the Rhine, past numerous castles, sloping vineyards and the famous Lorelei. Although we were pleased to be home again, it will be a long time before we forget this holiday or our friends in Germany and before we reconcile ourselves to the tragedy that has followed so quickly after.

RENEE EDWARDS, GRACE DAVEY (O.G.s)
What our Students did in the War

As the country is remembering the D-Day Landing, it is also important that we remember the role of women during World War II. The Iris magazine included a list of occupations of former pupils in 1944. Here is the list, along with the meaning of the acronyms. The most intriguing entry was for Renee Edwards, who was going to Paris to work for the F.F.I.
Ms Kelly
LRC Manager
NEWS OF OLD GIRLS

A.T.S. (Auxiliary Territorial Service –the women's branch of the British Army)
WINNIE MOORE is an officer Aldershot.
JOYCE NORTH.
JOYCE FABER
JOYCE PRICE is now a Company Sergeant Major.
ROSINA BEARD is a teleprinter in S.H.A.E.F. in France. (Supreme Headquarters Allied Expeditionary Force).
BETTY HOLLAND is a Lance Corporal in the Signal Corps.

W.A.A.F. (Women's Auxiliary Air force)
VERA BARRETT is now a Meteorologist.
IRENE BARRETT is doing Radio work.
BERYL CHERRY is an L.A.C. Flight Mechanic at Cranfield.
ADA ENDERS is a Meteorologist.

W.R.N.S. (Women's Royal Naval Service)
JOYCE BRABNER.

Training Colleges.
PAMELA SMITH is taking a Radio Course for *R.E.M.E. at the South-West Essex Technical College. *Royal Electrical and Mechanical Engineers.

Teaching.

YVONNE ABBINETT is now teaching in an evacuated school.
MARGARET FAIRBRASS is still teaching at Wood Street School, but has had six weeks' experience under the evacuation scheme, at a Nursery School in Bucks.

Nursing.
WINNIE NICOLL is at the Military Hospital, Chelmsford.
OLIVE PETT is a Sister in the Queen Alexandra Nursing Reserve, on embarkation leave and ready to go to the tropics.

Miscellaneous.
RENEE EDWARDS is going to Paris with the Offices of the F.F.I. (French Forces of the Interior – known as The French Resistance).
JESSIE FELTHAM after being released from Garage Mechanics, has returned to office work.
JUNE GRIFFITHS is at the Walthamstow Food Office.
RUTH HYATT is doing First-Aid duty at Bush House in her spare time from the Ministry of Supply.
Fresh Air Day

During the finer weather, our school introduces a 'Fresh Air Day' once a week for each year group. This is so that students can enjoy our fantastic outdoor spaces that we are fortunate to have at this school. In 1946, Miss Norris, the Headteacher also believed in the benefits of fresh air. However, one of the students, Olive Blanche Cole, voiced her protest in a witty poem in the Iris magazine. It should be noted that this poem was set, indoors and during the winter!
Ms Kelly
LRC Manager
Wot! No Air?

Sitting down to Latin once, upon a frosty morn,
Door shut, windows shut, and looking quite forlorn,
Meekly Upper Four H Form were waiting for their Head,
With heavy minds, sleepy brains, and hearts like lumps of lead.
Along there came Miss Norris, gave the comfy girls a scare,
Threw them a reproachful glance and then said, "Wot, no air!
Open up the windows, girls, then throw wide open the door,
A stuffy room breeds lots of germs, I've told you so before."
Sitting with their teeth now dancing in their heads,
With rosy visions of a future spent in sick-room beds.
All the girls of Upper H Form, vow resolvedly
To take their dose of morning air in smaller quantity.
A warning to all mistresses, while I have room to tell,
Be sure when killing nasty germs, you don't kill girls as well.

O. COLE, Upper IV. H.
Food & Shopping in Canada in the 1950s
Joan M. Crowe (Morgan), provides us with a glimpse of the future of food and shopping in the 1954 Iris magazine. She writes about her summer spent in Ontario, Canada.
Ms Kelly
LRC Manager
Food habits are rather strange, they have gone to enormous lengths in order to get pure food with rather disastrous results. The bread is so pure that they've practically only starch left, so they have to put vitamins back in it! Milk is homogenized, which means it comes out looking like chalky water, tomatoes come in boxes of four or five, spinach already washed (?) in paper bags and so on. The bread is sweet, too, and rather like a sponge and the crust is almost non-existent.

The groceteria near where I work is most magnificent, about as big as Bakers Arms' Woolworths. I got the shock of my life the first time I patronised it. I put out my hand to open the door and it jumped away from me; they have a photo-electric cell and beam which you cross and the door opens automatically - just like the one in the South Kensington Children's Science Museum. I've never see one elsewhere. They even have meat ready packaged and priced in that one. On the way out there are barriers; you unload your basket and the girl rings up all the items on an electric adding machine and puts them in an enormous paper bag; they are even selling special metal baskets on wheels called "bundle buggies" to take them home in. Every item is wrapped and I usually have a wastepaper bin full when I unload at home.
On the School Motto ...

I came across this delightful little poem in the 1954 copy of the Iris school magazine. For those who do not know, a G.C.E was the exam taken at the time.
Ms Kelly
LRC Manager
On the School Motto

A budding Shakespeare you may not be,

Nor yet a potential B.Sc.,

But do not despair,

For the talent is there,

So Neglect not the gift that is in thee!

If a doctor or linguist you would be,

Or even a lawyer - perhaps an M.P.

Neglect not your Chemistry,

Your Maths, or your History,

Neglect not the gift that is in thee!

Take heed of the above lines written by me,

If you would obtain your G.C. of E.,

Neglect B.B.C.,

And also T.V.,

But Neglect not the gift that is in thee!


Joy Waugh 4H
A Poem About Leaving our School
For those students who are embarking on the next stage of their education, here is a 1923 poem from the Iris magazine by E. Foster, who was also about to leave our school.
Vale!

THE Time has come; we part and go our ways.

Leaving, we rai

se to thee, Oh School, a paean of praise!

For thy spirit strong and free,

Heritage of liberty,

For the stirring unknown power

That infects each striving hour,

When, in eager competition,

Forms uphold some proud tradition,

When, with fierce exhilaration

Comes a sudden inspiration.

For eager teams and flying ball­

-The umpire's whistle thrilling all-

For secret cause of sudden mirth

And jokes that have untimely birth.

For social nights within the hall

The bright lamps swinging over all-

The audience packed with parents proud,

The song, swift dance, and tunicked crowd

Of girls in expectation tense.

For sorrowful experience

That lessons teach of self-control.

For comradeship, when heart and soul

Are centred on some mutual goal

And one is nought without the whole.

For sun-patched, cheery corridors

And classes hushed within closed doors,

For noises loud-or soft-and strange

And all the healthy interchange

Of thought, opinion, love and hate.

For bells that gladden those who wait

In expectation of release.

For friendships that may never cease.

These have we known, Oh School! in thee.

For these be ever praise to thee!

The time has come, we part, and go our ways,

Therefore, Farewell! ye happy fleeting days.

E Foster
Ms Kelly
LRC Manager
A Poem from 1907 ...

Here is an poem by an unknown student in the IRIS of June 1907. I hope the sentiments still ring true.
Ms Kelly
LRC Manager
A RETROSPECT

Once as thoughtless children we

Troop'd to school so merrily,

There our many tasks to do,

There to meet our friends so true:

Some found learning dull and dry

Some had aspirations high;

Some were quiet, careful, good –

Others in disgrace oft stood,

Always happy, fun of fun,

Till our school-girl course was run.

Though those days have pass'd away,

Lovingly we think to-day

Of the many joys reveal'd,

Of the lasting friendships seal'd :

Of the efforts to inspire

In us all a keen desire

For a Knowledge of the Truth: Happy echoes of our youth!

We shall bear them through the years

'Mid Life's laughter, love, and tears
Alumnae Success Stories!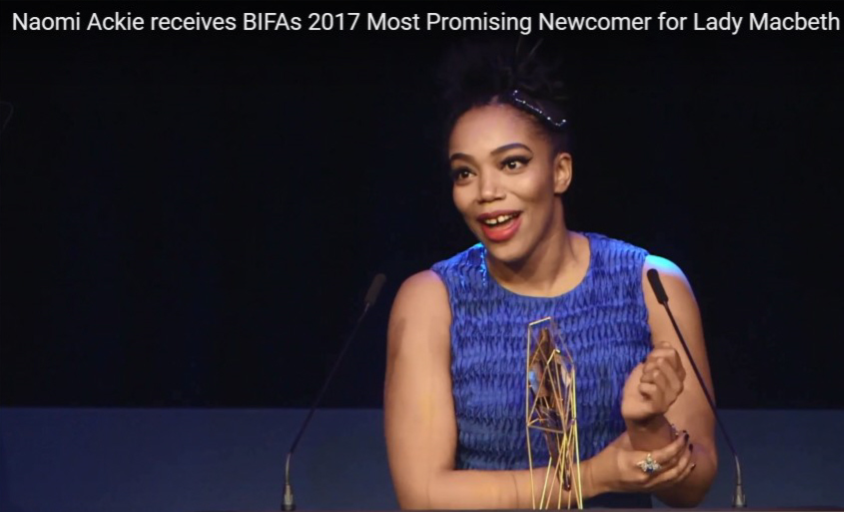 Naomi Ackie, a student from 2003-2006, received the British Independent Film Award (BIFA) in 2017 for most promising newcomer.
She is best known for her role in Lady Macbeth (2016).
She has also been nominated twice for the British Independent Film Awards.
Naomi has appeared in an episode of Doctor Who, Vera and Cleaning Up, and will be in the new Star Wars IX film later this year. Watch out for Naomi!
---
Another of our students, Anna Hallas Smith, is appearing in Classified, by Jayne Woodhouse, at the Loosely Based Theatre Company on 6th & 7th March.
These are three short, interlinking plays exploring the impact of social class on individual lives, set in the present day and an imagined near-future.
The Stage
For those students and staff preparing for our next school production, we can
only imagine the amount of hours that go into rehearsing. Here is an extract by a former pupil, Eileen Raven, from the July 1926 Iris magazine, detailing the trials and tribulations of a life on the stage.
Ms Kelly
LRC Manager
Iris July 1926

THE STAGE

This is not a profession I should advise anyone wishing to make money to adopt. It is very interesting and exciting but it is a profession of continual disappointments and constant hard work.

The best place to gain experience is I think universally agreed to be in repertory work; that is, as a member of a resident company playing a different play each week. I will try to give you an idea of what work with such a company means.

On Tuesday morning you arrive at the theatre at ten and straight­way start to rehearse next week's play until about one o'clock. Every morning this rehearsing continues, matinee days as well, with the exception of Thursday, which is set apart for study. Your afternoons are your own. Monday brings you to the last rehearsal, for that play is given in the evening and next morning a new one is started. For those who have a heavy part to study and rehearse and a totally different one to play in the evening the life is decidedly strenuous.

The stage has a fascination of its own, but behind the glare of the footlights is hidden more disappointment and failure than the world outside ever knows about.

Eileen Raven (Old Girls Association)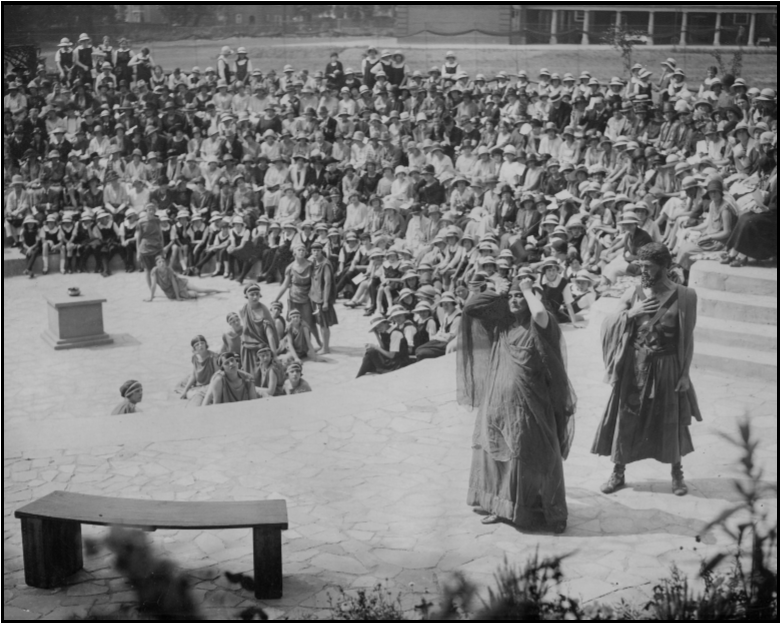 Doors ...

We have an 'Open Door Policy' here but unfortunately the door-stop isn't always working. So, the peace of the library is sometimes disturbed by the noise of a nearby door slamming open (oddly enough, it never slams closed). This may be caused by the combined force of 30 students trying to get through a small doorway, all at once, usually at the beginning of lunch or the end of the school day! Sometimes, the doors to the LRC close when there is no one around, either we have very small pupils or the school is leaning to one side, it's anybody's guess.
Here is an article about school doors by Yvonne Abbinett, who was evacuated to Wellingborough during World War II. She writes about the school in Northampton and our present building, when Miss Norris was our Headteacher and Miss Park was the Drama teacher.
Ms Kelly
LRC Manager
DOORS

I have this minute decided to write an article about doors and the various approaches of various people in various ways thereto.

Take, for instance, the doors at the Wellingborough High School, through which we pass innumerable times a day. The swing-doors-such nice playful things; you can dive right through the middle of them, if you care to take the risk of being knocked flat on your face when the recoil sets in.

Also at the aforementioned school the class-room doors, unlike our own at home, prevent girls from peering unobtrusively through their solid wooden panels; so you either have to open the door, majestically or furtively. Whichever becomes you, and find it is the wrong form-room. Whereupon the powers that be turn the full battery of righteous indignation upon you, and you retire hurriedly, mumbling apologies, or sweep out with a "how tiresome, I was sure I was right" look, which inevitably falls flat as you know the mistress will immediately sarcastically ask a delighted form, how work is to progress. . . or other such suitable questions. Or as an alternative you can revert to the degrading method of "keyhole-looking-through." I, personally, am becoming accomplished in the art of recognising a mistress by her keyhole-shaped silhouette.

Exempli gratia (look up what it means, you should know) a bright purple keyhole is Miss Park, especially if the keyhole is in continuous motion; and a pair of lorgnettes surmounted by a gleaming chain denotes Miss Norris' presence.

It is quite amusing to observe members of the School and Staff; yes, I have witnessed the stooping of certain mistresses to keyholes, creeping about the galleries and even placing an ear to a keyhole to detect the voice of the one they are tracking.

The familiar joy of peering through glass panels and distracting the form's attention, is gone for a while: for how long, I cannot say.

I was bitterly disappointed over this point, as I had just reached the height at Walthamstow when I didn't have to bounce up and down undignifiedly to see what I wanted to see, as I had to when merely a puny Lower Third.

Still, we must resign ourselves to the inevitable; the mistresses must endure frequent interruptions; the pupils must not be distracted by them, and both parties must practise the little-known art of School Espionage without Detection.

YVONNE ABBINETT (V.A.)
Science in 1931
Here is a poem from the 1931 edition of Iris, our school magazine,
Science Sixth

Straight line graphs; they come in Maths.

And curved ones too, alas! they do.

Conics is the study of the sections of the cone.

Be thankful if your knowledge is that, and that alone.

I is Infinity to which everything tends,

This is the place where all unfinished ends.

Euclid's theorems are world-renowned;

Some of his books still haven't been found.

Newton founded calculus,

O unlucky day for us!

Chemistry is with matter concerned;

To study this science you need to be learned.

Einstein's wisdom us astounds:

His propositions know no bounds.
Remembrance

Remembrance
The First World War deeply affected people long after it had ended. Here is a poem by a student, Olive Baker, written in the 1933 Iris which remembers those people who died.
THANK God for peaceful England, this dear isle;
For England's quiet green beauty and her fame;
For her never-failing honour, and her ever-glorious name,
Which still doth stand though nations fall the while.

Remember! Only nineteen years ago,
The roll of war's dread thunder filled the air,
And ev'ry home was called upon to spare
Her father and her sons, to fight the foe.

Think, that the flower of all this nation,
And the good, were laid 'neath alien sod.
And for them England now gives thanks to God.

So while we in security may dwell
Remember still those sons who fought and died
For England's noble glory and her pride.

Olive Baker (Form VI.)

Walthamstow and WW1

The LRC has had an exhibition about our students
involvement in the First World War. All staff and
students were welcome to come along to see it when free and staff were able to book in classes to work alongside our archive resources.
The display covered many aspects, including War Weddings, Fundraising in Australia, Poetry, Nursing and Suffragettes. We have diaries from two former students stranded in Switzerland and France, detailing their journey back to England. 'Our Boys', has information about former male pupils which demonstrates the resilience of those involved.
Walthamstow hosted Belgian Refugees at a centre in Wood Street and I would like to share with you a part of their story.
Ms Kelly
LRC Manager
High School Girls and the Belgians.

We can do very little for our friends from Belgium, but every Monday a box is placed in each room for contributions from the girls. We give what we like but it must be our own. The collection, not counting what is given by the Staff, amounts to an average of a guinea a week, and is devoted to the Belgians of the Wood Street Centre. Feminine activity finds expression in knitting. Wherever you go, you see nothing but wool, hear nothing but the clicking of needles. It is knit, knit, knit from morning till night……..

The Belgians are just like a happy family. The majority speak Flemish only but a few know French. The eldest is a dear old lady of 84, who sat by the fire and smiled. The youngest is about 17 months - just as dear, and makes an even more pathetic case, for the child seems to have lost its parents, and we can trace none of her relations. It is a puzzle how she came here, she was the centre of interest and we all crowded round, trying to coax her to play, but with little success. She has taken a fancy to one of the women and will go to no one else. To be sure, as "mother" held her, the little one did condescend to shake hands all round.

Pianoforte solos by Doris Atkins, Hilda Farmer, Winnie Berry, and Kathleen Attenborough were greatly appreciated, as well as the duet by Peggy Robbins and Ethel Holmes. Lou Reeve recited in French and was heartily clapped by those who did not understand, and even more heartily by those who could appreciate. Cora Bayne gave us one of her delightful dances. The dignified sixth, robed in drill tunics, enjoyed the healthy exercise of a country dance. Some of the girls in Va. made fine shepherds, and danced with their lady-loves as gracefully as if they had been born and bred in the country. The Belgians really enjoyed this; they are peasants and it appealed to them. Two or three in our corner took arms and were just going to join in, when they were restrained with difficulty by another who grew quite alarmed …

Two or three in our corner, who were rather excitable, stood up and flaunted their little English with "Hip, hip, hurrah"! "It's all right," and "It's very good," which appears to have been all they could say apart from "Good Night." When they had quieted down a little, Winnie Gowen sang "Tipperary" and of course, we all joined in the chorus. We also sang the Belgian, French, Russian, and English National Anthems. We had to go then, as it was 8.30 p.m. and they like to go to bed early. However, it seemed as if they did not want to leave us, for they came to see us off at the gate, amid many a noisy "Good Night" and "Bon soir." We certainly had as good a time as they did and were sorry it was all over. On the serious side, no one could respond with more out-and-out heartiness than we to the call of­ hats off and three cheers for Belgium!

G. JENNINGS
Exam Stress is Nothing New!

Here is a poem from the December 1927 Iris magazine, which many of our current students taking exams and tests will be able to relate to. The title is ironic, as you will see when you read the poem.
Ms Kelly
LRC Manager
"Our Carefree Youth"

LAST night we decided to get up at five
And 'swot-up' some words that from Latin derive,
Prepare last week's history, an essay to write,
To translate some French at the very first sight,
To juggle with x's, with y's and with z's,
And generally cudgel our sleepy young heads.
Alas! though at eight the alarm clock went off,
We shiver and growl as our nightdress we doff.
Five minutes for breakfast, no more can we stay,
We put on our hats and then run all the way.
We think of the test we've been promised to do
In Latin, and English and Arithmetic too.
We shudder and groan as we enter the room,
"Rough note-books and pencils" – those words full of doom;
Well-known and expected they fall on our ears,
As hopeless and helpless we burst into tears.

G. McFarlane (Va)
Local History Book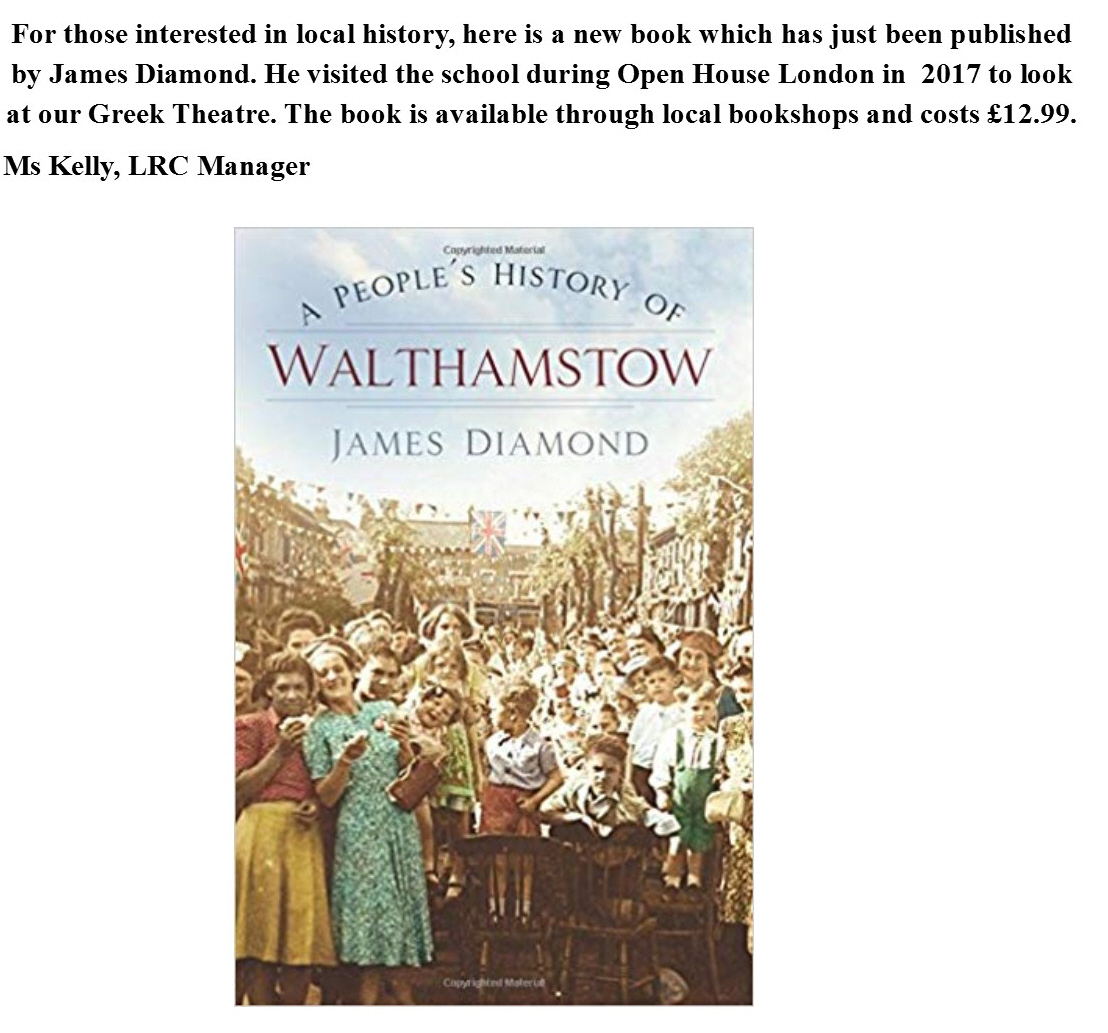 ---
The First Student and Teacher

Over th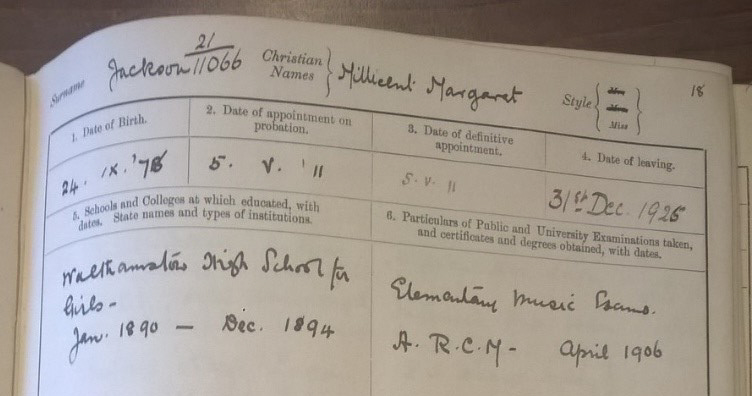 e years, many of our staff members have also been former students of the school. The first teacher who was also a former student was Millicent Margaret Jackson, who was appointed in 1911 and stayed until 1925. She was also one of the first students in the school, attending in 1890, the year the school was founded.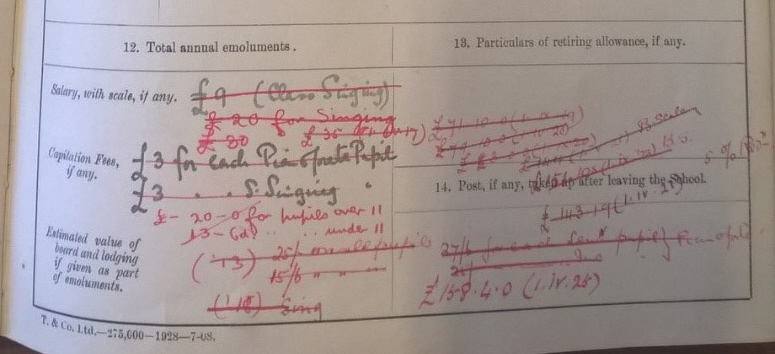 As a Music Teacher her wages were calculated on the number of pupils she taught. She was employed for two days a week, earning £3 for every Pianoforte and Singing Pupil and £9 for Class Singing. By the time she left in 1925 she was earning £158 4s 0d. A Supply Teacher at that time earned just £2 per week.
WW1 Open Day at Vestry House

WW1 Open Day Vestry House & St Mary's Church
Our school participated in this event, with a display from our archives. The display mainly focused on women, with information about War Weddings, Poetry, Fundraising in Australia, Nursing and Suffragettes. It also included diaries from women stranded in Europe, detailing their journey back home.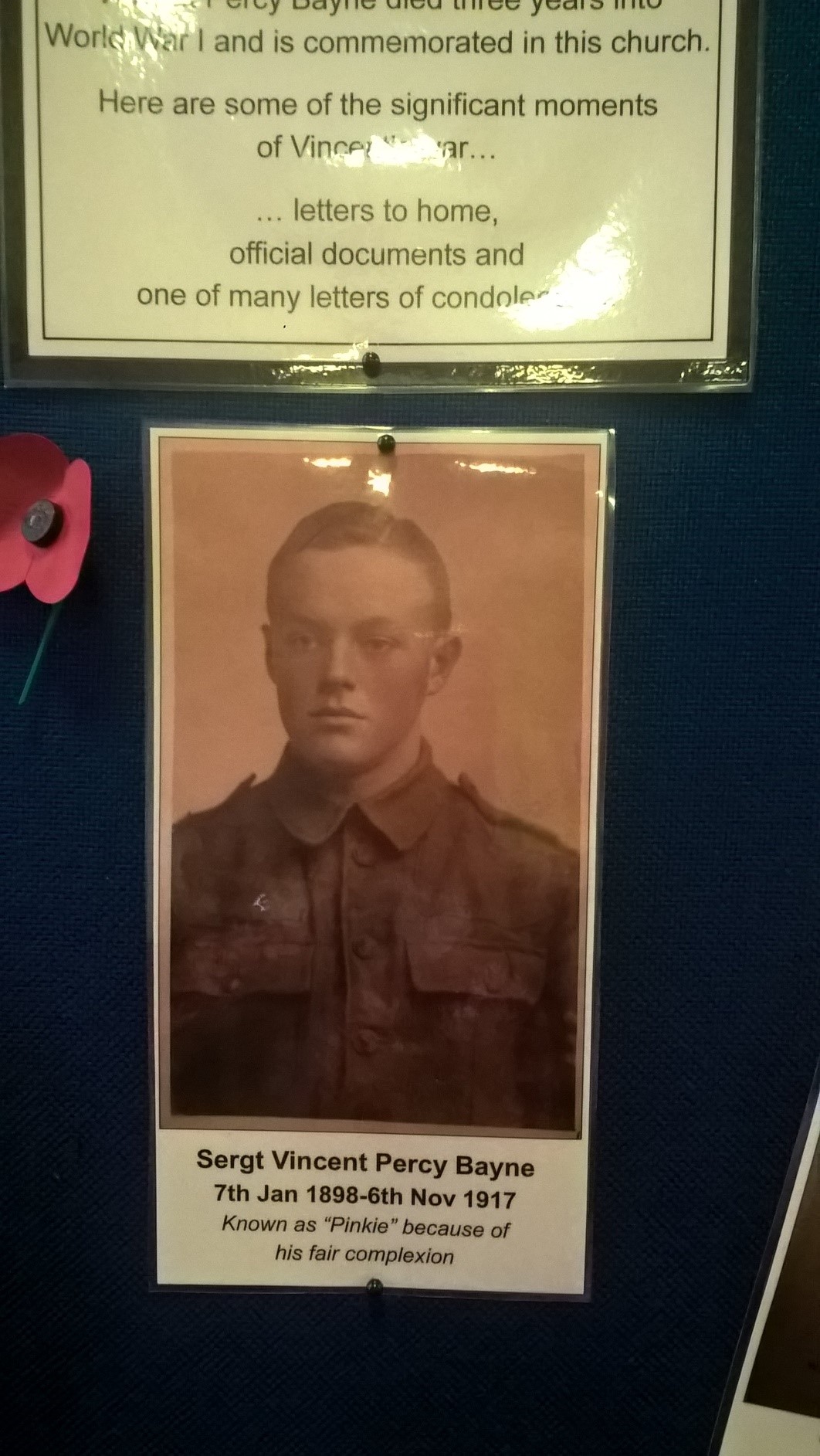 During this period, our school also enrolled boys up to the age of 11 and so 'Our Boys' stories were shown. The church has memorials to brothers of our students and there was a detailed display about Vincent Bayne, who died at the age of 19. His sister Cora Bayne attended our school and in the 1914 edition of Iris, our old school magazine, it noted that Cora gave a delightful dance to the Belgian Refugees.
Walthamstow hosted Belgian refugees at a centre in Wood Street and our school held parties and raised funds to support them. A person who came to the event, told me that the Belgian refugees lived with his family in Prospect Hill.
I would like to thank Ms Winter and our Alumnae Committee for supporting this event.
Ms Kelly
LRC Manager
Obituary

It is with great sadness that we announce the death of Ethel Matteson,
née Britten, our oldest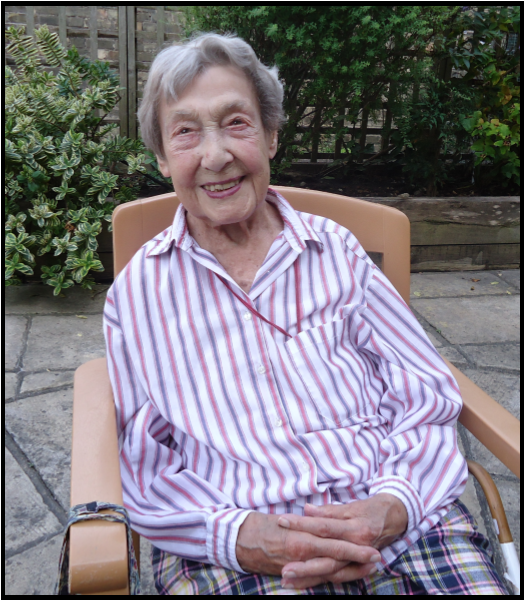 alumnae at the grand age of 106.
She attended the school in the days of the first Headteacher, Blanche Hewett, along with her older sisters, her twin having sadly died at the age of 5.
The Britten family lived in Cazenove Road, Walthamstow. During her time at the school the Greek theatre was built and Ethel opened the 80th Anniversary fete in July 2005.
She was also a guest speaker at the 2012 Alumnae AGM, at the sprightly age of 100, speaking for half an hour without notes!
It has been a great privilege to have known her and to be part of her family. She leaves a son, daughter, grandchildren and great children, including twins in whom she took great interest.
The Alumnae will be making a donation to the Age Concern charity in her memory.
Ms Winter
The Alumnae Committee
Sports Day 1906

We now have twice yearly Interform competitions and an annual Sports Day. I would like to share with you the article from the November 1906 edition of the 'Iris' magazine. It is describing Sports Day and the various races. I still can't figure out what a 'flat' race is and the 'spearing a potato race' sounds scary!
Ms Kelly
LRC Manager
The Sports

Our Sports were held on June 20th. The day was beautiful, although perhaps a trifle hot.

The visitors were seated on chairs, round the field, striving to be as much in the shade as possible.

The first item on the programme was the Fancy Skipping. This was very pretty and everyone joined in.

Following this was the Spearing Potato Race, for which were offered a first and a second prize. These were won by Ethel Dann and Girlie Foxon respectively.

The children from Form 1 and Preparatory then had a competition all to themselves, namely, Bouncing the Football. The opposite sides were adorned with green and yellow bows.

The yellows, headed by Violet Norwood, came off victoriously.

The next proceeding was the Egg and Spoon Race, which Olive Cooper won, Dora Cross being second.

The Three-Legged Race then took place. Elsie Cotching and Gertrude Allen came in first, with Beatrice Norwood and Ruth Holdstock second.

The Flat Race for girls over thirteen was won by Elsie Cotching, and Olive Cooper took the second prize.

The Junior and Senior Drill was a very interesting and instructive item.

The Backward Flat Race was won by Ethel Dann, and Elsie Bennett came in second.

The last item was a Tug-of-War between the old and present girls. The latter being victorious.

During all these proceedings, many of the visitors were glad to be supplied with tea, which was served on small tables scattered about the part of the grounds not used for the Sports.

The profits from the tea were £1 16s. 3d., which went to the School Games Club.

All then gathered round to see the distribution of the prizes, but owing to some delay they had not arrived. The girls, however, received them at school two or three days afterwards.

Many votes of thanks were given, including one to Mr. Hallows, who, for the second time, had so kindly lent his field.

Helen Mercer
Keeping the School Clean

The snow earlier this Spring wreaked havoc in the building, salt was carried in on everyone's shoes, leaving a trail of white across all the floors. The premises team were busy all day ensuring that the floors were safe, but until this sort of thing happens, you don't realise how many people are constantly moving round the building.
I came across a letter by Phyllis Helps, who left the school in 1918, which shows the cleaning routine in the school at that time. I have also left in the part about the teacher's clothes. As we celebrated our freedoms and opportunities on International Women's Day, it is worth noting that our female staff were not only restricted politically but physically too.
Any ink marks on the floor had to be rubbed out with glass paper, and supervised by a teacher in the cloakrooms seeing that we changed into plimsolls on arriving and never leaving without our gloves on.

Our headteacher was Miss Hewett, supported by Miss Richardson and Miss Goldwyn, both wearing lace fronts to their blouses with bone supports. And of course gold chains with watches tucked into their waists. Miss Hewett was a little more modern.
Ms Kelly
LRC Manager
MBE for ex-Student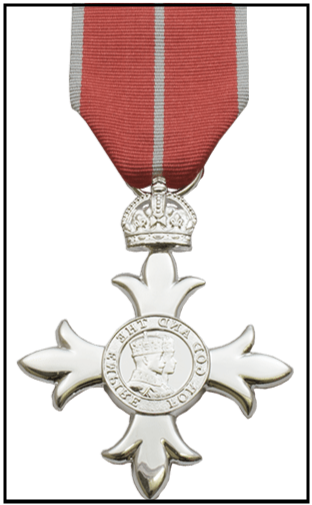 Janice Pettit née Warner, student from 1965-1972
Janice a local Girl Guide leader has been recognised in the New Year's Honour's list with an MBE (Member of the British Empire) for spending for over forty five years volunteering with young people and the local community in the borough.
She also serves as regional chair of the Guides' awards committee for London which oversees groups in Waltham Forest. Her work with the Girl Guides led her to being offered a role in the 2012 London Olympic Games, as a "Games Maker". She was one of 70,000 picked from 240,000 applicants and volunteered for the 'Games' media team.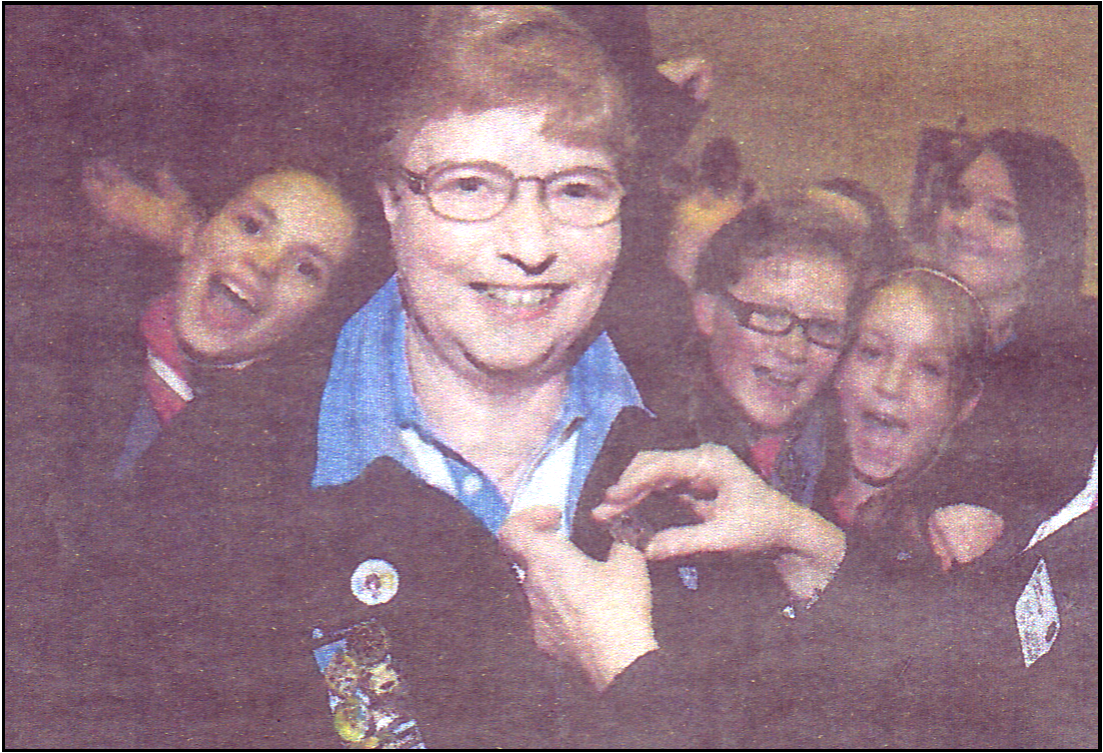 Congratulations to Janice from all at WSFG.
Ethel Mattison

Earlier this year our oldest alumni Ethel Mattison celebrated her 106th birthday!
Here are her memories of being at Walthamstow High School as it was known in 1923.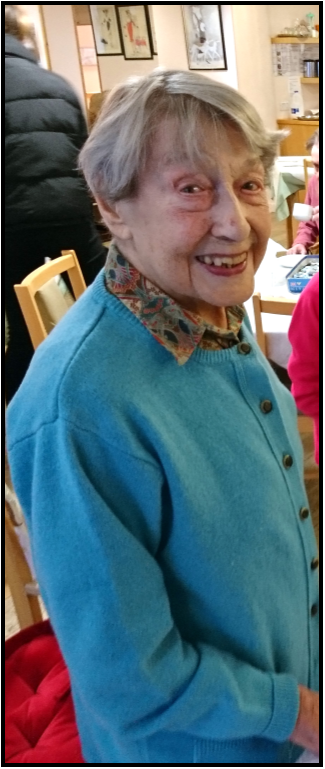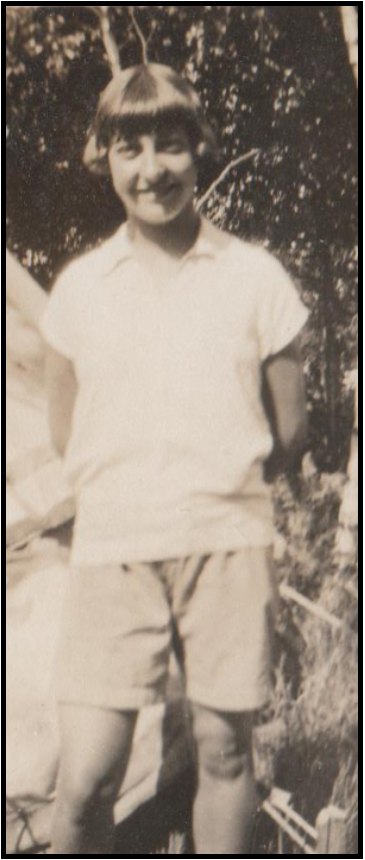 WSFG 1923-1929

I was at Walthamstow High School for one term with Miss Hewett, the first ever Head Mistress, and then with Miss Norris, who was a Classics scholar, and it was she who had the Greek Theatre built. When excavations began, we thought it was going to be a swimming pool, but after the initial disappointment, I for one was delighted.

It was opened by the Ben Greet Company with 'Medea', with Sybil Thorndyke in the title role. Later, when the school put on 'Androcles and the Lion', Miss Brown, the art teacher, made wonderful helmets for the Roman soldiers, from buckrum, painted with metallic paint. Although there were still only 300 pupils since WHS was built in 1912, more facilities were needed in the advancement of education for girls, so during my stay the library and another laboratory were built and construction on the gymnasium had begun.

A group of us were once taken by three staff members to Germany, for a week to Goslar and Hilderheim in the Hartz Mountains, followed by a week on the Rhine visiting Cologne, KCoblenz and getting a wonderful view of the castles. Otherwise, our school trips were confined to England or the Isle of Wight. We were taken on fungus forays in Epping Forest every Autumn and on other field trips by Miss Dennithorne, mostly on Saturdays or for occasional weekends. We also went on visits to factories, notably Ambrosia, Yardley, Bryant and May and The Royal Mint. We even went by overnight train to Richmond in Yorkshire to see a total eclipse of the sun, but it clouded over so we didn't see the corona, but it was an exciting and eerie experience nonetheless. Ethel aged 16

I was very proud of being at WHS. The school instilled a sense of social responsibility in its pupils and, even after all these years, I still find it obnoxious when I see people eating or drinking in the street, or dropping litter.

Ethel Mattison (née Britton)
For Dog Lovers

Here is a poem for some of you dog-lovers out there - I found it in the 1949 edition of the 'Iris' magazine. Miss Hooper, as well as teaching, used to run 'Ranscombe Kennels' and specialised in breeding Spaniels.
Ms Kelly
LRC Manager
The Dog's Pow Pow

Within the bounds of County High School,

Walthamstow's great County High School.

All the "Powers that be" decided

They would have a show for canines.

Have a lovely show for canines.

First and foremost 'mongst the urgers

Was our well beloved Miss Hooper,

Respected and revered Miss Hooper:

Three and sixpence was the wampum.

Was the fee to enter "Rover."

Many came, and many brought

Canine friends, all barking madly.

And the air was filled with barking,

Filled with noises made by spaniels,

Made by labradors and bulldogs;

Some dogs were all brown and furry.

Others black and sleek and shiny;

There was one like strings of licqu'rice

Very like a long black sausage:

There were dogs of every species,

Known to us or known to others.

Suddenly a hush fell on us,

All was quiet but for barking.

Then a voice in tones insistent,

Tones that carried o'er the ether.

Gave a message, clearly, and asking,

All the dogs who in the first class

Were competing, that were present,

"Come into the grassy clearing,

Stand around our luscious green-sward,

First parading all together,

And then, singly, come toward me,

And go through your simple paces."

Every winner proudly marching,

Marching proudly came with owners,

First the best dog of those present,

Then the one in best condition,

After him the most appealing.

Then 'twas time to hurry homeward,

Hurry home through dreary showers,

We'll remember, we'l1 remember,

And we'll show our cards and murmur,

"These I got at County Dog Show,

Got when barking dogs abounded."


HIAWATHA HIRCHINSON and MINNEHAHA RAND, V.H. Wigwam
The Shape of our School

Here is a poem from the 1948 Iris magazine. If you were to look at an aerial photograph, you would see that the oldest part of our building is shaped like the letter E. The author of the poem, poses the question about why this is? My guess is that the letter E, stands for Essex, as when this building was opened in 1912, it was part of Essex County Council, hence the coat of arms above the entrance to the school.
Of course, that is only my guess, there may be a more straightforward answer, so what's yours?
My School

My school is shaped just like an E,

On this my friend and I agree,

Does anyone know why this should be,

I don't.

The architect should surely know,

But I think he lived long ago,

Can anyone tell me where to go

To find him?

I'm puzzled still, but then you see,

I'm only in the Lower Three,

Why is our school shaped like an E?

Please tell me.

MARGARET TYSOE, L.III
Ms Kelly
LRC Manager
Suffragettes at WSFG

On 8th February 1918, women who were householders over the age of 30 (6 million women) got the vote. Here is an article about the campaign that was led by our students who participated in the local campaign, as well as school.
Ms O Kelly
LRC Manager
SUFFRAGETTES AT WALTHAMSTOW HIGH SCHOOL, 1912

How sensibly she dealt with what amounted almost to a revolution in Form II. It was the Osborne Bye-election of 1912, Sir John Simon was the Government candidate and the suffragettes came down in force. Simon must be turned out. All except two unhappy Liberals' in Form II became ardent suffragettes. Christabel Pankhurst was our hero. All over the weekend I sold "Votes for Women" on the Hoe Street corner, and Miss Hewett bought one.

Then on Monday we turned our form room into a suffragette committee room, we hung the colours from the gas-brackets. The pictures were covered over with suffragette slogans.

We barricaded our doors to all of different views. Form VI could not get through to their room. Even staff were barred out, and our two unhappy Liberals slunk miserably about the passages.

We couldn't break windows in Oxford Street perhaps but we could defend women's rights against the whole school if necessary. And while the excitement was at its height, Miss Hewett sailed along and we didn't quite like to bar her out. How I longed for her to order us to take down our notices, so that I could bravely refuse to do it. She was much too wise.

Very pleasantly she looked round the room, and complimented us on our zeal.

Then she said, "I like to see my girls taking this keen interest in politics. I hope it is an intelligent interest, and not just rowdy partisanship. Let me give you a few simple questions to see if you know something about parliamentary procedure and how we are governed. Does parliament sit every day?" A petrified silence. What had that to do with votes for women? Then Irene Hitchman saved the situation. "No," she said firmly. Afterwards we rushed at her. "Shrimp, how did you know?" "Oh, well, I thought it wouldn't sit on Sundays!"

But our revolution was over. We quietly removed our posters and life returned to normal.

Article from the 'Iris' magazine of December 1937 by Leslie M Greene (nee Campbell)
Inspiring Art

Over the years people have kindly donated works of art, books, furniture and even plants to the school. The Iris magazine of 1928, resolves part of the mystery surrounding two objects which have been used to inspire students during their art lessons.


Many of you who have worked and studied in the school may have pondered why there is a plaque on the wall of F18. Room F18, was formerly an Art Room, and even though the room is now full of computers, the plaque is still on the wall. The bust of Hermes was also in this room but was relocated to our new Art rooms in 2010. Unfortunately, it has recently suffered a fall and is need of repair. Not to worry, because Tana West, our artist-in-residence, is a ceramacist, and is intending to repair it.
" Summer and Winter Echoes crowd upon us: the new paint and the crack dating from the Summer holidays, the crannied recess with picture, carpet and curtain that is now a Sixth Form study, the new arrangement of the Reference Library in sections, murmurs about the loss of books in the past, as well as joyous recognition of the purchase of many delightful new books this term. The Art Room has acquired "Ornament," a wonderful book and a cast of the Hermes of Praxiteles and a tondo of the Virgin and Child by Michelangelo. "

The Iris 1928
Ms Kelly
LRC Manager
The School Bell

For the new Year 7's the transition to secondary school can sometimes produce quite terrifying results. In the case of the school bell, a widespread panic breaks out at the sound of the school bell and wide-eyed students can be seen hurrying towards various destinations.
In primary school the school bell would be heard in the playground to herald the end of play, or the beginning of the school day.
However, in our school, we have bells for lesson changeovers (beginning and end of), bells for the beginning of the school day and bells for lunchtime. We also have a bell for fire drills, which is a continuous bell. To add to this cacophony of noise, a warning bell is set off before the main bell at registration periods. (Apologies if I have missed any bells). It all adds to the dynamic of the school day which is split up into 'chunks' or I should say 'chimes' of time!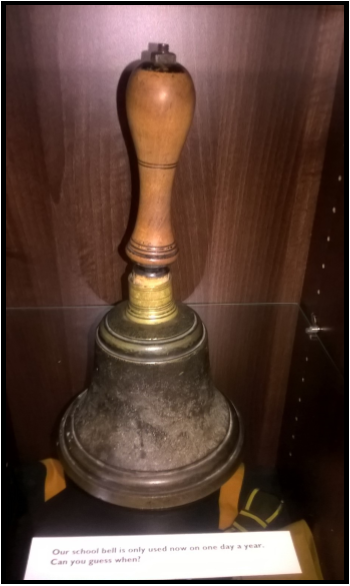 Here is a piece from the July 1929 Iris describing the introduction of the new electric bell. The new building referred to would have been additions to the 'house'. I thought you might like to see our original school bell, which is now kept in our new archive.
The Bell

School life this term has been very hectic - I mean more hectic than usual, if that is possible. The chief feature has been the noise. Apart from the usual musical strains issuing from the Hall (and else­where!) there has been the incessant hammering of the workmen in the new building, and worst of all - the new electric bell. It may be thought, and rightly too, that the sound of the bell, foretelling the end of a lesson, is a welcome sound. It is. Quite an audible sigh of relief passes through the School, when the bell is rung. It is such a simple action, too - just pressing a button.

This bell, which is the means of the saving of many lives, has, this term, taken on a peculiarly dynamic ring. If one happens to be in the vicinity of the front hall or on the stairs, when the bell goes, one stops as though under an electric shock - it is a great strain on people with weak hearts. Of course, it has the effect of pricking into action even the most sleepy of consciences. For instance, if a girl is late for a lesson (I am not saying that this ever happens) but if she were hurrying down­stairs, trying to look as though she had every right to be there, the sound of the bell would make her start guiltily, and she would break into a run and hurl herself in the nearest class-room, in the hope that it is the right one. This may be one of the reasons for its institution.

Marjorie I. Johnson (Form VI)
Ms Kelly
LRC Manager
Transatlantic Relations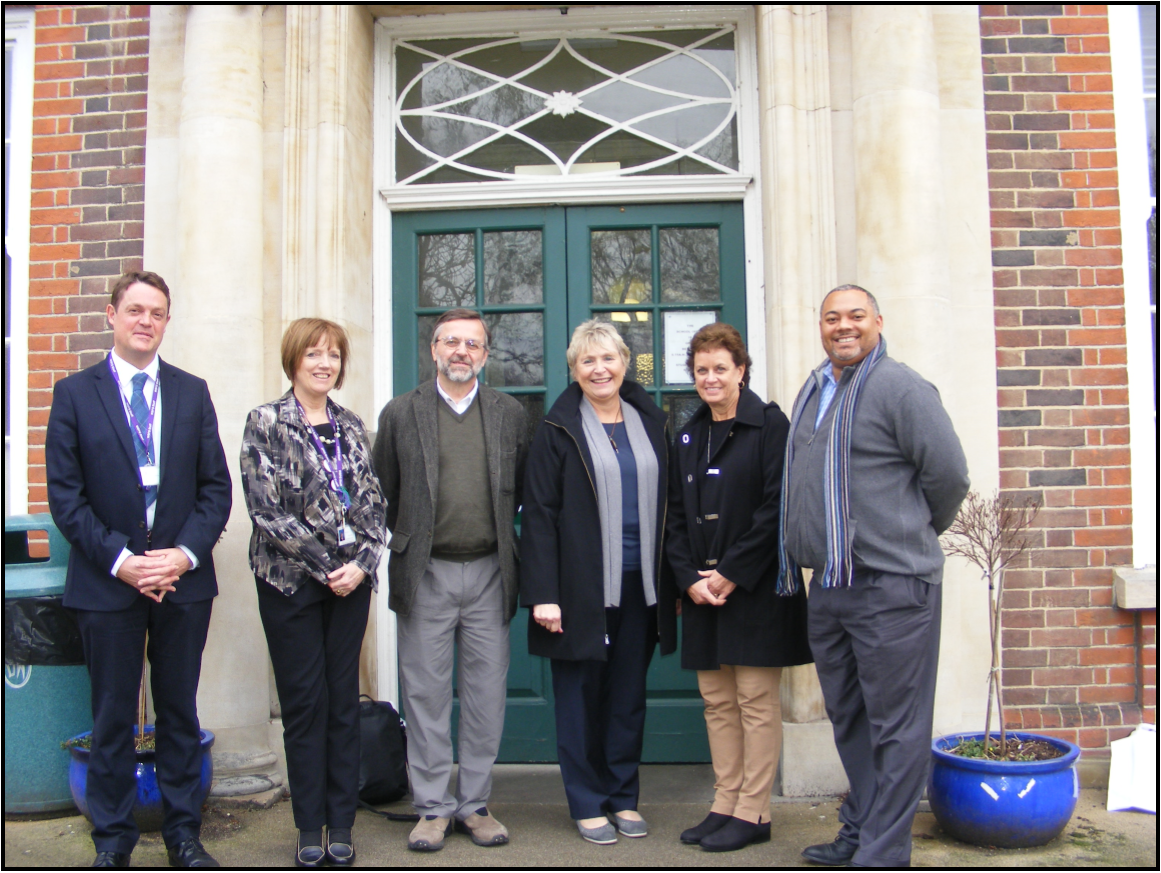 Having welcomed visitors from Michigan State University today, I thought it would be appropriate to share Miss Hewett's writings about her time spent in America.
This article is from the December 1921 edition of the Iris.
Ms Kelly
LRC Manager
AMERICA is a country of superlatives. When one is trying to describe the vast expanse of prairie and wheat district, the variety and brilliance of the autumn tints in the woods, or the noise and rush of a great city, ordinary adjectives are quite useless: one finds oneself using the ubiquitous American adjective "wonderful," in spite of one's resolution, to find a more descriptive word.

In every city or district one visits there is one thing at least which exceeds in some way (frequently in size or cost) all other things of the same kind in the whole world: the guides say this and the guide-books corroborate. For instance, one city has more miles of Boulevard and Park drives than any other city in the world; another city possesses "the only building planned and constructed by women"; and another "one of the longest, widest and finest streets in the world": yet another boasts a monument which "is supposed to be the most wonderful piece of masonry in the world" (the Great Pyramid taking second place, perhaps). The list might be extended indefinitely from guide-books, but I will refrain and add two wonderful records personally endured-one is dirtier after twenty-four hours in a train going across the States than at any other time in one's life, and Chicago is certainly the noisiest city one could ever visit, with its overhead and surface street cars, its ear-piercing police-whistles regulating traffic (which the English visitor at first mistakes for a summons to assistance in a life and death struggle), the hooting of a thousand automobiles and the raucous yells of the newspaper boys. In Chicago life certainly shrieks.

Indeed, life and vitality (not always quite so unpleasantly manifested) are splendidly characteristic of America, for she is a young country and has consequently many of youth's best qualities. She has energy and vigour, a determination to set the world right, together with a firm conviction that there is a panacea, and a generous disposition for enthusiastic admiration, even for hero-worship. Her frankness in expressing this admiration and everything else is very different from the Old World's more critical attitude to people and their performances.

Education is of vital importance to America, Everyone is realising it. The papers daily contain articles on the necessity for more High School places: the schools themselves are full to overflowing, and still there is more demand. We share that problem in England. The other problem, that of welding together the mixed nationalities in the great cities, is felt only in a small degree with us. I have been in one school in America where there were thirty-one nationalities, several children entering without knowledge of one single English word.

Building, as in England, is very difficult. To provide more school places, in some towns the double session is used: in others, they have a system called the Work-Study-Play plan, an arrangement by which every class-room, the auditorium (assembly hall) and the playground are all in use the whole time-thus, a school which has school places for six hundred pupils has over a thousand in attendance. This means that no one has a definite place in school or class-room. Here is an uncomfortable example of Individualism yielding to Communism.

The arrangement of the curriculum is different from the English plan. Each

State makes its own regulations and there are consequently minor differences. The High School age is fourteen to eighteen years, though there are some Junior High Schools beginning two years earlier; the schools are free; a pupil may enter and leave at any time (in some States not before sixteen); there are no maintenance grants. But the fundamental difference is that no pupil "carries" more than four major subjects at once. For instance, a First Year's Course may be: English (compulsory during every year), Algebra, French, Domestic Science, and listening to members of the Senate and the House of Representatives carrying on the government of the United States. Now I am in Philadelphia, and in another week I shall be in New York, which with Boston will be the end of my wanderings on this side of the Atlantic.

I expect to be home almost as soon as this article is in print, and then if you have any desire to hear more, your curiosity can be gratified more easily than by the painful process of writing.

America is, as I said, a country of superlatives: I add one more­ Americans are superlatively kind to a stranger, even kinder than one would have expected. The knowledge that one is English only adds to their readiness to help one and make things easy. I am hoping that several from my host of kind friends in America win be able to visit us in Walthamstow. We would like to give them an English welcome.

B. HEWETT