History Snippets
Honouring our Women of Medicine

Our school was founded in 1890 and stories of the women who attended our school are recorded in our school magazine, 'Iris', which was started in 1906. Many of our students went on to work in the field of medicine and as a tribute to those still working to support us during this period, I thought I would share some of their stories.
Mrs Kelly
LRC Manager
---
Hilda Kate Whittingham, O.B.E. M.B. Lond. D.P.H., 1876-1965
Hilda qualified as a Doctor in 1903 and went on to work at the London School of Medicine for Women and the ​Royal Free Hospital. Her father, William Whittingham, was the person responsible for setting up our school and interviewed our first Head, Miss Hewett. Her family home was Comely Bank, which is now the site of a health centre. Hilda and her sister Maggie are one of the first names listed on our Honours Board in Hewett Hall.
During the 1914-18 war she worked with the bacteriological and hygiene section of the Royal Army Medical College at Millbank. She was awarded an O.B.E. for her work during the war years. In 1917 she became the first pathologist of the South London Hospital for Women, and she worked there for the next 30 years. Sadly, her brother and brother-in-law were both killed during the war. A friend remarked that she was 'an enthusiast and a perfectionist and her love of life was infectious'.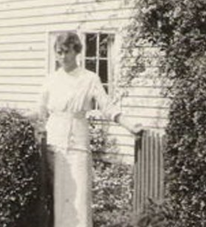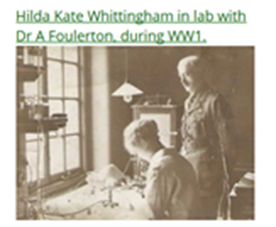 ---
Margaret Witt, 1930-2005
Margaret was born on 14 June 1930 in Leyton, daughter of Henry, a mechanic and chauffeur, and Bertha, a former lady's companion. In 1941, she won a state scholarship to study at our school and in 1949 she also won a scholarship to study medicine at St. Bartholomew's Hospital, the only woman applicant out of 80 men. Margaret was a consultant obstetrician and gynaecologist at the North Middlesex Hospital, London. She won the treasurer's prize in practical anatomy, the Harvey prize in practical physiology, the university scholarship in science (physiology), and the Mathew Duncan gold medal and prize in obstetric medicine. She became the first female registrar in obstetrics and gynaecology at St. Bartholomew's hospital.
Margaret Witt never married. She had a zest for life, enjoying cooking, entertaining, fashion and travel, as well as music and the theatre. A colleague once said teasingly that: "Margaret was the only person who would take two fur coats, enough jewels to rival the Queen, and half a dozen pairs of shoes for a weekend conference in Paris." She was a governor of Connaught School for Girls, where a silver cup was dedicated to her memory for the girl who achieved the highest all round points in the year, and a bench placed in the playground. She died on 30 October 2005. 
In 1957, despite her busy career she still took time to be on the committee of the Old Girl's Association at our school. Her name is recorded on the Honours Board in Hewett Hall.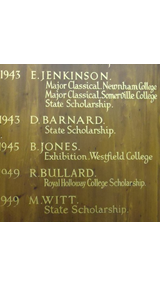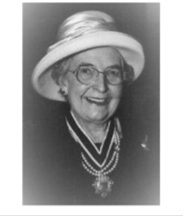 ---
Daisy and Jessie Foxon - Nurses in World War I
Jessie wrote a letter from France in 1915, about her nursing experiences during the war. Both sisters were awarded medals for their work.
The Foxon family, including the boys, attended our school from its founding in 1890 and involved themselves in various capacities until the 1950's.
Daisy writes to me from Malta, she seems to be having a very tame time, hardly any wounded, nearly all medical cases, and not at all busy yet. I dare say they will be later on, although it's hardly human to want to be busy under the circumstances. 

I am at E__s with No. 26, composed chiefly of nursing sisters trained at Guy's……. We have over 1,000 beds in our hospital, and during a rush we take in convoys of varying numbers, mostly between one and two hundred, and evacuate them for Hospital Ship and Belati (India), which the men always call "Blighty."  During the last attack by us we seemed to take in and evacuate every day, and all this trying business was accomplished by the night staff. As I was on night duty then I can assure you it was very hard work and I had over 100 quite badly wounded men under my care.

N.B. - Jessie Foxon is now at Salonika. In spite of poisonous mosquitos and shells bursting 200 yards off her she is in good health and says the shells are a most interesting sight to watch in the afternoon.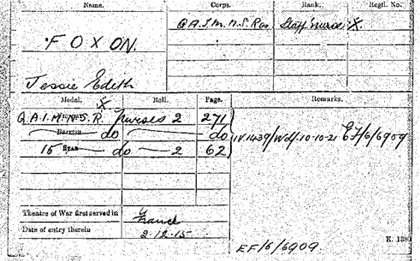 ---
Dr. Ruth O'Dell (née Licence), MB, M CH, MRCS, LRCP - Student 1934-1942
When Ruth qualified as a doctor, our school was given a half day holiday, to celebrate her appointment as Junior House Surgeon at the Royal Free Hospital. The hospital was recognised at the time as a medical training school for women.
Here are some extracts from an article about her experiences during World War II:
At the end of August 1939, when I was sixteen, my family and I were on holiday in Guernsey, and because my Father was a teacher at Shoreditch Central School, we had to cut our holiday short so that he could report to his school for evacuation.

I was evacuated for 3 years with my school and won a scholarship place at Cambridge to do Medicine, where I completed a 2nd MB. I then went to the Royal Free Hospital for another 3 years to qualify as a doctor.

In early 1945 a bomb fell on the medical school and as I was then doing a surgical course, I was up all night assisting the surgeons operating on the casualties. My parents returned to Walthamstow after about 2 years of war, because so many children didn't want to remain evacuated because fewer bombs were falling. When bombing did start again, my parents used their coal cellar as an air-raid shelter and had beds down there for when the sirens went.
Ruth continued to keep in contact with our school and the picture below is from 2011.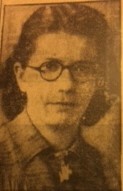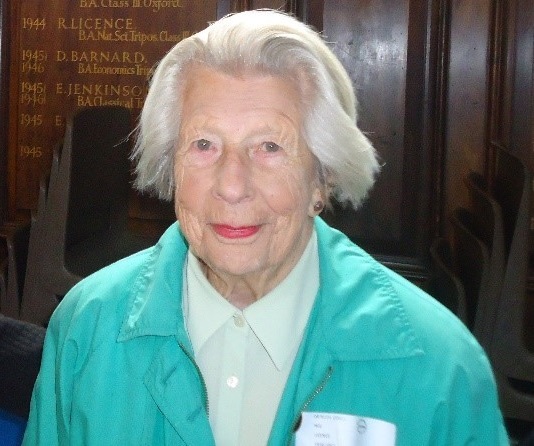 One for the Petrolheads ...

Here is a poem from the 1957 Iris magazine which may only be understood by the parents or grandparents of our current students, or vintage car enthusiasts. See how many names of cars are mentioned in this very clever poem by Lorna Rowe, who was aged 14 at the time of writing this poem.
Mrs Kelly
LRC Manager
From the Sublime to the Ridiculous
"By Jove!" said Zens, "the time is late,
Our chariots are out of date­
Di immortales, let us go
To the Earls Court Motor Show!"
So now his lordship doth rejoice
In a stately Rolls-Royce;
But Mars, who found the Rolls "too fiddly"
Invested in an Armstrong-Siddely;
Appollo scans the Zodiac
From a speeding Cadillac;
Neptune watches o'er the deep
From a Naval jeep;
Silvanns liked to take things gently,
So bought an antiquated Bentley,
Mithras rattled through the heaven
In an ancient Austin Seven;
Bacchus' Ford was confiscated
For "driving while intoxicated,"
Hermes, cop on his daily rota,
Sports a streamlined Singer Motor.
Vulcan's Vanguard caused some fear
By reversing in top gear.
Poor Cupid could not see quite straight,
And put his brakes on far too late­-
His splendid Jaguar Mark Six
Is bogged down in the river Styx;
Morpheus, the god of slumber,
Went to bed inside his Humber.
Godesses, not to be outdone,
Decided they would join the fun;
Diana her pot shots doth take
From a sturdy shooting brake.
Athene's taste was somewhat finer­-
Her savings bought a Morris Minor;
Psyche, in her Hillman Minx
With Aesculapins had high jinx­-
(the latter, now a "flying doctor"
Does his rounds by helicopter).
The reckless driver's perfect dream-­
No Zebras, police, or "one way stream,"
Till Pluto, full of rage and spite,
Made an Olympian traffic light
And on the great Olympian Way
Put "NO THROUGH ROAD-SOME OTHER DAY!"

Lorna Rowe, VI
Junior League of Nations
The League of Nations was set up after World War I, to seek an ending of war.
Our school set up a Junior League of Nations Union in 1931 and this is how it was introduced to the school:
We have formed a School Branch of the League of Nations Union; we have done this because we are convinced that the solution of the world's difficulties will only be found through international good-will and that the future of the League of Nations depends on the good-will of the rising generation.
Here is an illustration by Valerie Gardner from the 1937 edition of the Iris magazine, which I hope will complement the powerful poetry of our current Year 8 students.
Mrs Kelly
LRC Manager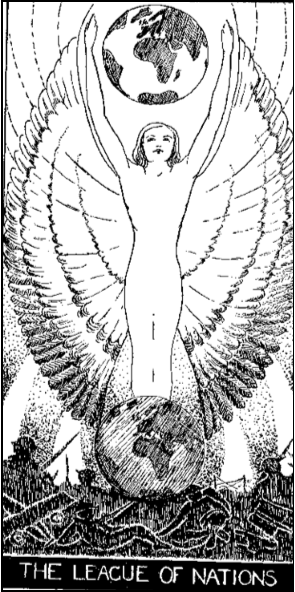 Our School Bells

Our school bells are not being used at the present time and I was just wondering whether we were missing them?
Here is a piece from the 1920 edition of our school magazine 'Iris', describing the love/hate relationship that a student felt towards the school bell.
Mrs Kelly
LRC Manager
An Address to the School Bell

We have heard thee oh Bell! in the mornings when we were panting for breath in the cloakrooms, and when our unmarked footwear was lost behind the dusty boot-lockers. Twice hast thou called in a harsh voice, "Hurry, thou daughters of laziness, 'tis time for work!" Then have we hated thee, and have muttered things about thee.

When our brains were hard pressed, and we sighed for thee, then didst thou keep unwanted silence. It seemed the minutes were tied down with leaden strings and thou rangst not. How wearily we waited, and how great was our agony until thou hast cleft the silence with thy welcome voice, oh, longed - for Bell!

We have heard thee when the sun shone brightly, and when the bell was our companion. Ah! how grating was thy call, - "Come in at once, ye maidens, cease your play." A subdued triumph lurked in thy unwelcome note, oh hated Bell!

Oh! thou herald of all school functions! how mingled are our feelings toward thee! "Sometimes we would gild thee in honour, to show our love for thee, oft we would fain smash thy works - yet more in sorrow than in anger, for thou art one of the things that must be, and that ever shall be! Oh Bell!

E Foster, Form VI
Remembrance

The First World War deeply affected people long after it had ended. Here is a poem by a student, Olive Baker, written in the 1933 school magazine 'Iris', which remembers those people who died.
THANK God for peaceful England, this dear isle;
For England's quiet green beauty and her fame;
For her never-failing honour, and her ever-glorious name,
Which still doth stand though nations fall the while.

Remember! Only nineteen years ago,
The roll of war's dread thunder filled the air,
And ev'ry home was called upon to spare
Her father and her sons, to fight the foe.

Think, that the flower of all this nation,
And the good, were laid 'neath alien sod.
And for them England now gives thanks to God.

So while we in security may dwell
Remember still those sons who fought and died For England's noble glory and her pride.

Olive Baker (Form VI)
Brave New World
With the modern TV adaptation of the Aldous Huxley book 'Brave New World' now showing, I thought I would share with you an illustration from the 1964 edition of 'Iris', our school magazine. Ann Giles was aged 14 when she submitted this illustration and she had many more illustrations in other copies of the magazine, all of them equally impressive.
Our school magazine was produced every year (apart from 1917-1920) from 1906 to 1974 and included articles and illustrations from students, staff and former students.
Mrs Kelly
LRC Manager