Recommended Uniform Suppliers
The suppliers listed below know the current uniform and P.E. uniform requirements for the school.
Fashion Fair, 184 – 186 High Street, Walthamstow Tel – 020 8503 7048
Speedstitch

Despite the significant challenges we are all facing at this time, you can rest assured that as your uniform provider, we are here to support you as things get back to normal and we are confident we can deliver a successful and safe 'back to school' in August/September.
Our plans for summer 2020 …
We are open as of 1st June 2020 for parents, schools and business.
The industry has continued to manufacture garments and we are already taking deliveries and preparing stock. (Please see below some information from the Schoolwear Association).
We are currently putting into place systems, in line with the government's advice to help us manage the volume of customers during the peak times, all the while considering the wellbeing of parents, children and staff.
Other improvements include…
Extending our returns policy for this year.
A more comprehensive online shopping experience for parents and schools.
A more efficient click and collect service.
An appointment only fitting service from 1st June until 31st July where parents can contact us to make an appointment if required.
New e-commerce website that will be even more customer friendly than the current one. We will be in touch soon with more information when we go live.
We have taken on new premises next door. Our efficiency will increase, giving ourselves and our customers lots of space. Next door will open up during the peak months for click and collects, refunds and exchanges. (please see diagram below).
It is with the challenges ahead that we ask for your support for the following:
Encourage Parents to shop early and online. The website offers helpful resources such as measuring/size guides to assist with online shopping.
Send electronically via email or parent mail, any details regarding uniform, offers, or other relevant information.
Leaflets - we have decided to not print the itemised uniform leaflets this year for a number of reasons, printing time scale, the ability to hand them out, the environment. We do know parents like to receive one, so we would ask if it were possible for you to send these to parents via email to print themselves or perhaps the school can facilitate the printing for new starter packs? Please contact us with any issues you may have with this.
Is there anything you need from us? I can only assume all new starter meetings are cancelled? This would normally have been an opportunity for us to promote the uniform with mannequins, leaflets and posters. If you do require any of the above or any additional information or support from us, please contact me directly (numbers below or email).
I hope this offers some sort of reassurance for you and for your parents visiting/shopping with us.
We are extremely excited about the new developments to the business with the website and the new premises and I hope you'll agree this is a positive step in order to offer an even better service to our customers.
for business | for schools | for leisure
T 020 8531 4800 M 07951 397 209
Unit 32 Walthamstow Business Centre, Clifford Road, London, E17 4SX
---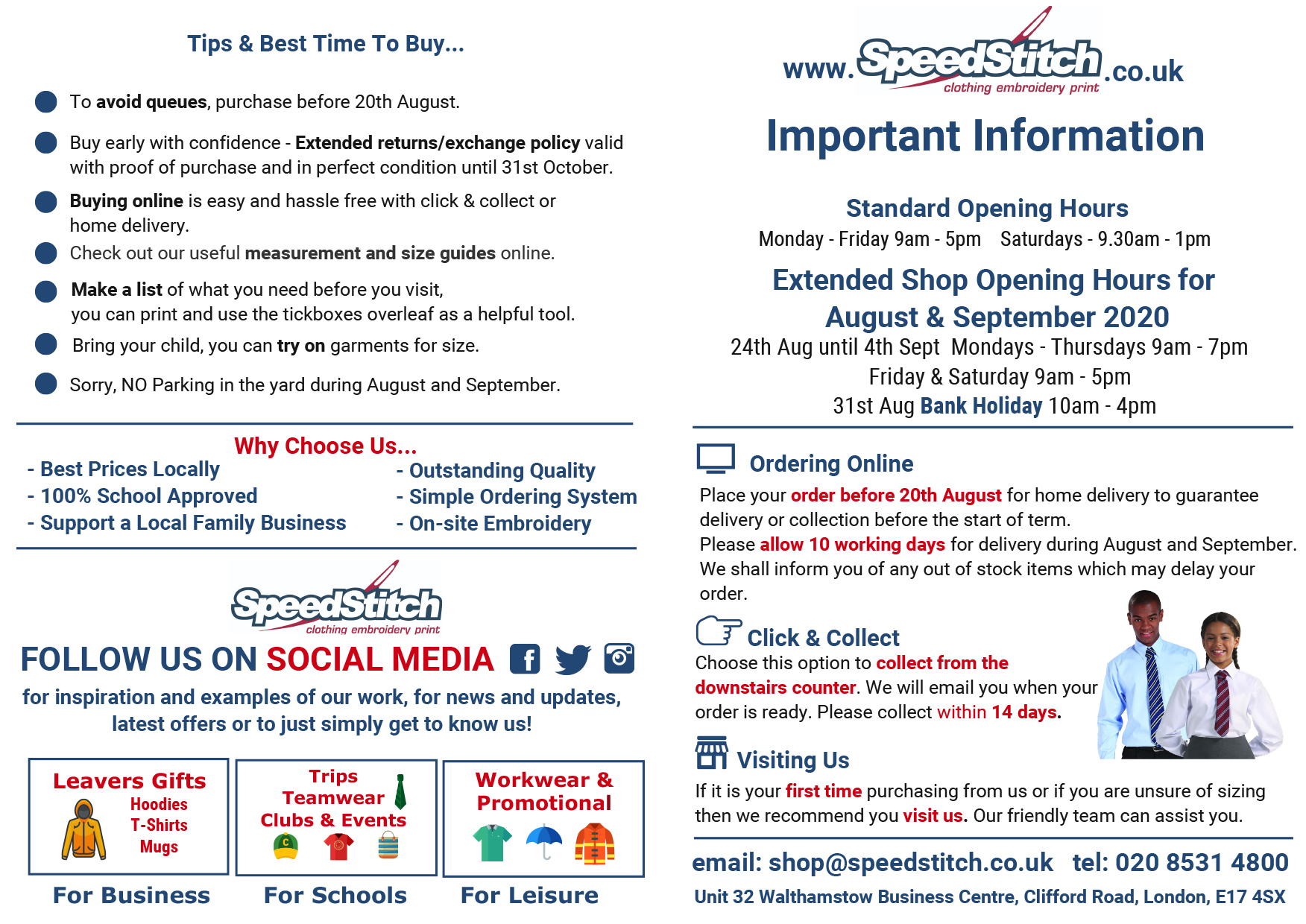 ---

---
Plan of our redesigned premises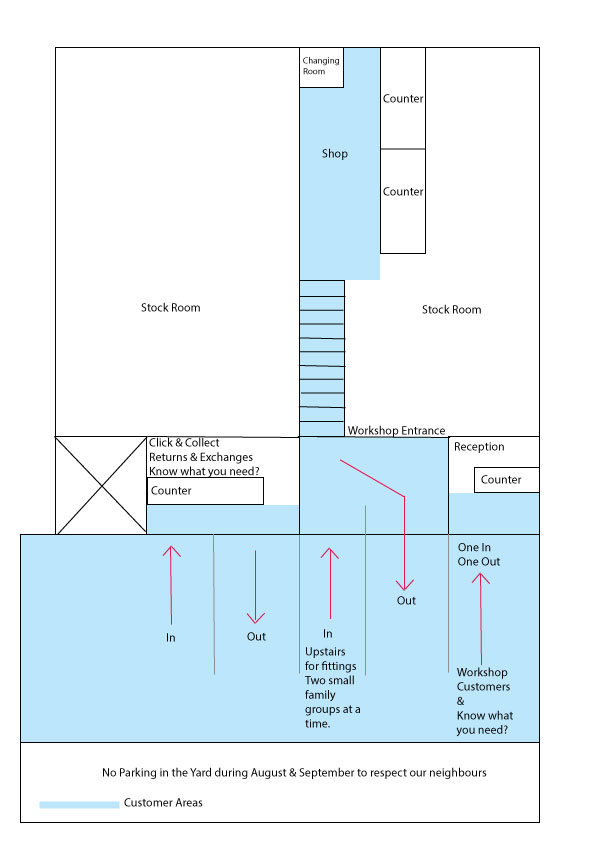 ---
Victoria 2 Schoolwear
We would like to confirm that we shall be reopening our store on Monday 15th June 2020. We also wanted to reassure you that we have secured sufficient stock for all new starters and existing pupils for 'Back to School 20/21'
This year we would urge parents to order online if possible and have accordingly uploaded a clear and easy to understand measuring guide onto our website which enables parents/carers to measure their child correctly from home and order the right sizes online. Our online store is up and running at present and deliveries are being sent out without issue in addition to free delivery incentives.
Information about our Year 7 online package deal can be seen below.
For those who prefer to shop in-store, please rest assured that we have put into place systems in accordance with Government guidelines. Where necessary, we will limit the flow of people coming into our store to ensure they don't get too congested. We will therefore be operating a queuing system keeping to social distancing rules, similar to the ones presently operating in our supermarkets (i.e. one in, one out). We will also be running on a one parent per pupil entry system and feel that with parent's support we will be able to offer a fast and efficient service. We have floor markings to encourage social distancing and perspex cough guards installed at checkout counters. Face masks and gloves will be worn by all members of staff which will also be provided to customers on request. We will be cleaning even more often, especially those key points which are regularly handled and providing plenty of hand sanitiser.
With the collective help of your school, we would encourage the purchasing of uniform for new Year 7 starters to be made as early as possible in order to avoid long queues, perhaps during June or July and have therefore implemented an extended returns policy on all purchases until the end of September. Please also find below details of an online package deal we have put together for new starters which you may want to distribute to parents.
In summary, there are many challenges ahead but we are confident that if we work together with the school, parents/carers and pupils we will come through these challenging times. In the meantime, please do not hesitate to contact me further if there is any other information you require.
Kind Regards
Janet Cohen
VICTORIA 2 SCHOOLWEAR
246 HOE STREET, E17 3AX
020 8520 2176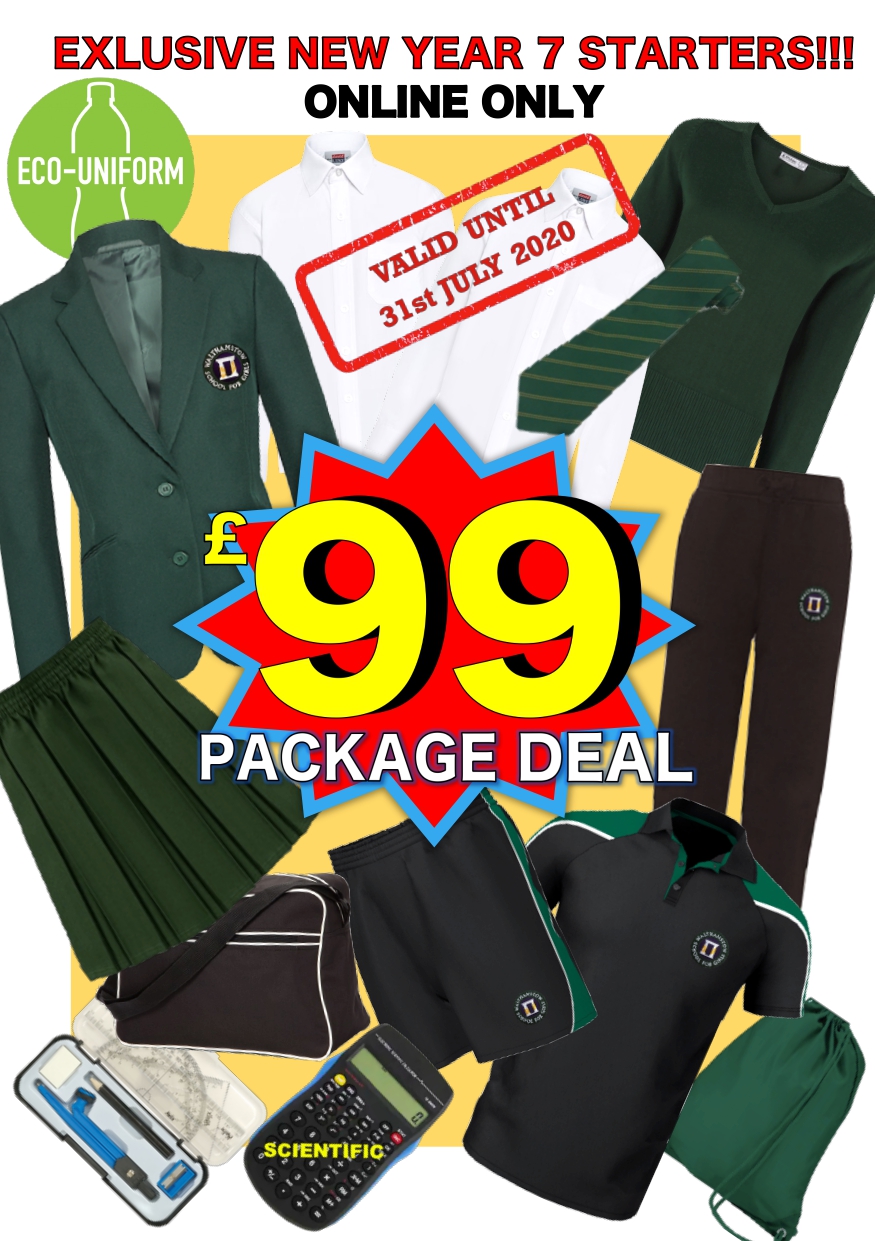 If you are buying new uniform items, ONLY the following styles of skirt and trouser are acceptable as WSFG uniform.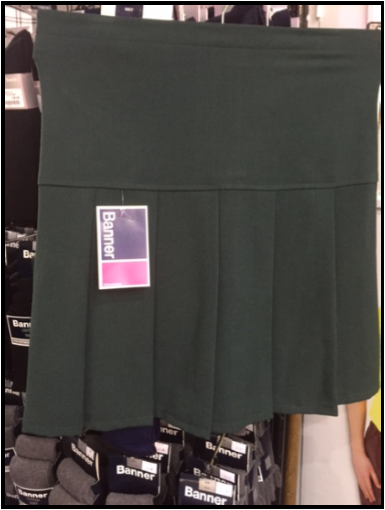 Skirts must be full pleat or half pleat style. Only a longer length will be available. No other styles are acceptable.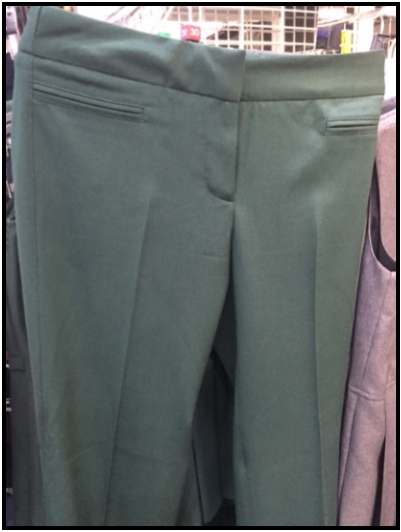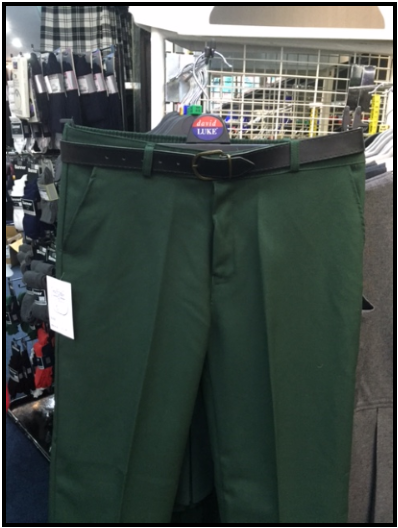 Trousers must be tailored, straight cut leg with a front fastening. Stretch material and tight styles are NOT acceptable.

Compulsory Blazer (must have school badge)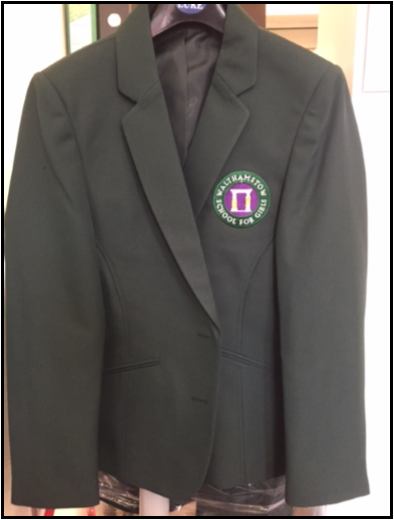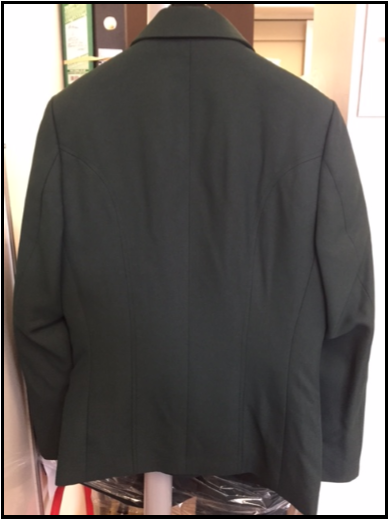 If you are purchasing a new blazer, the tailored blazer with embroidered badge can ONLY be purchased from Speedstitch.
£25.00 for sizes up to 38" chest / £30.00 for 38" plus.