Remote Learning
---
How to use Teams to upload work on a mobile phone
Year 10 Face-to-face Information
Latest Government Advice for Shielding Patients - June 2020
Years 7-10 post-Easter 2020 - 17 April 2020
Advice for Parents/Carers on Remote Learning Access
Year 11 post-Easter 2020 - 4 April 2020
Remote Learning after Easter for Year 9 - 2 April 2020
Letter to Year 11 Students and Parents/Carers - 22 March 2020
Years 7-9 Remote Learning Information 19 March 2020
Letter to Parents/Carers - 18 March 2020
East Summer School 2020 goes Virtual!
We're thrilled to announce that East Summer School is back this year and, for the first time, we are bringing it all to you online!
If you're aged 12–17 – and live in Hackney, Newham, Tower Hamlets or Waltham Forest – and interested in creative, tech and design industries, why not sign up for the FREE East Summer School? From one-off classes to full-week courses, there are lots of fantastic sessions packed with unique and interactive experiences. It's a great chance to meet new people and have fun! We know that the world is a very strange place at the moment and we're all spending more time at home. All this extra time we have is perfect to learn some new and exciting skills, no matter your ability.
Summer School courses are being delivered by world-leading organisations, such as the BBC and UCL who will be moving to east London as part of East Bank. As well as working alongside institutions that are already here, such as Staffordshire University London, Studio Wayne McGregor, The Yard Theatre and many more.
The courses are as varied as the contributors! This year, there are three categories of courses available:
• Intensive – a course taking place over a number of days where you work towards a tangible outcome
• Interactive – a course taking place over a few hours, maybe in one day or spread out over two, where the workshop is interactive and you produce something at the end
• Informative – a one-off webinar style information sharing workshop, where you will be able to find out key information on a subject or career.
Join the conversation online using #EastSummerSchool. If you have any questions, please email SummerSchool@QueenElizabethOlympicPark.co.uk.
Please find our exciting promo film here
We have a variety of courses on offer such as, creative arts, theatre, engineering , architecture, dance and much more for 3 weeks from Monday 27th July – Friday 14th August!
The programme is free and pupils can sign up to the programme by going to www.QueenElizabethOlympicPark.co.uk/Summerschool
If you need more information on the programme please feel free to contact SummerSchool@Londonlegacy.co.uk to help with all enquiries
Hope to see your pupils logging on!
Go! Schools
The Go! Schools Network Survey is open for one last week, if you haven't already completed it please follow this link, this will help us to shape the network and the opportunities available to your school and you will be entered into a prize draw to win £50 Westfield Voucher or a pair of tickets to ride the ArcelorMittal Orbit Slide (once it opens again!).
Queen Elizabeth Olympic Park
London Legacy Development Corporation
Level 10
1 Stratford Place, Montfichet Road
London
E20 1EJ

Email: laylaconway@londonlegacy.co.uk
Web: www.QueenElizabethOlympicPark.co.uk
GCSE Pod Lockdown Legend Award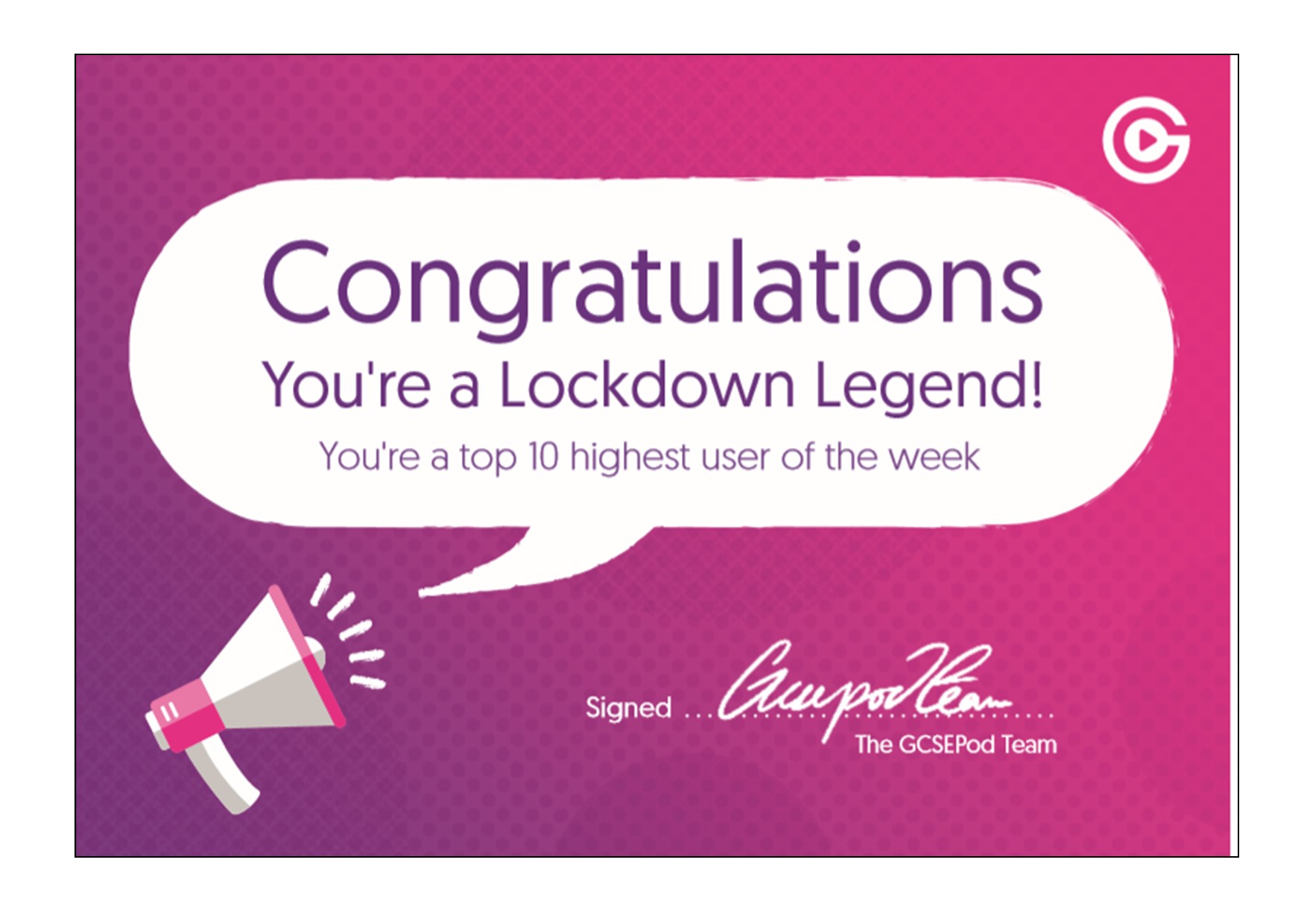 E-mails, communication and tracking of student wellbeing and learning - 6 May 2020
6 May 2020
Dear Parents and Carers
E-mails, communication and tracking of student wellbeing and learning
We hope you and your families are all well and adapting to this new normal.
It is certainly new for all of us as we learn to find the best ways to ensure our students are able to engage in some learning whilst tending to their wellbeing.
We would like to outline our system for tracking student engagement and the communications you may receive. Your child's wellbeing is of central importance to us at this time and all our emails are intended to be supportive.
Our system
We are tracking student engagement and attendance at the twice weekly tutorial sessions centrally. Teachers are following up with students to offer support if a student has not handed in their assignment, and Heads of Faculties are emailing you, so that you are aware. You may receive several
e-mails from Heads of Faculties, and we wish to reassure you that you need not reply to each Head of Faculty individually unless there is something subject related you would like to raise. If you have an IT or access issue, or your child is unwell, please let their SPL know so that we can enter a code on the register to prevent you receiving these e-mails.
Communication from SPLs
You may receive an email or call from your child's SPL. This would be because your child has not submitted five or more assignments in the previous week. Our SPLs will be contacting you to see how your child is, and whether there are any health or IT issues perhaps that are making accessing the learning difficult.
Communication from subject teachers
Your child may receive an email from their subject teachers if they have not handed in an assignment in the previous week. We aim to be supportive and to help solve any difficulties with the learning.
Communication from the Head of Faculty of a subject
You may receive an e-mail – or several – from Heads of Faculties if your child has not submitted an assignment for that subject for two consecutive weeks. This is, again, intended to be supportive.
Please do not feel you need to respond to all emails!
If there are subject difficulties which you would like to communicate about, then please reply to info@wsfg.waltham.sch.uk with the name of the subject or Head of Faculty and an outline of the problem.
If there are general issues, such as ill health, please just reply to info@wsfg.waltham.sch.uk with the name of your child's SPL in the heading and an outline of the general issue.
Communications between us
Teachers aim to respond to you as quickly as they can, within the hours of a normal working day. We are working from home and many of our staff, like you, are balancing childcare and other commitments of their own.
If your child has posted a question on the Team posts, or has emailed their teacher directly, the teacher will try to answer as soon as possible. This may not be immediate and is most likely to be responded to within normal working hours as well.
If your child is feeling anxious or concerned
If your child is feeling overwhelmed, anxious or is not coping well with the new way of learning, please do not hesitate to contact their SPL.
Best wishes
Ms Snowsill
Deputy Headteacher
Using the school LRC computer system from home
Accelerated Reader
At Walthamstow School for Girls we place great importance on developing reading and understanding skills, which ultimately impacts immensely across the whole curriculum and benefits students as they progress towards their GCSEs.
Renaissance Learning (responsible for our Accelerated Reading lessons) recently provided students with access to numerous online books from a huge variety of genres through their myON service. We cannot stress enough the importance of maintaining regular reading, and then quizzing on the books read to indicate understanding of the content.
We would like to encourage our students to continue with their Accelerated Reader (AR) lessons - reading and quizzing as often as possible. AR lessons in school are only a small part of the need for reading, as it is recommended that all students read for a minimum of 30 minutes per day. Reading should be both pleasurable and a way of extending learning. In addition, this can be a fun activity for all the family - read, discuss and challenge one another in a variety of ways: understanding, changing characters, guess endings, change endings - the ideas are plentiful
Here are the links to both websites:
Renaissance Learning (Accelerated Reader)
If there are any problems, please contact the info@ email and ask for your concern to be forwarded to either Miss Jolliffe or Mrs Kelly.
---
To log on to Accelerated Reader from home you need to follow this link
Please ensure that the link at the top of your computer screen is showing "ukhosted56". Some of our computers at school revert to "ukhosted46" or other numbers, so try to check that the link is showing 56.
You can log on via Google Chrome, or if your computer is blocking the site, try via Internet Explorer.
If a student is having problems logging on, please contact me by e-mail
I hope you and your families are all well.
Mrs Kelly
LRC
---
GREAT NEWS FOR THE SUMMER!
AR students will now be able to quiz over the summer months.
Quizzes are now available until 31st August, so students will be able to keep tracking their reading progress during the school holidays.
Keep Safe and Keep Reading!
Mrs Kelly
LRC Manager
Challenge Ideas
Oxford University Newsletter
If you think that one day you may be interested in applying for Oxford, our Liaison Officer has suggested that you may like to sign up for their newsletter. These regular newsletters for prospective applicants will not just offer important updates, but insights into student life, as well as detailed advice and guidance on the steps to making a strong application.
---
University of Oxford – Digital Resource Hub
These resources have been compiled to support learning and exploration.
---
Downing College, University of Cambridge - Lockdown Webinars for Secondary Schools
Once you have completed your school assignments, here is an optional extra that you may like to consider. Cambridge University colleges are offering some great webinars on a variety of topics e.g. Women in STEM, Year 9 Taster, Year 10 and 11 Taster, Arts and Humanities. While in lockdown, it is a good opportunity to start thinking about your future choices.
---
Animal Activities Online: Top Tips from the Royal Veterinary College
Missing your chance for work experience this summer term? Keeping up your love for learning about animals at home? Here are our top tips of activities to keep building your knowledge and skills:
---
Future Learn
Visit their website or free online courses on a variety of subjects to enjoy during lockdown.
Browse the course list to find something that you'd like to learn about. There are courses on a diverse range of subjects and more are always being added. Courses vary in length. Most are six to ten weeks long but there are also some shorter two and three week courses.
Perhaps you may want to invite a friend to take part with you? You can do this via email and social media when you join.
I've found an interesting one on Flexagons and the Maths Behind Twisted Paper
Let me know what you choose!
Ms Robinson
Challenge Coordinator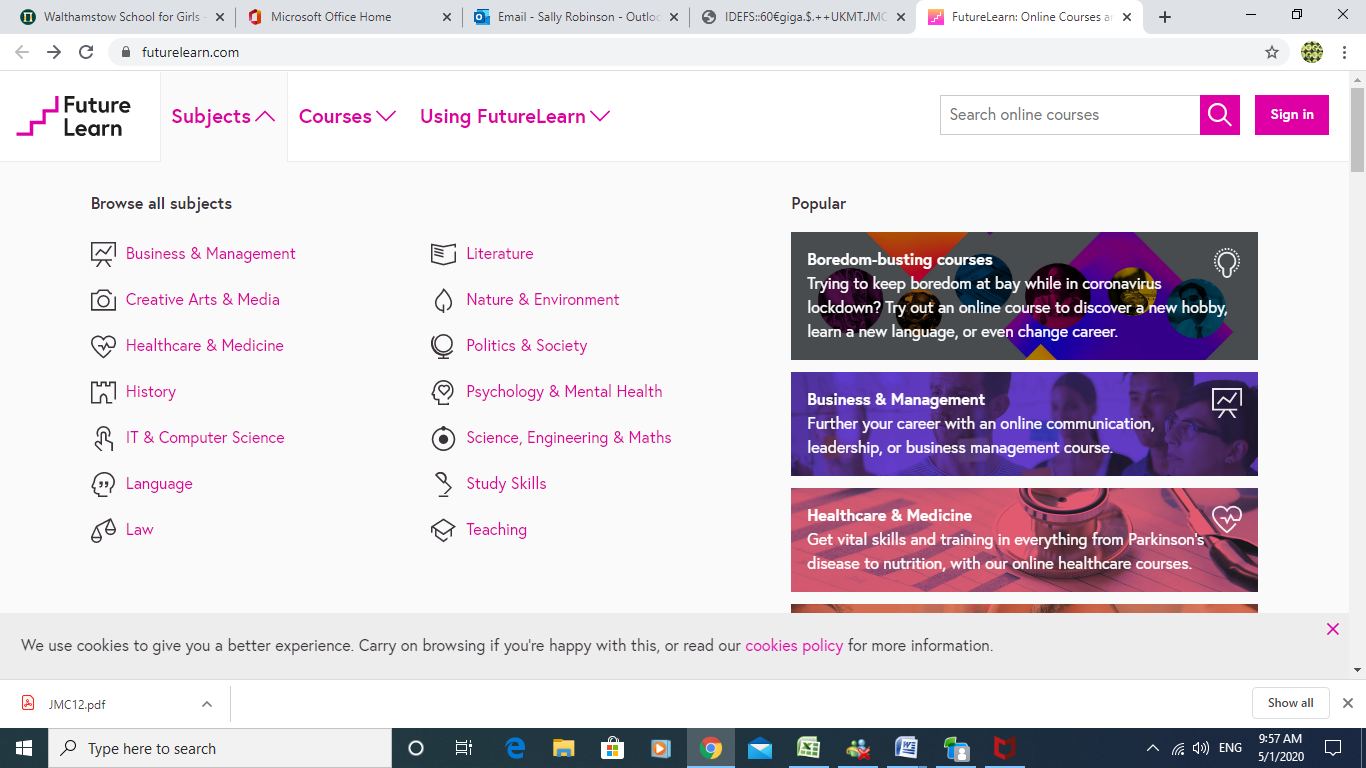 Advice for Parents/Carers from National Online Safety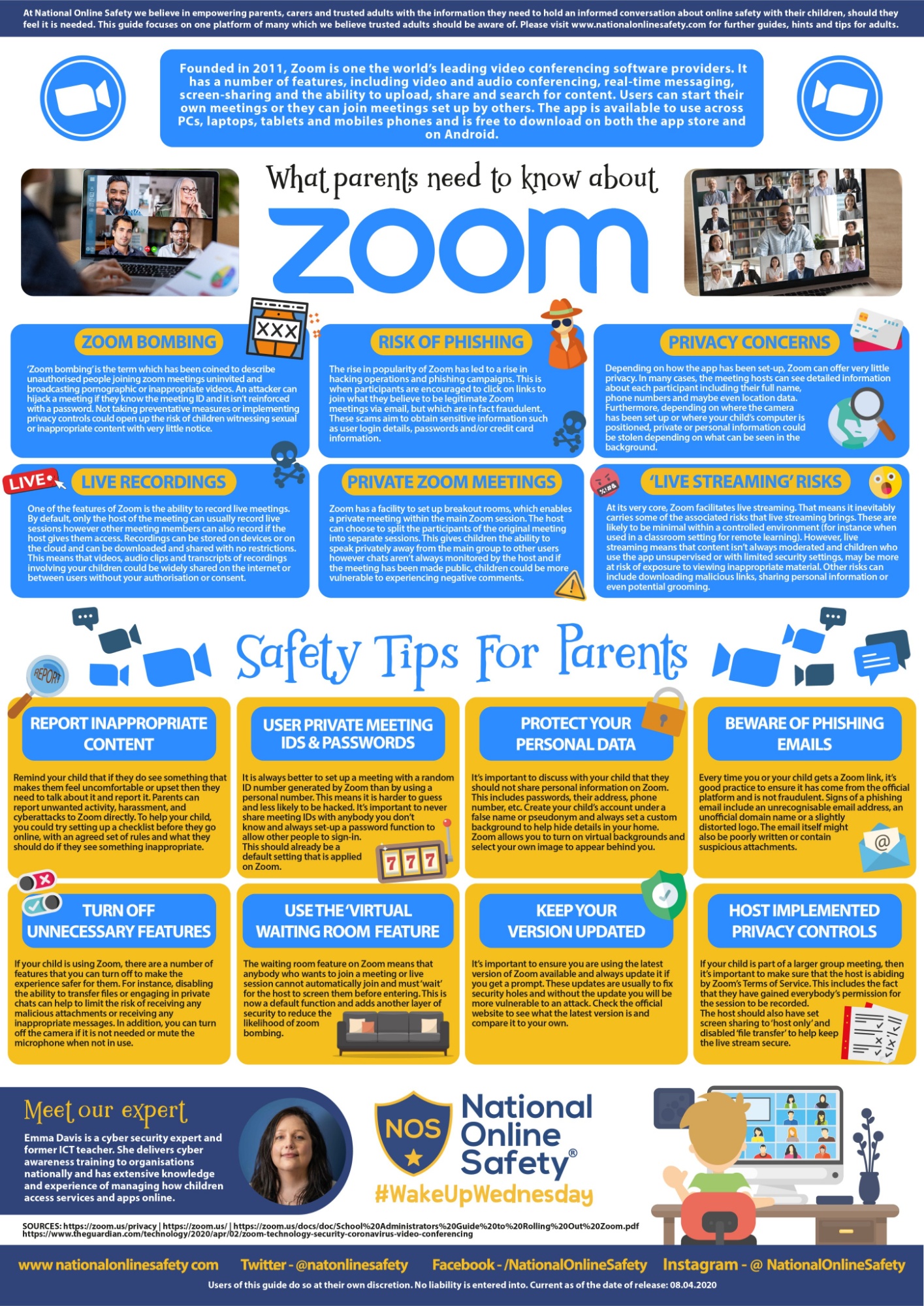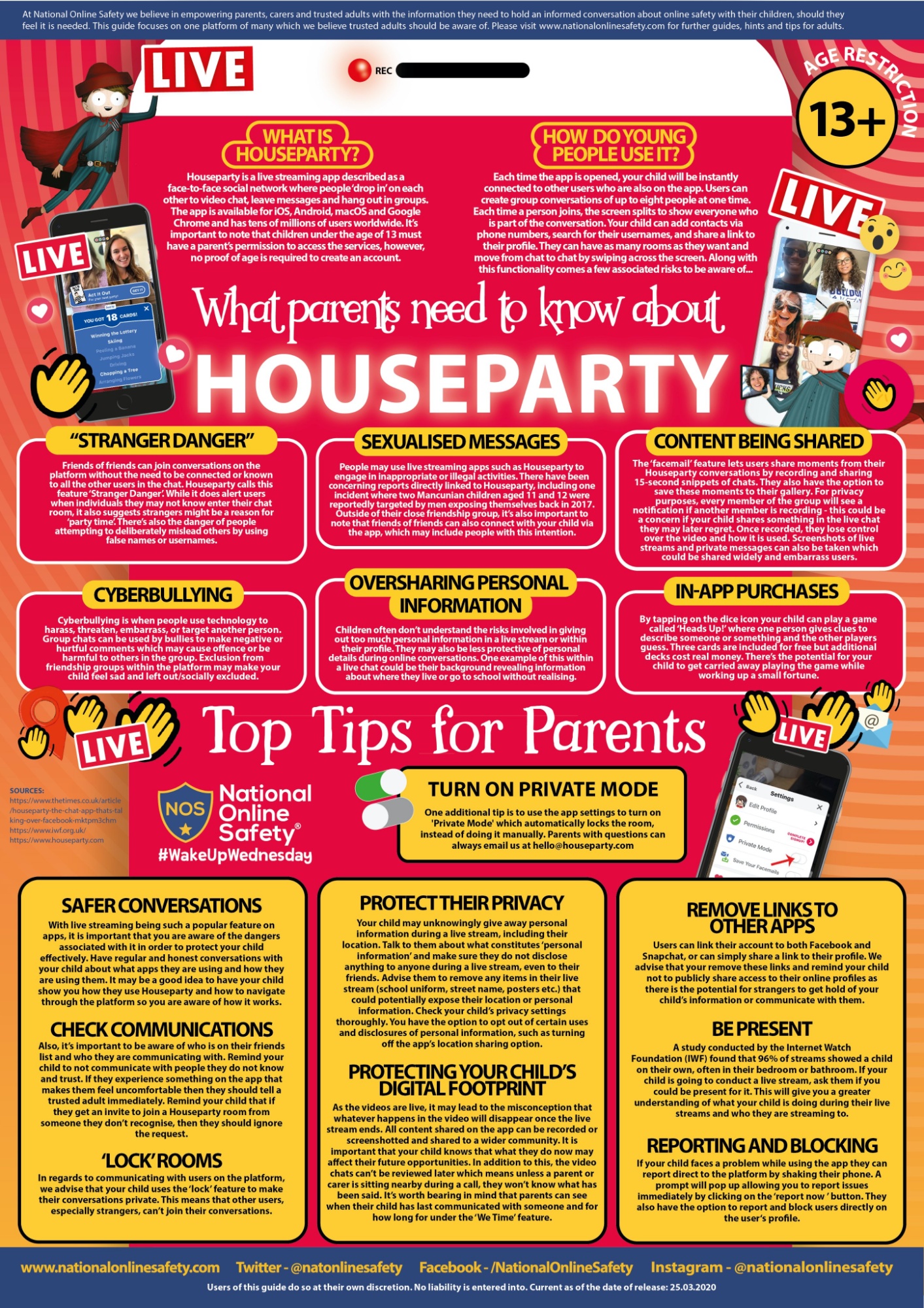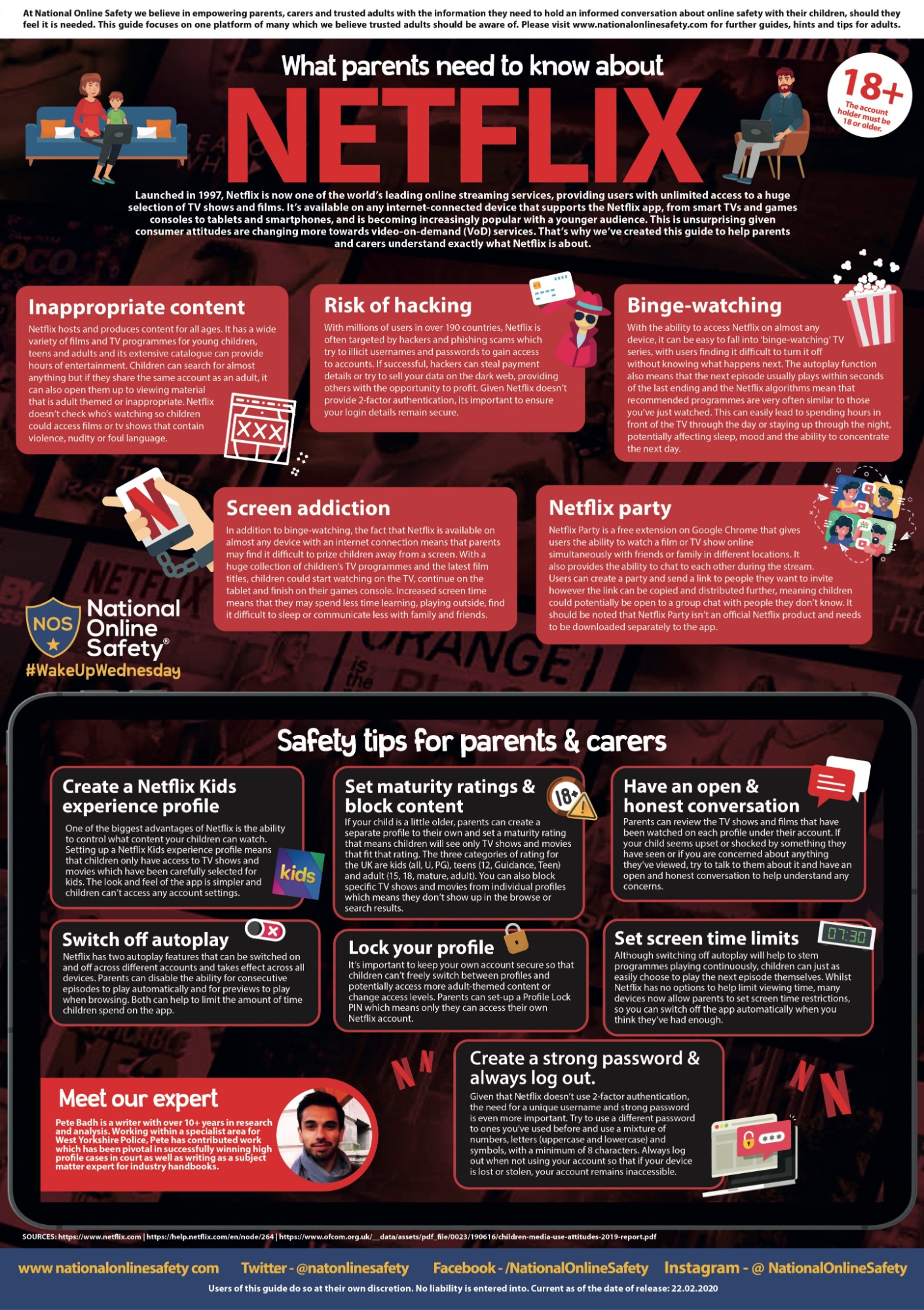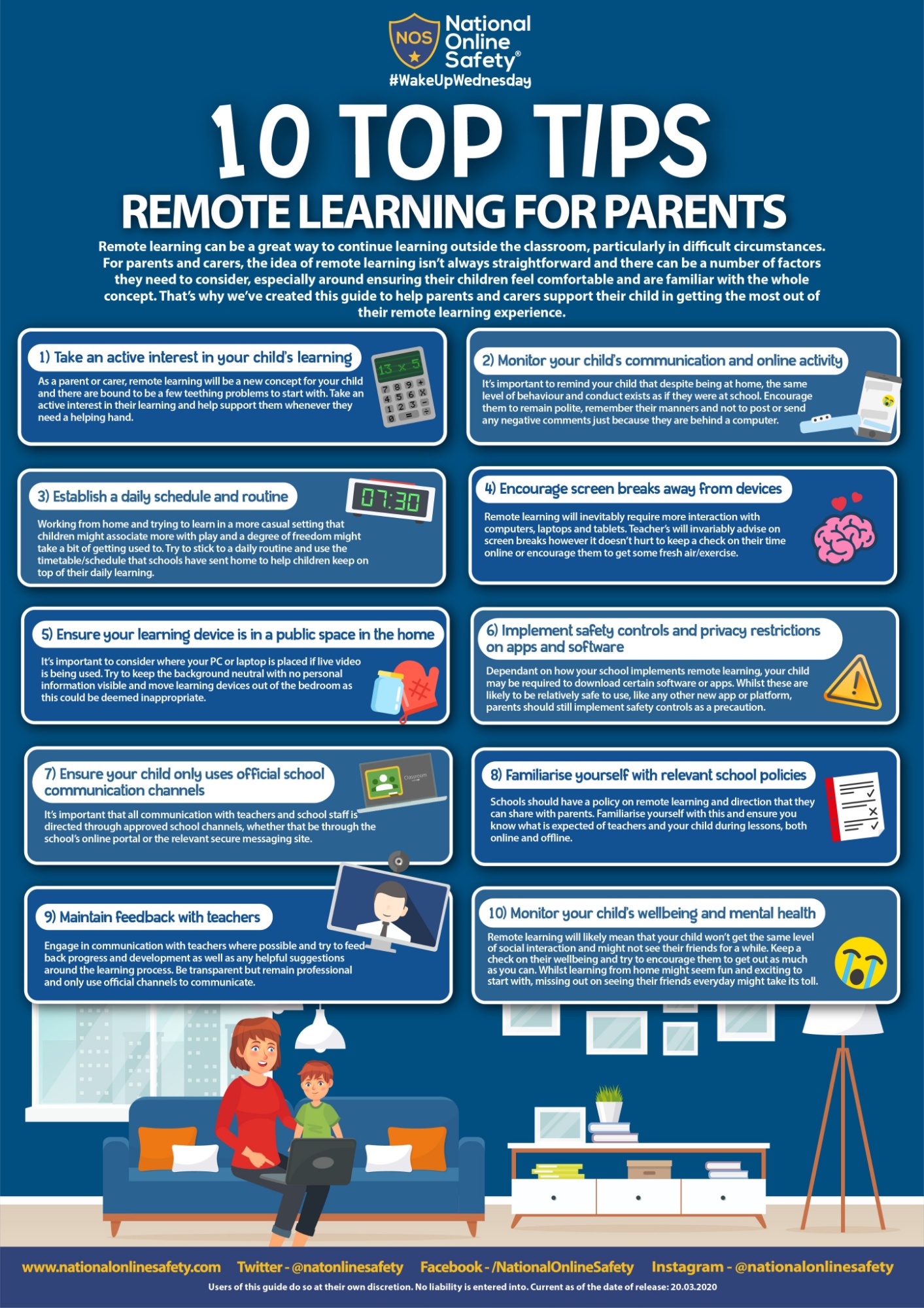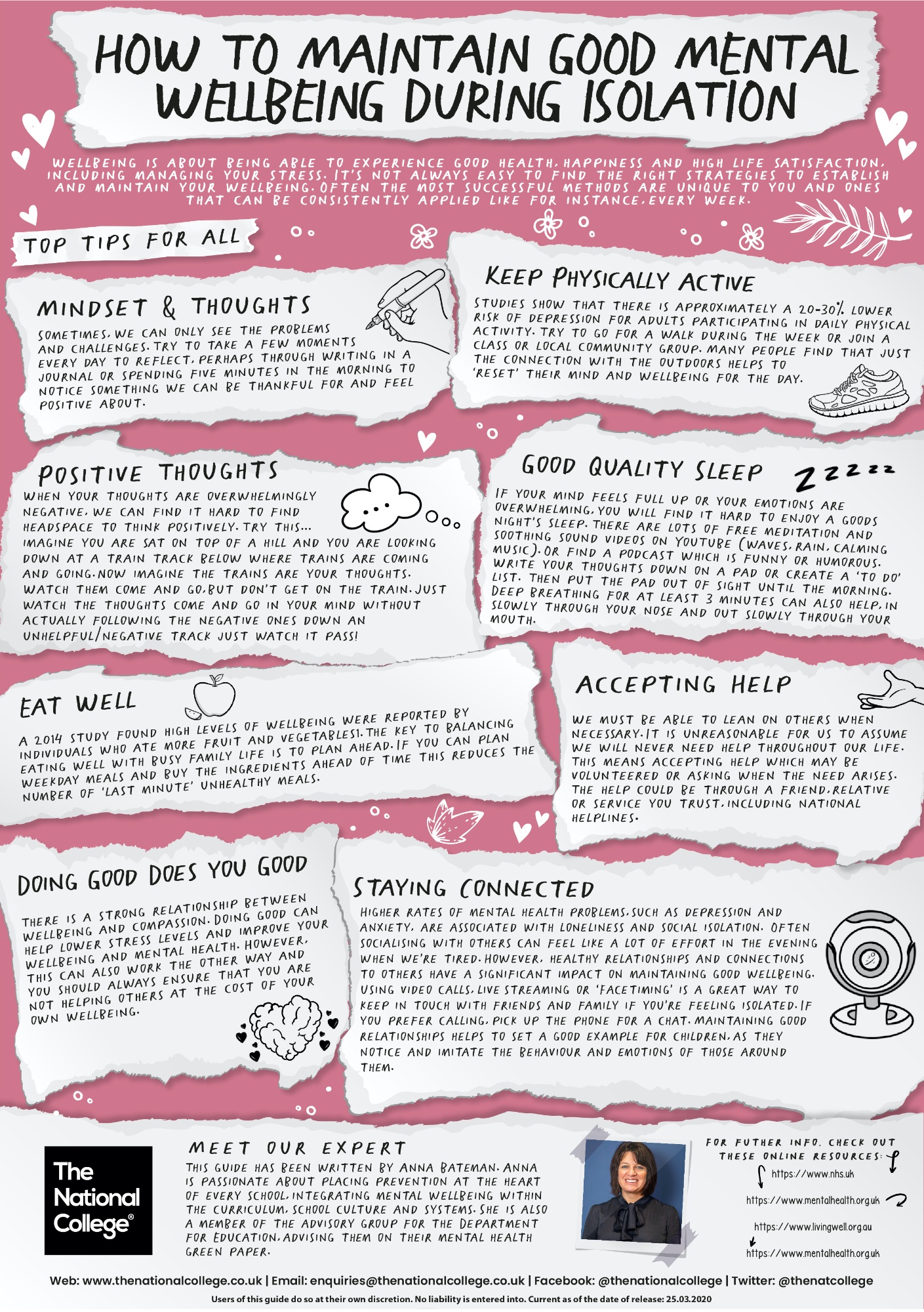 Small World Tutorials
A local parent and writer has put together a virtual project called Small World Tutorials on how to interview a grandparent/relative to find out their life story. The tutorials are part of Waltham Forest Council's Virtual Culture Programme. They are suitable for Key Stage 2 children as well as secondary school and college pupils and is based on workshops she carried out at a local school last year.
The idea is to give children and teenagers a way to connect with grandparents, aunts, uncles and other family members/family friends who they cannot see during social isolation – and to let them learn about different times in history and different places/countries.
The tutorials give tips on how to do good interviews and options for recording stories in writing, as voice recordings on Smartphones and as videos. Children and teenagers can even do these interviews with family members or carers who they live with.
Tutorials we be uploaded to the Small World Tutorials Youtube channel video section every week for 8 weeks. The first five will be for children and teens, the last three will be aimed at adults wanting to record their own biographical story. They can be done at any time.
Those who take part can also (with parental/guardian consent and assistance) join and upload photos and snippets of their work to my Small World Tutorials Facebook group - these will form a virtual exhibition of what they have learned!
There is also a Small World Tutorials Facebook page, which you can "like" to get updates.
Speakers for Schools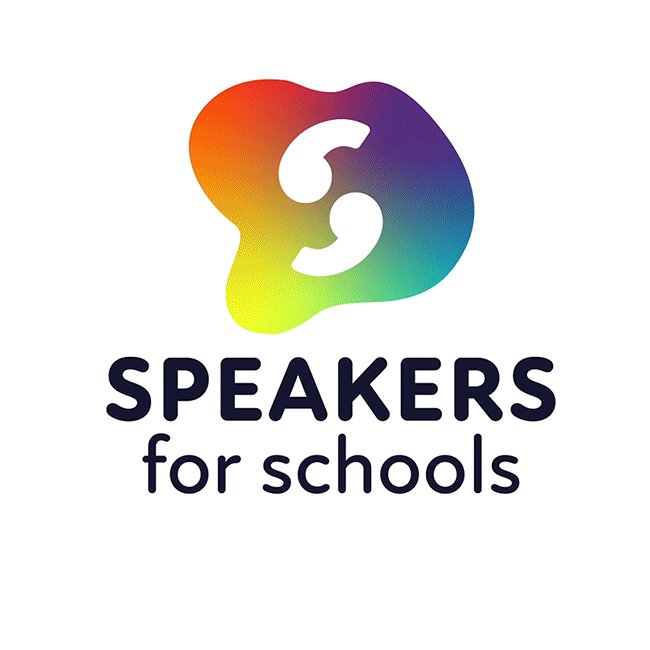 Dear Parents and Carers
Speakers for Schools
Speakers for Schools is a charity organisation founded by journalist, Robert Peston, which provides talks to state schools across the country. These talks/lectures are given by a variety of inspiring leaders who have become renown in their industry. Speakers include those in the fields of journalism, science, arts and leading entrepreneurs.
Over the years, we have hosted a number of speakers at WSfG and our students have found them to be engaging, informative and motivational.
Speakers for Schools have now launched virtual talks, which students can watch and listen to online.
A schedule of speakers is available for the next two weeks and will take place on different days, starting at either 10 a.m. or 2 p.m. There are some exciting talks coming up.
Information on how to access talks
Video library of streamed talks
Ms M Davies
Headteacher
HOW TO JOIN THE VTALKS

VTALK LIBRARY & MORE

Watch pre-recorded VTalks from our library here
Please see our Schools Guide here.
Below my signature is more information on the SFS activity sheet
The colour codes can be found under my email signature below