Year 11
Year 11 Key Dates 2019-20
| Date | Event |
| --- | --- |
| 8 October | Parent Information Evening |
| 10 October | Early Closure at 14.30 for Open Evening |
| 11 October | School Closure for Staff Training |
| 11-29 November | Mock Examinations |
| 28 November | College Roadshow |
| 2-6 December | MFL Mock Oral Examinations |
| 9 December | School Closure |
| 10 December | Early Closure at 14.30 for Community Party |
| 12 December | Christmas Concert |
| 19 December | Mock Exam Results Event |
| 20 December | End of Autumn Term, Early Closure at 13.00 |
| 23 January | Parents' Evening |
| 7 February | Professional Interview Day |
| 6 March | International Women's Day |
| 8 May | Bank Holiday (Friday) |
| 11 May - 25 June | GCSE Examinations |
| 13 May | Early Closure at 14.30 for Staff Training |
| 10 June | Early Closure at 14.30 for Staff Training |
| 15 June | Book Return Day |
| 24 June | National Contingency Day |
| 26 June | Leavers' Day |
Parent Information Evening - Tuesday 8th October 2019
The aim of this evening is to provide you with details on key events your daughter will need to prepare for this year and how to support her in core subjects:

* Post 16 options and college applications, Ms Kennedy
* Professional Interview Day, Ms Philippou
* Preparing for GCSEs, Ms Kennedy
* English – final preparations/revision strategies, Ms Schaber
* Maths – maths mocks, interventions and revision software, Mr Salmon
* Science, interventions and Tassomai, Mr Kerr
* Summer 2019 NCS engagement, Mr Dominic
Should you have any query about the evening, please contact me.
Ms Jean-Baptiste
Student Progress Leader, Year 11
If you were unable to attend, the information given can be found here
Parent/Carer Consultation Evening 23 January
Year 11 Parent/Carer Consultation Evening
Thursday 23rd January 4.30 to 7pm
Dear Year 11 Parents and Carers
Your child will soon be making appointments with their subject teachers for a discussion on their progress.
We encourage all Year 11 students and their parents / carers to attend this consultation evening to discuss their child's progress and strategies to help them achieve their full potential this year. It is a crucial event to attend as your child will be starting their GCSE examinations soon.
We look forward to seeing you.
Ms Jean-Baptiste
Student Progress Leader, Year 11
Careers Talk

On Tuesday 3 March there will be a talk on Careers in Journalism by Lynn Eaton at lunchtime in the Norris Hall. Students from all year groups are welcome to attend.
MyBnk Opportunity
We are looking for a group of students (any year group) to be WSFG MyBnk ambassadors and possible the MyBnk Youth Advisory Panel (YAP).
This is a great opportunity to develop your financial understanding, to develop your leadership and creativity and to try something new.
As an ambassador you will need to attend some meetings with Ms Philippou and MyBnk and to help us create new fun activities as well as organising and leading activities in school (possibly including an assembly).
To join, you will need to write a paragraph to Ms Philippou about why you are interested and what you will bring to the team. This will also look great on your CV!
Deadline: Friday 24th January
Thank you,
Malaika, Priscilla, Mominah and Ms Philippou
Barge Haybay Residential Trip
BARGE HAYBAY Residential TRIP
From Friday 12th June to Sunday 14th June 2020, we will be taking 24 students on a residential activity trip to Essex.
We will be staying on a moored barge and taking part in outdoor activities such as climbing, canoeing etc.
The cost is £100.
All students are invited, but there are only 24 spaces, so if you have not been before on this school trip and are interested and would like more details, please see
Ms Famiglietti in G68.
Virgin Money Giving Mini London Marathon
Virgin Money Giving Mini London Marathon
Sunday 26 April 2020
Would you like to represent Waltham Forest in this year's Virgin Money Giving Mini London Marathon on Sunday 26 April 2020
Age categories are:
Boys and Girls – Under 13
Born between 1 September 2006 and 28 April 2009
Boys and Girls – Under 15
Born between 1 September 2004 and 31 August 2006
Selection for Waltham Forest is as follows:
The runner must live or go to school in the borough.
The details of the event are here: https://www.minimarathon.co.uk/en/
GCSE Music
Extra music listening tuition for GCSE Music students available for free
on Wednesdays 4.30 - 5.30 in W33.
Thanks,
Ms Bradshaw
College/Sixth Form Lunchtime Assemblies

The following Colleges and organisations will be holding an assembly at 1pm in the Hewett Hall on the dates shown ...
Wednesday 4th/Thursday 4th March - Healthcare Horizons Drop-in Talks
College/Sixth Form Open Days/Evenings

Highams Park
Thursday 23rd January 6pm - 8.30pm
---
Walthamstow Academy
Thursday 30 January 2020 5pm - 7pm
---
BSix Open Day
Saturday 1 February 2020 10am-1pm
---
Fashion Retail Academy
8th February, 7th March, 6th June
To book a place, visit their website
---
New City College, Epping Forest
Open day is 28th March 2020, starting 11.00am.
Open evenings are 28th February and 16th June, starting at 4.00pm
Taster Days 6th and 7th July 2020
---
Seven Kings Ilford
Online applications November 2019 - closing date 30th March 2020
---
Please note students are NOT ALLOWED to attend Open Days during the normal school day!
The latest information on Open Days/Evenings can be found here
Fashion Retail Academy Workshops
Let your students know where
they can meet us...

8th February
FRA Level 2/3 Open Day

7th March
FRA Level 4 & Degrees


We are excited to let you know we are now taking bookings for our free interactive workshops, which take your students through a series of specialist sessions on careers in fashion and the many varied job roles these within it.

These interactive workshops are geared
at Year 10, 11, 12 & 13

For more information or to book a visit from us, please email:
Events@fra.ac.uk

We love to hear your outreach ideas!
Let us know how we can help you reach your Gatsby Benchmarks. For more information on what we offer,
please email: events@fra.ac.uk

Heathcote School Open Evening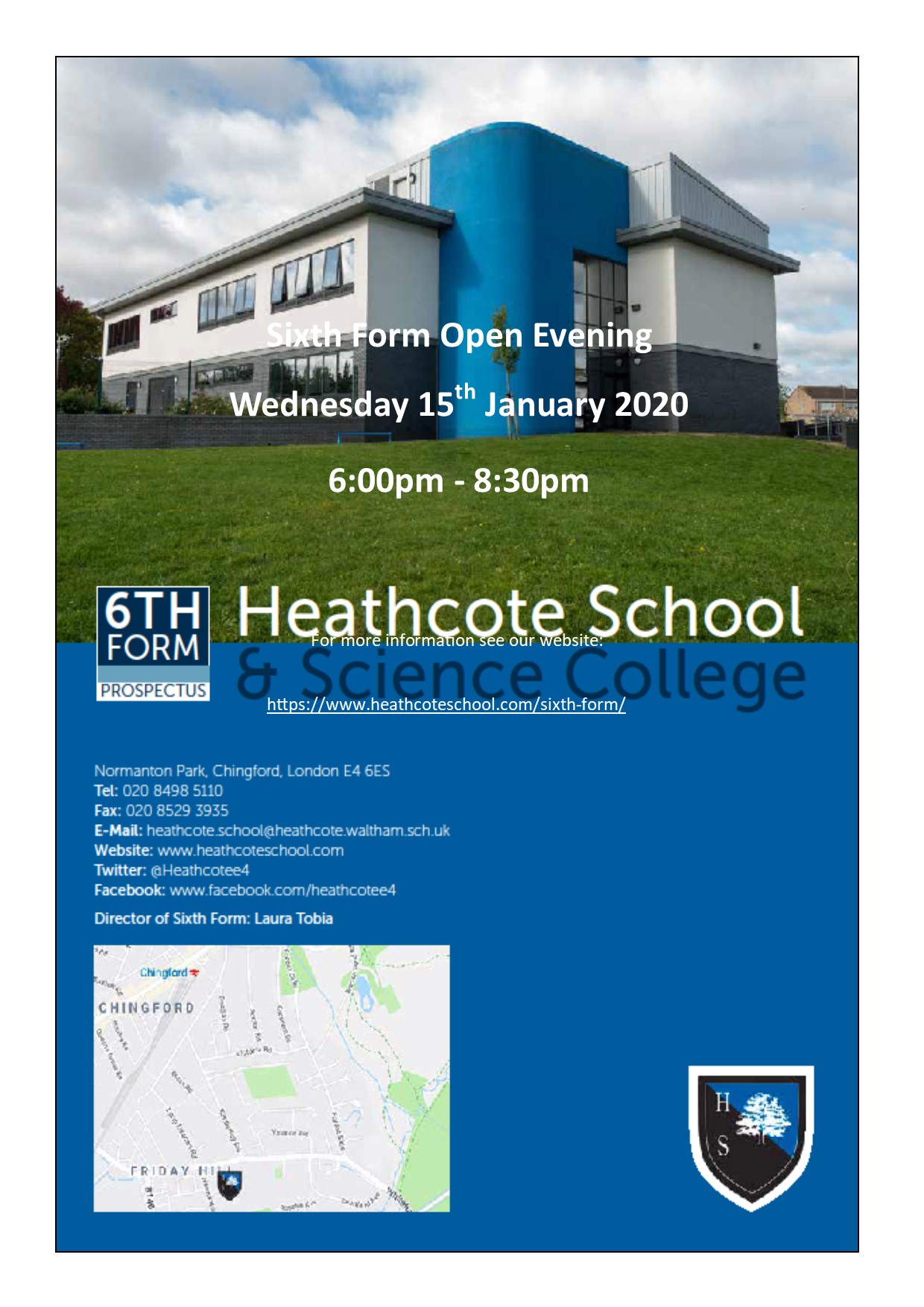 Advice Afternoons at NewVIc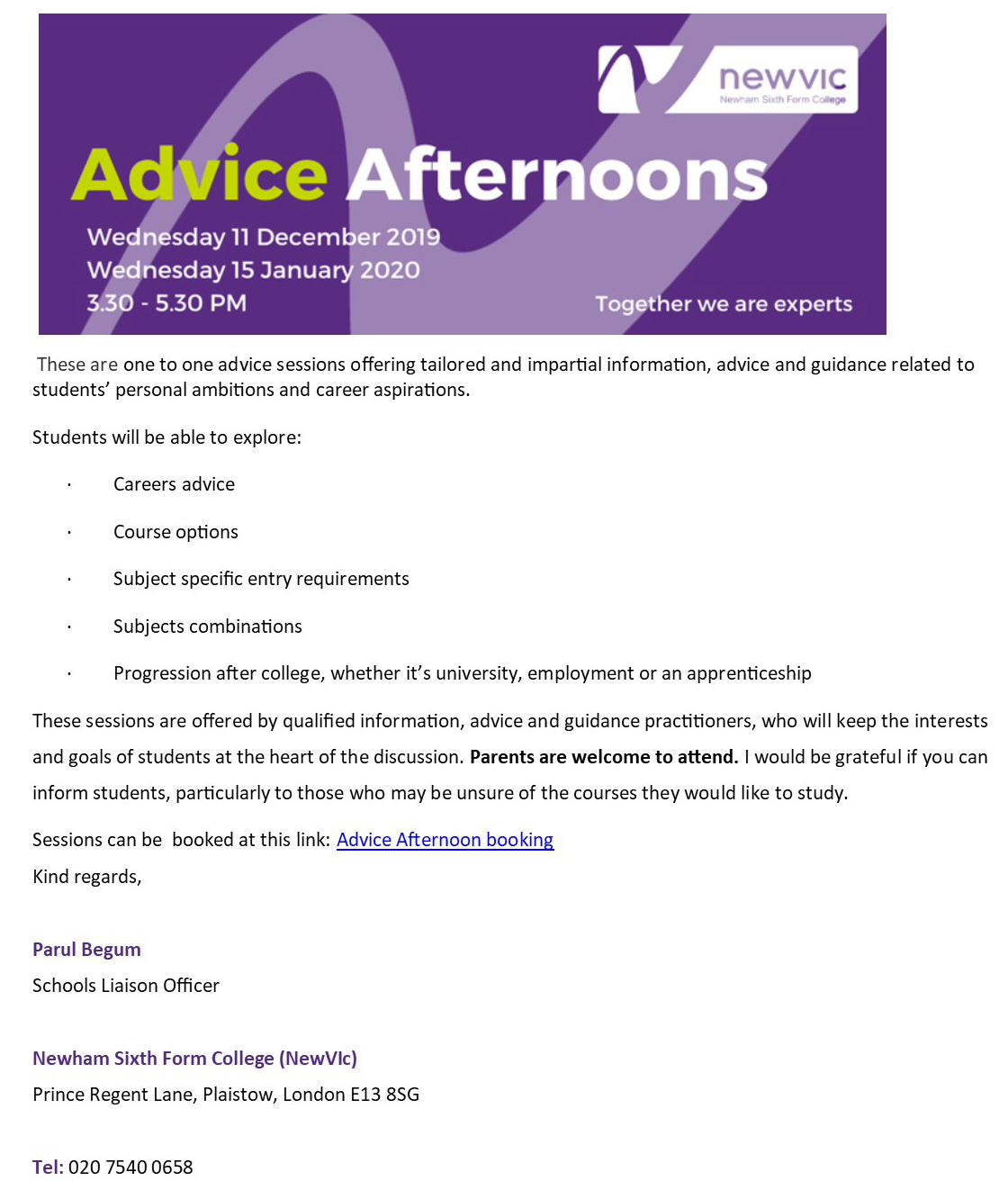 Key Stage 4 Book Deposits -important information!

On Tuesday morning all students who have paid a book deposit will be issued with a receipt.
You must keep this card in your conduct card wallet so that teachers can issue you your books.
At the end of a lesson, you will be required to show the card when books are being collected in from those students who have not yet paid their deposit.
For those students who have not yet paid their book deposit, once it has been paid on sQuid you should go to student services where payment will be checked and a receipt issued.
For Year 11 students who have not paid by October half term, you will be required to return books that have so far be loaned to you.
If your parents are having difficulty paying on sQuid, please see Ms Jolliffe at Student Services who will be able to issue instructions and guidance.
Ms Kennedy
Deputy Headteacher
New Vic Open Day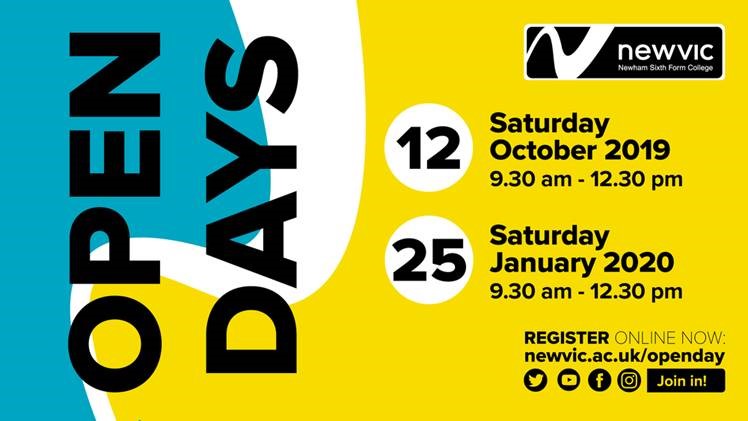 I am pleased to invite your Year 11 students and their parents to our Open Day on Saturday 12 October 2019 9:30m – 12:30pm.
This year we will be hosting a panel of guest speakers from various sectors as well as successful Alumni who have launched themselves into established careers, which will give students a chance to discover and learn more about their career options and progression opportunities.
We will also be hosting a range of interactive subject areas for students to visit and they will have a chance to ask questions about their interested course choices and meet current students on the course. Parents and guardians will also have a chance to find out more about our innovative teaching, technological advances in curriculum delivery and meet senior staff.
Students can register online
Please do encourage your students to attend so they can make a positive start in researching their future options.
We hope to see as many of them as possible there!
Kind regards
Parul Begum
Schools Liaison Officer
Newham Sixth Form College (NewVIc), Prince Regent Lane, Plaistow, London E13 8SG
Tel: 020 7540 0658
Waltham Forest College Open Events

The dates for our next scheduled Open Events are:
Saturday 25th January 2020, 10am – 1pm
Wednesday 18th March 2020, 4.30pm – 7pm
Wednesday 20th May 2020, 4.30pm – 7pm
Students can pre-register online HERE!
In the meantime, please click here for highlights of our previous event.
African Adventures Youth Development Programme
Dear Parents/Carers and Students
As you know, we run a very exciting school trip to Zanzibar with African Adventures. As much as we would love to, we can't take everyone, but we would like all of our students to have valuable, life changing experiences like this.
African Adventures have contacted us to let us know that they have launched their Youth Development Program which runs next summer for 16 to 18 year olds.
Individuals can choose between trips to Ghana, Kenya and Zanzibar.
Although this trip isn't run through our school, we would highly recommend African Adventures and the opportunities they offer. This will also be a fantastic opportunity to meet other like minded young people and to make new and exciting connections.
You can find all of the details at www.african-adventures.co.uk/ydp
It would be fantastic to see some of our students get involved.
If you have any further questions, you are welcome to email me on mphilippou@wsfg.waltham.sch.uk and if I can't answer your query I can pass it on to the African Adventures Team.
Good luck!
Ms Philippou
Assistant Headteacher
Chemistry Revision
Great summary sheets for all Chemistry topics:
Find these summary sheets for all AQA GCSE Chemistry / Trilogy topics here at
OR
I have also saved the relevant sections in Student resources/ Science/ 0 new AQA /Chem revise summary sheets (YouTube)
Ms Brunas
Year 11 English Workbooks

Workbooks for 'An Inspector Calls' and 'Jane Eyre' are available at Student Services at a reduced cost of £4 each. Please see student services before or after school if you would like to purchase these workbooks.
Ms Schaber
Head of English Faculty
Year 11 Geography Revision
In preparation for the GCSEs, Mr Sterlini has created a revision list for the Year 11 Geography paper which can be found here
A Reminder for all Year 11 Students

Important Reminder
All Year 11 students need to regularly check their school emails for important information that is sometimes sent to them.
If they are unsure of their email addresses please speak to one of the IT Technicians in F15.
Many thanks
Ms Brickett
Exams & Assessment Manager
Exam Anxiety - Supporting at Home
Please click here for helpful advice on supporting your daughter through her exams.
Tips for College Interviews

Tips to make your interview a success are:
Have a conversation. The most successful applicants are those who are themselves
Ask questions. Do express your interest in why you want to study the subject(s) you have applied for and the College
Be yourself. Don't try to answer questions based on what you think your interviewer wants to hear
Prepare. Find out about the course(s) you've applied for. Find out about the career paths or further study options. Find out about the College. Have a look through the website.
Be ready. Always arrive at least 15 minutes early.
Lunch Money Loans

The number of students borrowing money for lunch increased dramatically last school year. Lunch money loans should be for emergency purposes only.
Walthamstow School for Girls offers a Top-Up facility via sQuid enabling both students and parents to check balances, top-up lunch money, pay for trips and other sundry items at their own convenience.
An automatic Top-Up can also be activated ensuring your daughter never runs out of money.
A reminder to parents/carers that if you wish to pay for your daughter's school meals by cheque, please make the cheque payable to 'Olive Dining Ltd'.

All students have also been given usernames and passwords to enable payments to be made online via our sQuid system. If you would like a reminder of your daughter's username and password please contact Student Services.
Ms Jolliffe
Student Services
College References
If you require a college reference you need to hand in your completed application form to Student Services in the morning, before registration. You will then be able to collect it after school that day.
Any applications/requests received after break may not be completed until the following day.
We have to adopt this procedure as hundreds of requests come in each year and they all need to be logged and completed.
If you collected your reference before the Christmas holidays it contains your Forecast Grade from your end of Year 10 exam results. After Christmas this was updated and your college reference will have a Forecast Grade based on your Year 11 Mock Examination.
For on-line applications, where a contact e-mail address is requested, you should use the following address:
If you have any questions please see Ms Jean-Baptiste or Ms Jolliffe.
GCSE PE
GCSE PE revision guides are for sale from the PA office for £2.50 each.
Please see Ms Wood or Ms Warren if you would like to buy one.