Humanities News
News from our Humanities (History, Geography, Religious Studies and Travel & Tourism) Faculty
For more information about subjects taught by this Faculty, please see the subject pages for Geography, History, Key Stage 3 Humanities, R.E. and Travel & Tourism
To contact our Humanities Faculty staff, please click here.
---
Year 11 Geography Revision
In preparation for the Year 11 exams, Mr Sterlini has created a revision list for the Year 11 Geography paper which can be found here
---
Humanities Faculty Wordsearch
Words supplied by the Humanities faculty, based on history.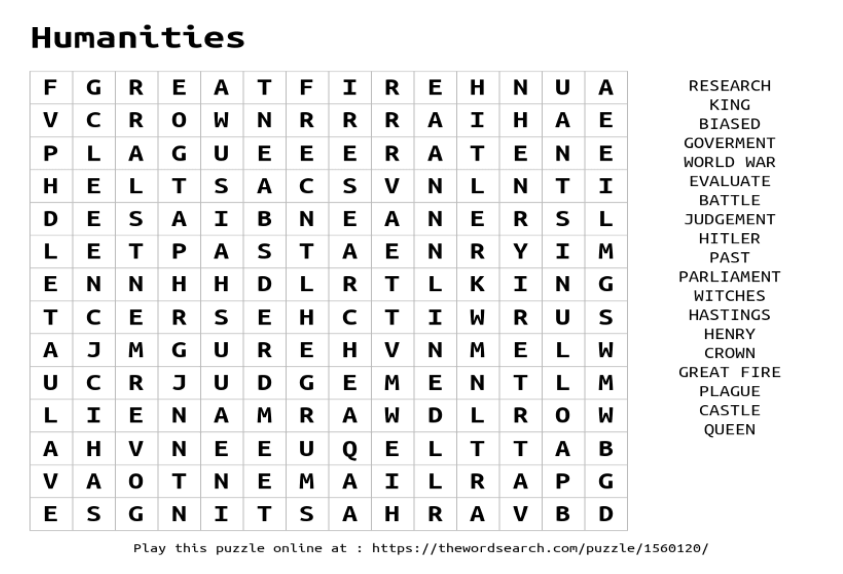 Cambridge University History/Classics Event
If you are interested in studying History or Classics at university and if you are in Year 11, see below:
Subject taster events – registration deadline Wednesday 28th October
We're pleased to announce that due to increased staffing capacity we now have extra spaces available at our "They did What?" event on 9 November. This is the sign up link for high-achieving Year 11 students that are interested in studying History, Classics or related disciplines: . As part of the online registration form, they will need to upload a consent form signed by themselves and a parent/carer.
Time

Activity

10:00-10:30

Welcome Talk: Cambridge Explained

10:30-10:40

Supervisor introductions

10:40-11:30

Supervision style session

11:30-12:10

Academic talk followed by time for questions
Dr Alessandro Launaro– Classics Director of Studies

12:10-13:00

Lunch

13:00-13:45

Academic talk followed by time for questions
Dr Melissa Calaresu – History Director of Studies

13:45-14:00

Virtual College Tour

14:00-14:15

Day in the Life Presentation

14:15-15:00

Q&A Session with panel of current students