Challenge Ambassadors Learn About Life at Oxford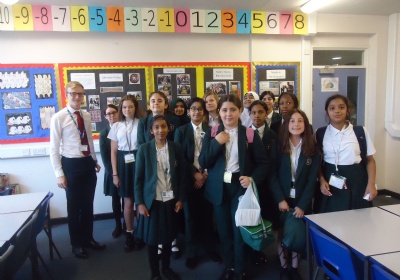 Key Stage 3 Students take part in an Academic Detectives Workshop
We have just recruited a group of Challenge Ambassadors from Years 7, 8 and 9. Their role is to help promote Challenge Enrichment Activities to their peers. Recently they were invited to an Academic Detectives workshop presented by Dan Pugh-Bevan who is Schools Liaison Office at St Peter's College, Oxford.
Here is some feedback from two of the participants:
Being a Challenge Ambassador and meeting Dan was a real eye opener about life at Oxford University. I realised once he told his story that Oxford really is within reach. The problems that Dan set us were intricate and interesting and engaged parts of my brain that I don't usually use. The session has given me great hope for the future and I am looking forward to more sessions with Dan in the future.
Olivia 8C

The Oxford talk that I was lucky enough to be a part of was absolutely amazing! Dan really inspired me to reach for the stars. I feel very fortunate I got to be a part of this, and I hope I can one day make it into Oxford University. The activity boosted my English skills and I am now very confident in scan reading and annotating. This is really going to help me in year 9 and throughout the rest of my life because I want to be a journalist. Now I really know how important my GCSEs are. I am looking forward to sharing what I learnt with the rest of my form and friends!
Jasia 8C
Dan also met with the Challenge Reps from each Faculty and recommended several websites, such as OXPLORE:
OXPLORE poses 'Big Questions' for discussion. The questions are randomly generated.
Here are a few examples:
Can war be a good thing?
Should we eat animals?
Is falling in love bad for you?
Should you have to be British to live in Britain?
Do you make your own luck?
Do have a look!
Dan will be visiting us again in next term to speak to Year 9 about GCSEs, meet the Challenge Ambassadors and to deliver a training session for staff.
Ms Robinson
Challenge Coordinator