Year 7 Philosophy Day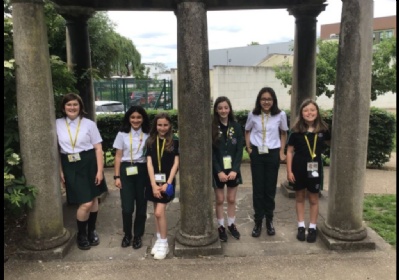 Students are introduced to Philosophy, and the school grounds!
Last week, twenty-four students from Year 7 took part in a Philosophy Day, led by The Philosophy Man, Jason Buckley. Since the start of Year 7, students have been in lessons with their form, in the same room all day, so as well as learning about philosophy, the girls were also able to see more of the school grounds and to learn alongside other members of their year group. It was a lovely sunny day and it was great to see the girls so full of enthusiasm. As Amelia said in the afternoon, she was in her element! Here is some more feedback from Jason and some of the other participants:
It was a real privilege to work with such an enthusiastic and insightful group - especially in the setting of the Greek Amphitheatre. I will remember the charismatic speeches they made as members of Odysseus' mutinous crew and the improvised Sirens' song finale for a long time!
Jason Buckley, The Philosophy Man

I found people who were interested in the things that I am interested in which made me feel at home. The activities and discussions we had were so much fun and I will never forget that day.
Blessing 7W

I found the Philosophy Day great fun and very interesting. My favourite activity was when we had to debate whether to stay and follow our leader, or abandon him and open a bag we thought was filled with gold and diamonds. It was very interesting to hear both sides where the points were all very convincing. Jason was very kind and funny. He was so fun and made it even more enjoyable. I would love to continue doing philosophical activities. I'm looking forward for when clubs reopen as I would love to join a Philosophy Club.
Marnie 7S

I really enjoyed the day and thinking about what you would do in different situations and expressing your views about it. One of my favourite bits was when we had to come up with a song so the giant king wouldn't eat us, it was really creative and funny. I also liked the speeches and discussing whether or not to open the bag. It was lots of fun, I would definitely do it again.
Freyja 7F

I really enjoyed Philosophy Day! I think it was really great to share our opinions and the story we followed was great fun too!
Constance 7W

My favourite activity was when we had 4 minutes to create a song. We were learning about the history of Greece and the amazing stories behind it. I loved interacting with other students from different forms. I made new friends and met new teachers. I think we should do more philosophy sessions and maybe different sessions on other topics. Other than that it was an amazing experience and I had the best time ever. Thank you for everything.
Ayat 7H

It was truly fun and interesting. I loved going outside and sitting in the Greek theatre and getting out into nature. It was pleasant sitting and tuning into Interesting, intriguing and clever stories but as well as that it was exciting doing exercises that were given to us. It was also nice meeting and interacting with people from other classes.
Madeeha 7G

I really enjoyed the Philosophy day and would be more than happy to do it again. I enjoyed how Jason let us join in with the story and made it like a fun play. I enjoyed making and hearing other people's speeches and going into the Greek Amphitheater. It was definitely a great way to make new friends.
Aiza 7H

I really really enjoyed the Philosophy workshop, especially the bit where we made up the song. Also, the good to evil line was very fun! I hope we get to do more things like that in the future!
Edie 7F

As a participant in Philosophy Day, I thoroughly enjoyed the creative activities we took part in throughout the day. I loved discussing the moral choices in Greek myths and taking part in interactive activities like making songs and doing role- play. My favourite part was when we role-played the soldiers and debated whether we should follow our leader or vote for democracy. Everyone was so enthusiastic and non-judgmental- it was great fun!
Imogen 7

I really enjoyed the workshop. I especially loved exploring the school grounds for the first time. I loved that everyone was involved in the Greek story near the end (especially whether to follow Odysseus or not). I would love another opportunity to explore the grounds and meet fellow philosophers.
Gina 7G

What I enjoyed about the Philosophy Day was when we were discussing the point about the story and debating, like about the juice question. Also, I enjoyed when we went out to the Greek Amphitheatre and were pretending that we were a crew on a ship discussing if we should go our own way or follow Odysseus.
Esma 7H
The day was a huge success and hopefully, covid-permitting, many more activities like this will be offered to Year 7 as they progress through the school.
Ms Robinson
Challenge Coordinator