Drama/Diversity Join Forces for Theatre Visit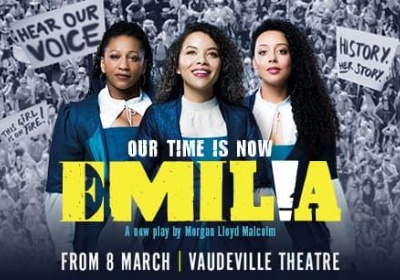 Students attend a performance of Emilia at the Vaudeville Theatre
Ms Cornford, Mr Ramlagan and I took 22 students to see Emilia at the Vaudeville Theatre on Monday 20th May. It was such an amazing play telling the extraordinary tale of Emilia Bassano, a British poet living 400 years ago and whose fight for education and equality is the stuff of legends. Emilia Bassano is often credited with being England's first feminist writer. Fittingly, the production features an all-female creative team.
Here are some of our students' reviews:
"Emilia was not just a great opportunity but it was truly inspirational. There was such a strong and powerful message to all girls about fighting for their rights. It was also really funny and I strongly recommend it!"
Edith 8W

"Emilia was phenomenal. It made me feel empowered to be a woman and I am sure many felt the same. A most amazing show, so funny and inspiring. My most favourite scene was when the boys walked onto the stage, it reminded me so much of primary school!"
Alina 8W

"I enjoyed Emilia as it was so empowering for women's rights. It combined comedy and reality. Due to the unfair lives women lived in that era, she wanted to stand up for the women of her time and spread a powerful message that men and women should be equal. It was a hard journey but she played a big role in many women's lives!"
Keshia 10C

"Watching Emilia was such a freeing experience seeing many of my own personal experiences being shown at such a public level. The commanding voices of the actresses and the beautiful atmosphere created by the musicians and singers complemented each other perfectly creating the perfect canvas for the brilliant story of feminism to be portrayed!"
Sophia 8W

"We had the absolute pleasure to see Emilia, it was truly amazing and surely lived up to the hype! The all-female cast and diversity of people really worked together beautifully to give off a truly inspirational message that all women should be equal. I'm really glad I had the opportunity to see this brilliant play and I urge you to see it!"
Julia 8W
All students were a credit to our school.
Ms Desbenoit
Diversity Co-ordinator