Year 10 Trip to the University of Cambridge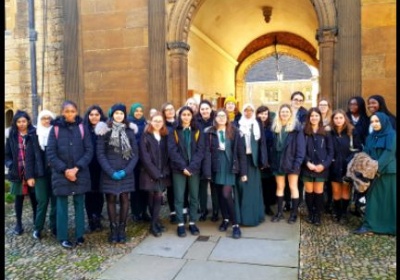 Students Visit Gonville and Caius College
Last week, thirty Year 10 students were taken to Gonville and Caius College. We were hosted by the Schools Liaison Officer, Katy Lewis, and shown around the college by ex-student, Charlotte Gamble. Charlotte is currently in her second year, studying history.
It was a hugely inspirational day. One of the aspects that was highlighted was the importance of participating in Super-Curricular activities. These are activities that go beyond what is taught in the classroom and demonstrate a passion for a subject.
For example, reading books, magazines, attending lectures, listening to podcasts, visiting museums and art galleries, listening to TED talks etc. The idea is that students are then able to talk about these experiences at interview.
Here is some feedback from the students:
I feel so privileged to have been able to go on such an amazing trip which has truly been an eye-opening experience and has showed me that the doors of opportunity really are endless.

For example, whether you choose to study medicine, history or art, that doesn't necessarily mean that you can only become a doctor, historian or artist! Choosing one course to study can stem out to a number of exciting careers, for instance, studying a course on History can lead to careers like being a Civil Service Administrator, Solicitor or Marketing Executive-which perhaps you didn't expect!

Personally, what I've taken from this experience is that, to be able to achieve your most desired goals and end up with your dream career in the FUTURE, you really have to push yourself outside your comfort zone and take on as many opportunities as possible TODAY. You'll be surprised at how time flies...

Think of it like this: You've been given all the tools you need-but what you build with them is your choice entirely. And whether your building collapses or stands steadily from the very start-there's always space to improve and make changes!

The key is to be flexible and inquisitive, and then you know you can't go wrong!

Bianca 10W

The trip was very informative and allowed me to experience student life. It was fascinating to see what a university of such a high calibre had to offer in terms of accommodation, courses and societies. Furthermore, the day provided many opportunities to ask questions and take pictures of the beautiful architecture. I was also pleasantly surprised by the strong sense of community and diversity. It was particularly inspiring to see a former student attend such a prestigious university and it has motivated me to work hard in order to be a successful candidate in future.

Romayssa 10W

My experience at the University of Cambridge was truly inspiring. The tour at Gonville & Caius was an eye-opener for each and every one of us. To have met a student whom once attended Walthamstow School for Girls and now attends a renowned University was motivational as well as influential. I am very appreciative of this outstanding opportunity and thankful to receive an understanding of what higher education beholds.

Banin 10H

We had a lecture about how the university works and how to apply. We also learnt about the activities there are to do in Cambridge and what the university looks for in an application form. Then we had a debate on the contentious topic of whether or not mobile phones should be allowed in the classroom. There were many good points such as that they would help students as they could use the internet to help them if a teacher is busy helping another student. However, a good counter-argument to that point was that many students would be distracted by the phones and would not be able to focus.

After the lecture we met Charlotte. She took us on a tour around Gonville & Caius and spoke to us about the main parts of the university. This really inspired me.

To know that a student from our school got accepted into Cambridge University motivates me to work harder in all of my lessons to get the best grades that I can and to achieve my full potential.

Amira 10W.
Finally, a big thank you to Mrs Finamore and Mr Grinbergs who volunteered to accompany us on the trip. It was a long day involving over 15,000 steps!
Ms Robinson
Challenge Coordinator