Young Essex cricketer urges girls to take up the sport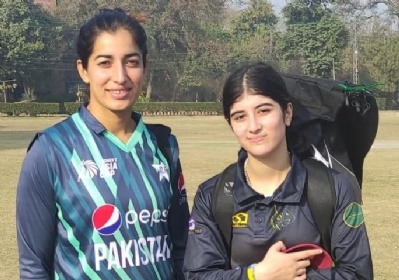 A YOUNGSTER who has taken the cricketing world by storm is hoping to represent England on the international stage.
An article shared from https://www.eppingforestguardian.co.uk/news/23249521.young-essex-cricketer-urges-girls-take-sport/

Hira Awan, of Walthamstow, 15, is currently doing her last year in secondary school and GCSEs.
She started playing cricket at a Bancroft Lions Cricket Club, based in Woodford, when she was ten years old and instantly fell in love with cricket.
Hira joined the Essex Girls County system at under 11's and has played in all the year groups.
For the last two years, she has played for Loughton Ladies Cricket Club in the Essex Premier League.
She is now in the Essex County girls under 18's squad and Sunrisers Emerging Players Program.
Her goal is to eventually make it into both the Essex Women's Cricket Team and the regional Sunrisers Team.
Over the Christmas holidays, she travelled to Pakistan and trained at Kinnaird College in Lahore, where she had an opportunity to train with some of the Pakistan National team ladies ahead of their tour of Australia.
Hira said: "I love cricket as it's the best sport in the world.
"I never knew it was actually a sport girls played before I started playing, but since playing, I have seen that it is a great sport for girls where you can make friends and have fun.
"Now, with the investment from the ECB and with the introduction of the regional team set up, The Hundred and the amazing success of the England team, it's a sport where if you're good enough, you can make a career of it.
"My goal is to play in The Hundred and for England one day and become a commentator on Sky Sports.
"I would recommend all girls and women to give it a try at their local clubs."
Hira's dad, Milak Awan, is very proud of her daughter's achievements and hopes she will climb to the top.
He said: "I am so happy that my daughter found her passion.
"I couldn't be prouder of her, especially since she has achieved so much at such a young age.
"I know she will continue working hard to achieve her dream."