Diversity News
The latest news from WSFG on the subjects of Diversity and Equal Opportunities
---
LGBT + Logo Competition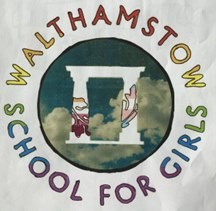 LGBT+ Logo Competition
Thank you to all those of you who entered the LGBT+ logo competition. We had a great time judging the entries.
Please congratulate the winner of the 2022 LGBT+ logo competition:
Aamanee Y8
I'm sure you will agree that this is a stunning design! Aamanee please come to Ms Philippou in F43 to collect your prize.
We will also be making some badges out of Aamanee's design as well as from the designs of our runners up, Christiah Y9 and Rosanna Y8.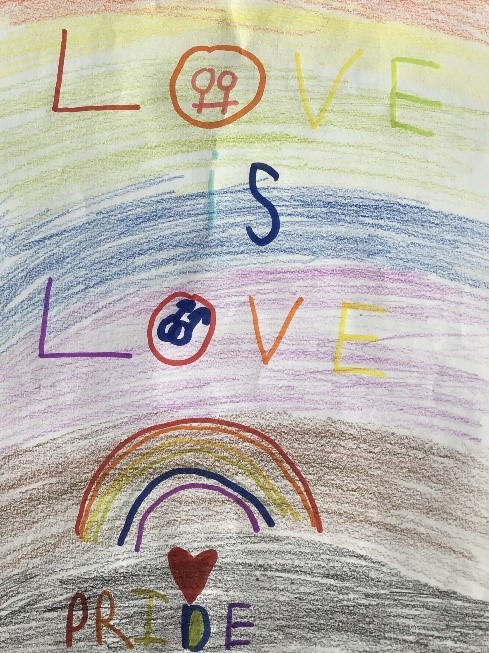 1 - Rosanna Y8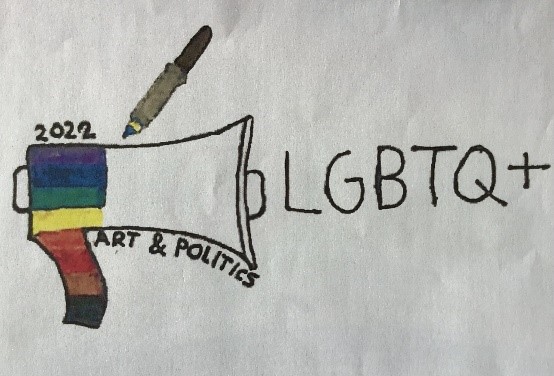 2 - Christiah 9S
Well done to you all!
I look forward to lots of our students celebrating diversity throughout the year by wearing one of these badges.
Ms Philippou
Assistant Headteacher
LGBTQ+ History Month Maths
In some maths lessons during LGBTQ+ History Month we have been celebrating the life of great mathematician, Alan Turing.
Year 9 played the Alan Turing Version of Monopoly and Year 8 researched his life.
Here is a report by Alicja in Year 8:
Alan Turing
Alan Mathison Turing was a computer scientist who was crucially involved in cracking German ciphers, intercepted coded messages and most importantly, the Enigma Cipher Machine during WWII. He was born on the 23rd of June 1912 in Maida Vale, London, England. Turing was prosecuted in 1952 for 'homosexual acts'. However, he accepted hormone treatment with DES (chemical castration) as an alternative to prison. He then unfortunately took his life 16 days before his 42nd birthday, using cyanide poison.
From September 1938, Turing worked part-time with the Government Code and Cypher School (GC&CS), the British codebreaking organisation. He concentrated on cryptanalysis of the Enigma Cipher Machine used by Nazi Germany, together with Dilly Knox, a senior GC&CS codebreaker. In December 1939, he conceived of the idea of Banburismus, a sequential statistical technique (what Abraham Wald later called sequential analysis) to assist in breaking the naval Enigma.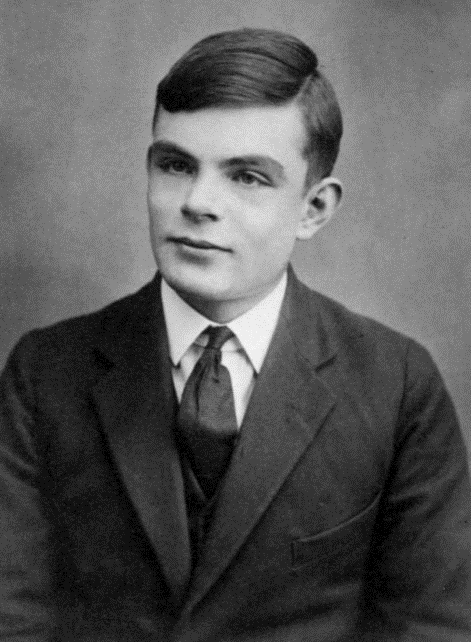 On June 23rd (Alan Turing's birthday) 2021, the new polymer £50 note was introduced, printed countrywide with Turing's profile. The decision came to be when the Banknote Character Advisory Committee held a six-week public nomination period, receiving a total vote of 227, 299 votes in accepting Alan Turing to be the new character of the £50 note. Mark Carney, Governor of the Bank of England, commented: "Alan Turing was an outstanding mathematician whose work has had an enormous impact on how we live today. As the father of computer science and artificial intelligence, as well as war hero, Alan Turing's contributions were far ranging and path breaking. Turing is a giant on whose shoulders so many now stand."
Report by Matilda in Year 8:
Alan Mathison Turing was born on the 23rd of June 1912 and cracked the code from the German Enigma which was a machine used to transmit German messages. Although he saved lives and helped Britian win the war many people did not approve of his sexuality. Being a gay man in the early 20th century was seen as being illegal and unacceptable. In 1952 Turing was arrested for having a relationship with a 19-year-old Arnold Murray, as alternative for prison Alan underwent Chemical castration to reduce testosterone . This caused Alan to later commit suicide, and he will be remembered as one of the greatest computer scientists to have ever lived. The 50-pound note featuring his face was released on the 23rd of June 2021 which would be his birthday to commemorate his achievements and spread diversity on a commonly seen and used form of money.
Matilda Y8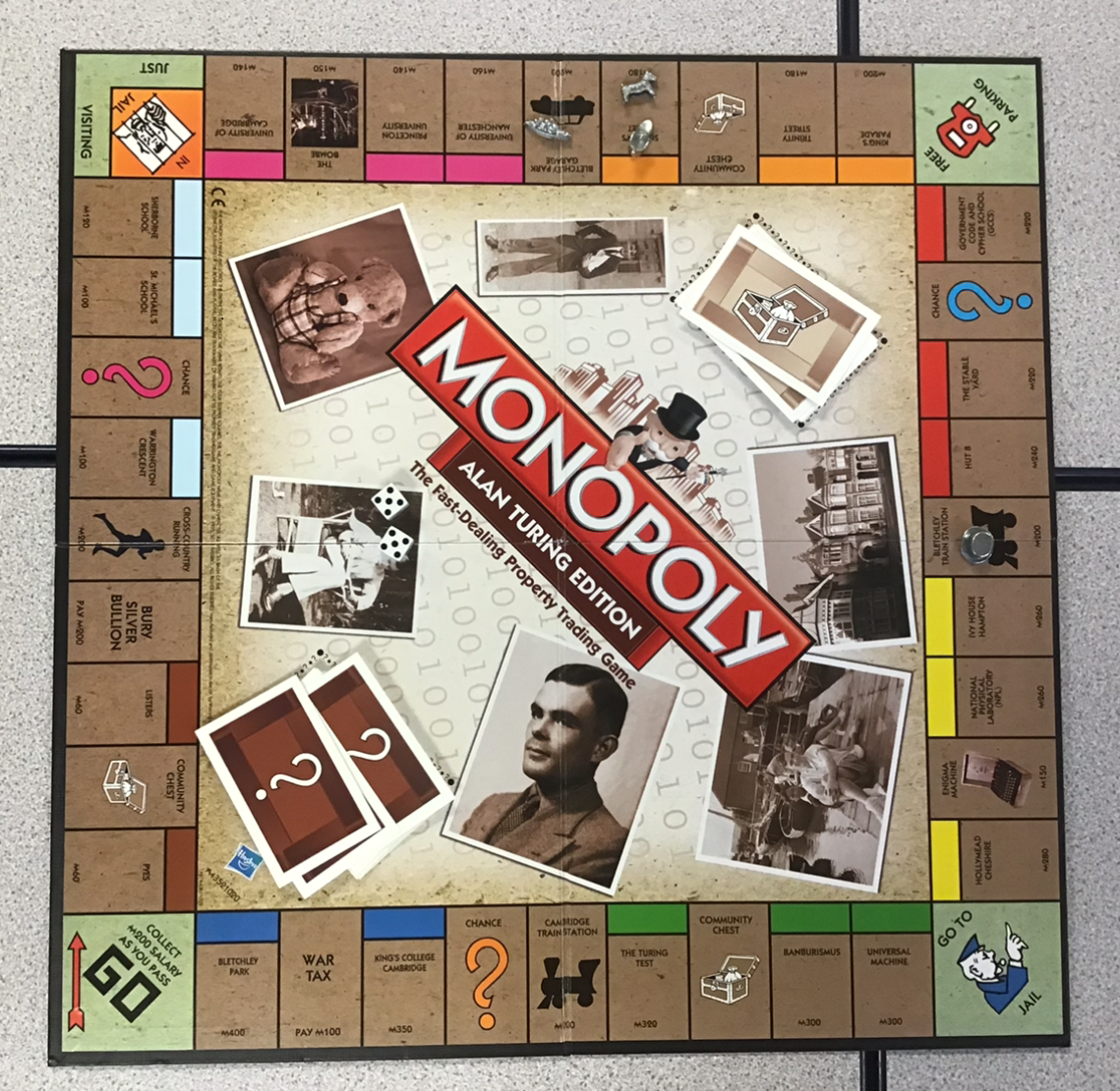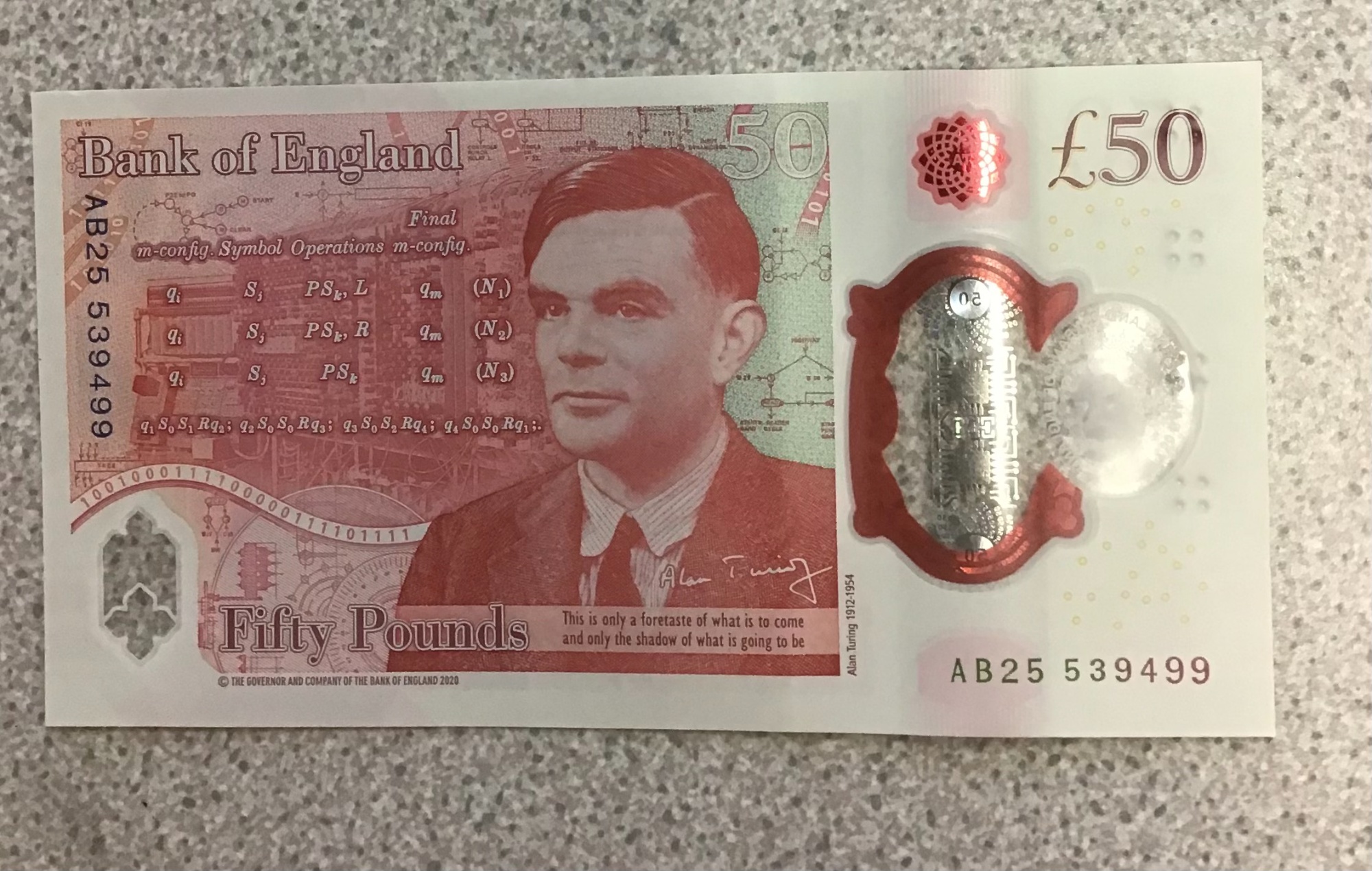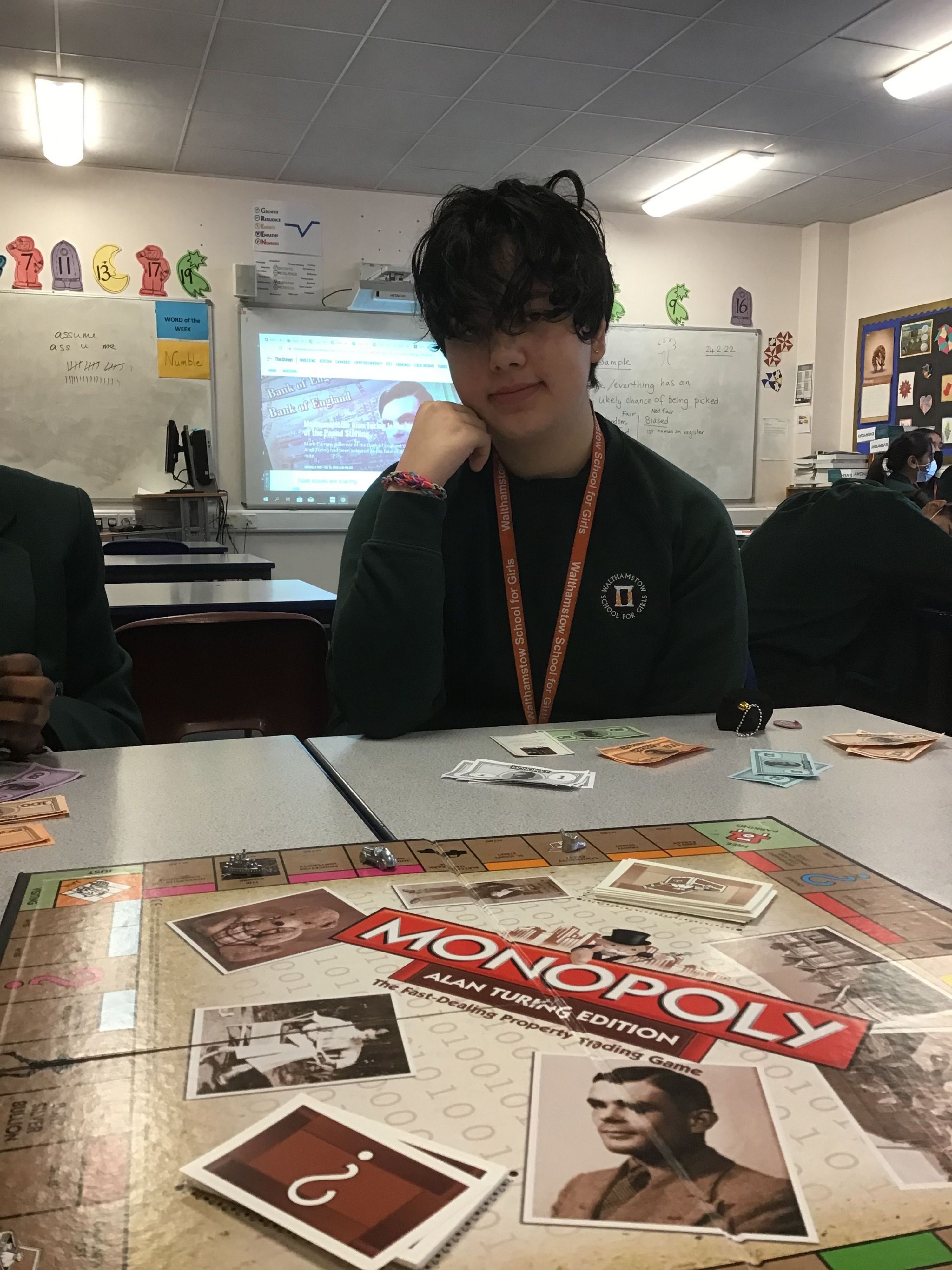 Black Lives Matter Artwork
My intention, when I produced this painting of a Black woman, was to represent the BLM movement through the image and what is implied by it.

Her hair deliberately stands out a lot, which for me is a big part of black culture, cultural appropriation, and cultural appreciation. The crown, comfortably sitting at the top of her head, replaces the fact that she does not have any facial features (e.g. eyes, nose, lips etc.). I chose to represent her in this way because, in my opinion, a lot of Black people must "put a face on" for the rest of the world because of the stereotypical opinions, perceptions and views that the world has of Black men, women and children. It also shows the strength used to do this.

Reannon 9G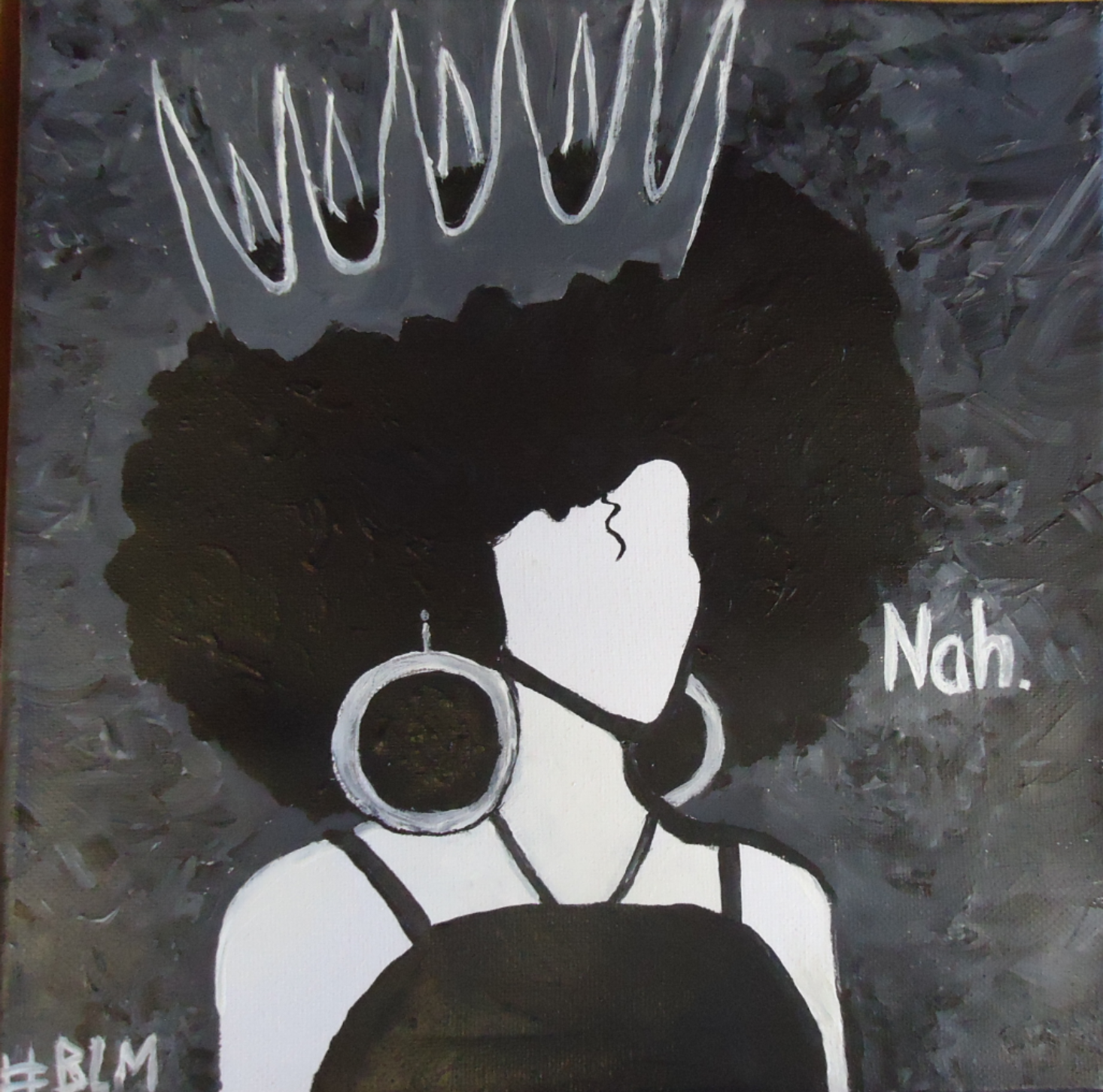 Freedom Walk

The Learning Resource Centre now has a copy of Freedom Walk: The Roots of Diversity in Waltham Forest by Peter Ashan.
Mrs O Kelly
LRC Manager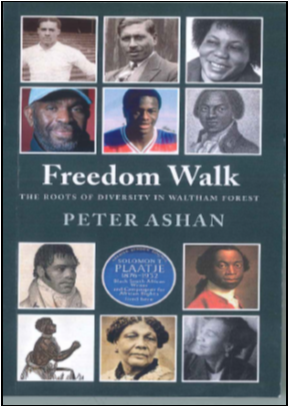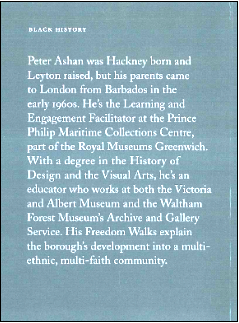 A Message for our WSFG Community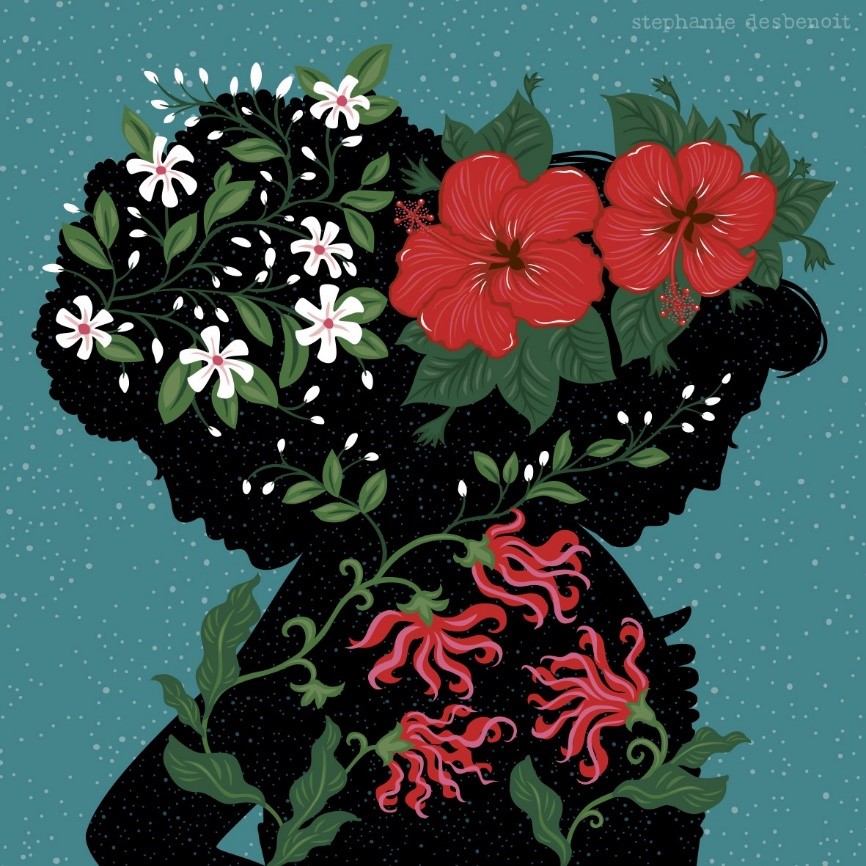 Dear students, parents and carers,
I hope you and your family are well and safe. Hopefully, now, with the gradual easing of the lockdown restrictions, you may have been able to start meeting members of your extended family and some of your friends. Please stay safe.
We have been confined for many weeks now but the last one has been particularly difficult as with the killing of George Floyd, it has become even more emotional and upsetting. Protests have been happening all over the world and in London at Hyde Park. The key message of these protests is that racism in all its forms must end. We all have a part to play in helping towards a more equal world.
In our school, Equal Opportunities and Diversity are key. We aim to inspire a love of learning and a genuine respect for all members of our multi-cultural, multi-faith community. We ensure that everyone is treated fairly and with respect. All cultures and languages are valued equally regardless of numbers.
It is vital that during this time we stand with our black community and show our solidarity.
Make sure that you keep up to date with what's going on in the news, you read the articles on the Diversity page and in the Diversity magazine.
You will also find really useful resources in The Day and VotesforSchools in our school Greensheet.
Take a look at this video about implicit bias and systemic racism, it gives a very clear explanation of the American system.
Some of this week's assignments might be a bit different as we wish to show our support, to facilitate reflection and greater understanding. We also want to encourage healthy discussions at home.
On a whole school level, when school fully returns to normal, there are many charities we can reach out to and work with. I would definitely like to involve our Diversity students to discuss how they want to support in our meetings so they share their ideas and get their voices heard.
Please continue to stay calm and to look after your mental wellbeing. Remember if you have any general school issues or you are having problems with Teams, please contact us at info@wsfg.waltham.sch.uk
Kind regards
Ms Desbenoit
Diversity Coordinator
Black Lives Matter Reading List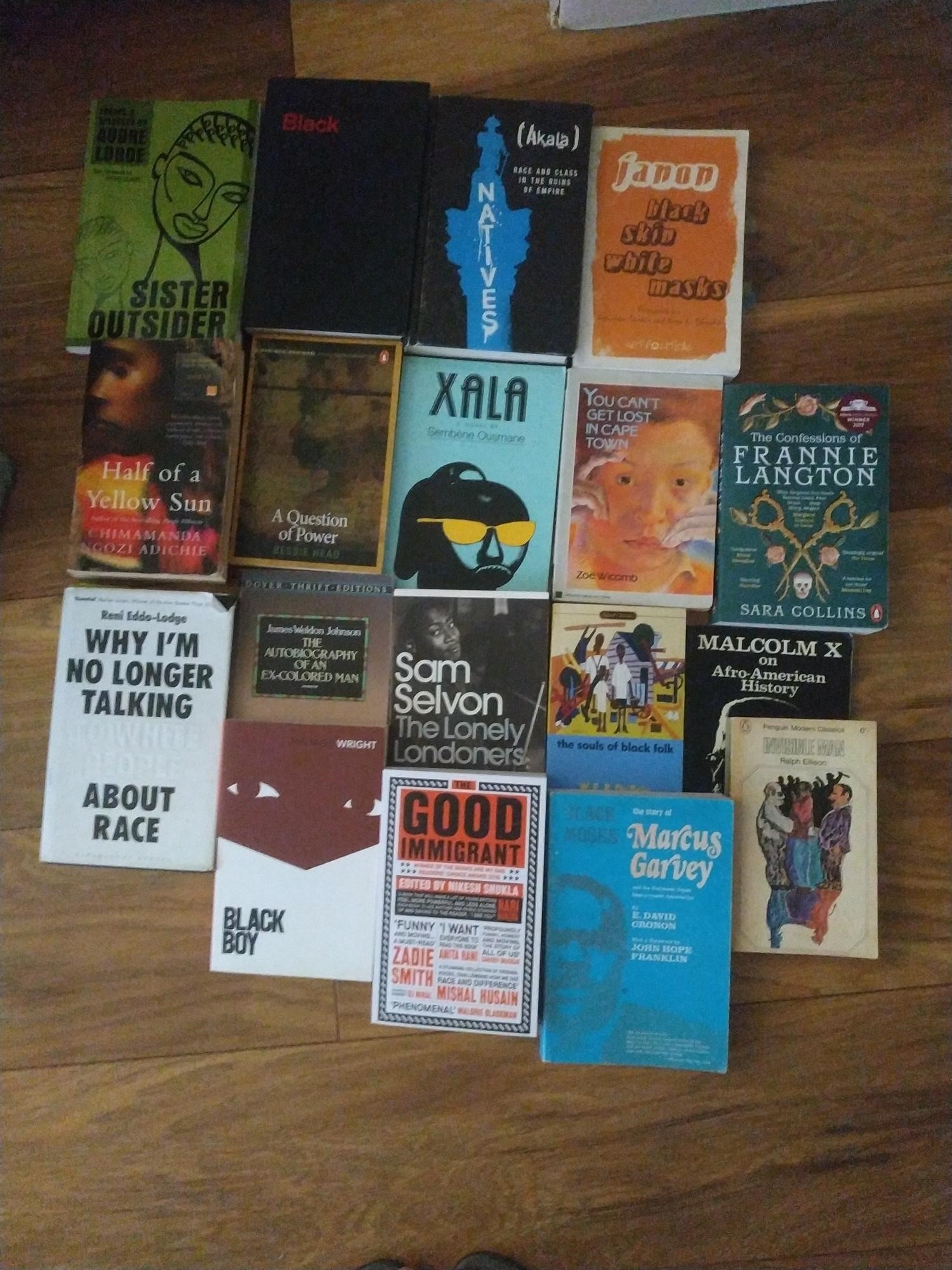 We have all been deeply saddened by the news of George Floyd's tragic murder; however, we all know that this is not a one-off tragic event, this is something that happens regularly to black people. We all must be aware of the systemic failures across the world that mean our black community are still treated differently.
Those of you who have been taught by me know that I love to read! I try to read as widely as possible as I believe that reading a diverse range of books allows you to understand people and the world around you in a beneficial way. It is also so important that you see characters like yourselves in books. As you know most of my books are on the windowsills in my classroom, however, I have some important books at home that I wanted to share with you. They include fiction and non-fiction.
As well as those in the photograph, I have put together a list of some texts I have read that are written by black authors. I am sure over the next few days I will remember some more fantastic books, so I will keep adding to the list.
I am thinking of you all.
Best wishes,
Ms Simpson
---
A Grain of Wheat by Ngugi wa Thiong'o
Ain't I a Woman: Black women and Feminism by bell hooks
Americanah by Chimamanda Ngozi Adichie
An American Marriage by Tayari Jones
Another Country by James Baldwin
Becoming by Michelle Obama
Beloved by Toni Morrison
Breath, Eyes, Memory by Edwidge Danticat
Fruit of the Lemon by Andrea Levy
Girl, Woman, Other by Bernadine Evaristo
Half of a Yellow Sun by Chimamanda Ngozi Adichie
Homegoing by Yaa Gyasi
I Know Why the Caged Bird Sings by Maya Angelou
Invisible Man by Ralph Ellison
Krik Krak By Edwidge Danticat
My Sister, the Serial Killer by Oyinkan Braithwaite
Nervous Conditions by Tsitsi Dangarembga
Noughts and Crosses by Malorie Blackman
On Beauty by Zadie Smith
Our Sister Killjoy by Ama Ata Aidoo
Purple Hibiscus by Chimamanda Ngozi Adichie
Roll of Thunder, Hear My Cry by Mildred D. Taylor
Second Class Citizen by Buchi Emecheta
Sister Outsider: Essays and Speeches by Audre Lorde
Small Island by Andrea Levy
The Autobiography of Malcolm X by Malcolm X
The Fishermen by Chigozie Obioma
The Hate U Give by Angie Thomas
The Joys of Motherhood by Buchi Emecheta
The Lonely Londoners by Sam Selvon
The Private Joys of Nnenna Maloney by Okechukwu Nzelu
The Underground Railroad by Colson Whitehead
There ain't no Black in the Union Jack by Paul Gilroy
Things Fall Apart by Chinua Achebe
Trumpet by Jackie Kay
We Should all Be Feminists by Chimamanda Ngozi Adichie
White Teeth by Zadie Smith
Why I'm No Longer Talking to White People About Race by Reni Eddo Lodge
Zami: A New Spelling of My Name by Audre Lorde
LGBTQ+ Poem
She tells herself
"You're into boys."
But deep down
She knows that
They make too much noise
She tells herself
"You like their taste."
But deep down
She finds it ugly
When they do a race
She tells herself
"I like boys."

She can't like anyone else
She knows she's not like the rest
Like the rest of the girls
She was never the ones
The ones to adore pearls
So what was so wrong?
She knows that she's different
Left out
She thinks
That maybe to find boys
She'd apply for scouts

But that didn't work
She felt so lost
"You're into boys"
Then why has she been tossed?
"You're into boys."
But deep down
Her picture of a lover
Is long hair
Rosy lips
And curvy hips
She knows it's wrong
But maybe
Being gay
Maybe that's;
That's okay.

Lilia 10W
Diversity Magazine Issue 1 March 2020
Black History Month Celebrations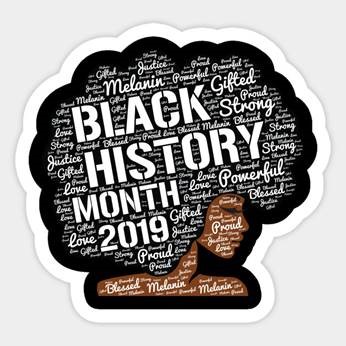 In our school community we celebrate Black History Month throughout the year not just in October!
Here are some great events that took place last year in our school: a Diversity trip to see Ballet Black perform at the Theatre Royal Stratford East, Humanities research on black individuals of significance from History, Geography and Religion, a special assembly from Equal Opportunities Student Group etc.
The 2019 theme is Black migrations.
Please visit the Black History Month website for events, articles and videos.
There will be many events in our school including another diversity / drama trip to see Master Harold and the boys at the National Theatre, a Leadership Team assembly on Black Britain, Student Progress Leader assemblies on The Importance of Celebrating Black History Month etc.
Ms Desbenoit
Diversity Coordinator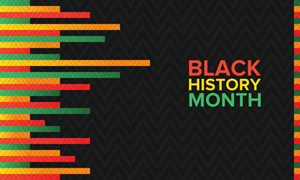 Diversity Workshops

All Year 8 students were lucky to participate in a one hour Diversity workshop in June.
The aim of the workshop was to give our students an opportunity to engage with issues around sexual orientation and gender identity in a safe and open environment.
The key messages were ones of kindness, respect and equality.
In our school we want students to feel free to express themselves and feel valued for their uniqueness.
We listened to LGBT volunteer role models whose powerful stories gave an insight in to the experiences of LGBT people. A Q&A followed which helped develop students' empathy, understanding and acceptance and challenge stereotypes and prejudice.
Here are their views:
I really enjoyed this workshop because of how everyone came together and expressed their feelings on LGBT+. It's really wonderful that the charity is spreading more awareness on the subject. I felt like it was a very safe and accepting atmosphere and overall believe everyone should receive a chance to speak to them also -Aliyah 8S

I thought this session was very good to help inform people about different people's stories and how you never know what people go through in life- Bo 8F

I liked how open the role models were and how open we could be with them. It was nice learning about LGBT+ because it opened my eye more to this community- Rachel 8F

The atmosphere was really inviting and Tanya and Alex's stories were very inspirational and made me realise that anyone can be who they want to be and we should accept anyone who is part of LGBT+ and never judge them if we don't know their full stories. Katie was also really helpful with the meanings of terms – Amber 8W

I think all schools should get to have this workshop because it would be really beneficial to people wanting to come out as it would make them feel safe and secure. - Aoife 8S

What I liked about the workshop is that it educates people to be more open minded and confident to discuss LGBT+ topics, which helps us become kinder and more accepting. –Amanta 8S

I really enjoyed this workshop because their stories were really relatable and it was really educational. No one felt awkward or uncomfortable. – Jay Ming 8F

You should accept people for who they are and not treat anyone any differently. – Jessica 8F

I liked the fact that the two role models had the courage and confidence to tell their stories and their message. It was a phenomenal activity and very inspiring.-Destiny 8C

I really enjoyed all of the session and all of the honesty. During the session, we were able to hear both stories and how they felt when they came out. They told us how to be supportive and that was really helpful. - Ornalda 8C

I liked that I learnt new things about the LGBT+ community and how to understand people better, really enjoyed it. – Tatiana 8H

I enjoyed how they told their own stories to inspire us and convey messages such as you should try to be a supportive friend to anyone you know comes out to you because it's a privilege they trust you. - Anisa 8H.

I have now a bigger understanding of the LGBT+ community. The role models were really brave and I think everybody should see this work shop. – Deja 8H.

I really enjoyed this session as it showed me and others that you shouldn't be afraid to be yourself. It's wonderful how Tanya and Alex shared their personal stories to all of us. I found them so inspirational and brave– Ilgin 8G.
I was very proud of how well our students behaved and how respectful and open minded they were.
Ms Desbenoit
Diversity Coordinator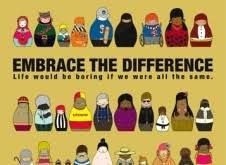 Alan Turing Monopoly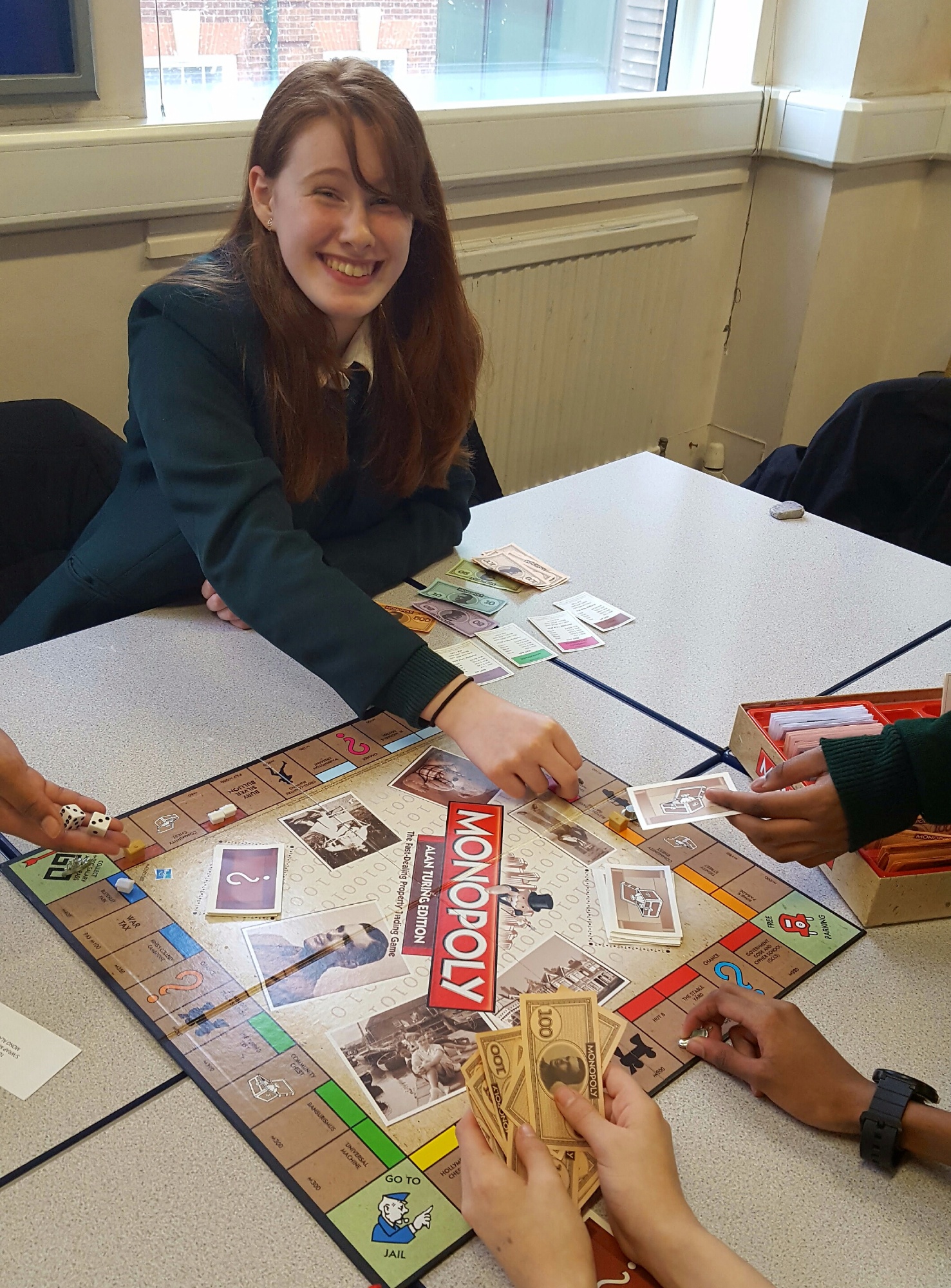 In celebration of the life of Alan Turing, members of Year 9 have been playing the Alan Turing edition of Monopoly. It is based on a hand-drawn version of the game which Alan played over 50 years ago. The original can be seen in the Bletchley Park Museum.
Ms Robinson
Challenge Co-ordinator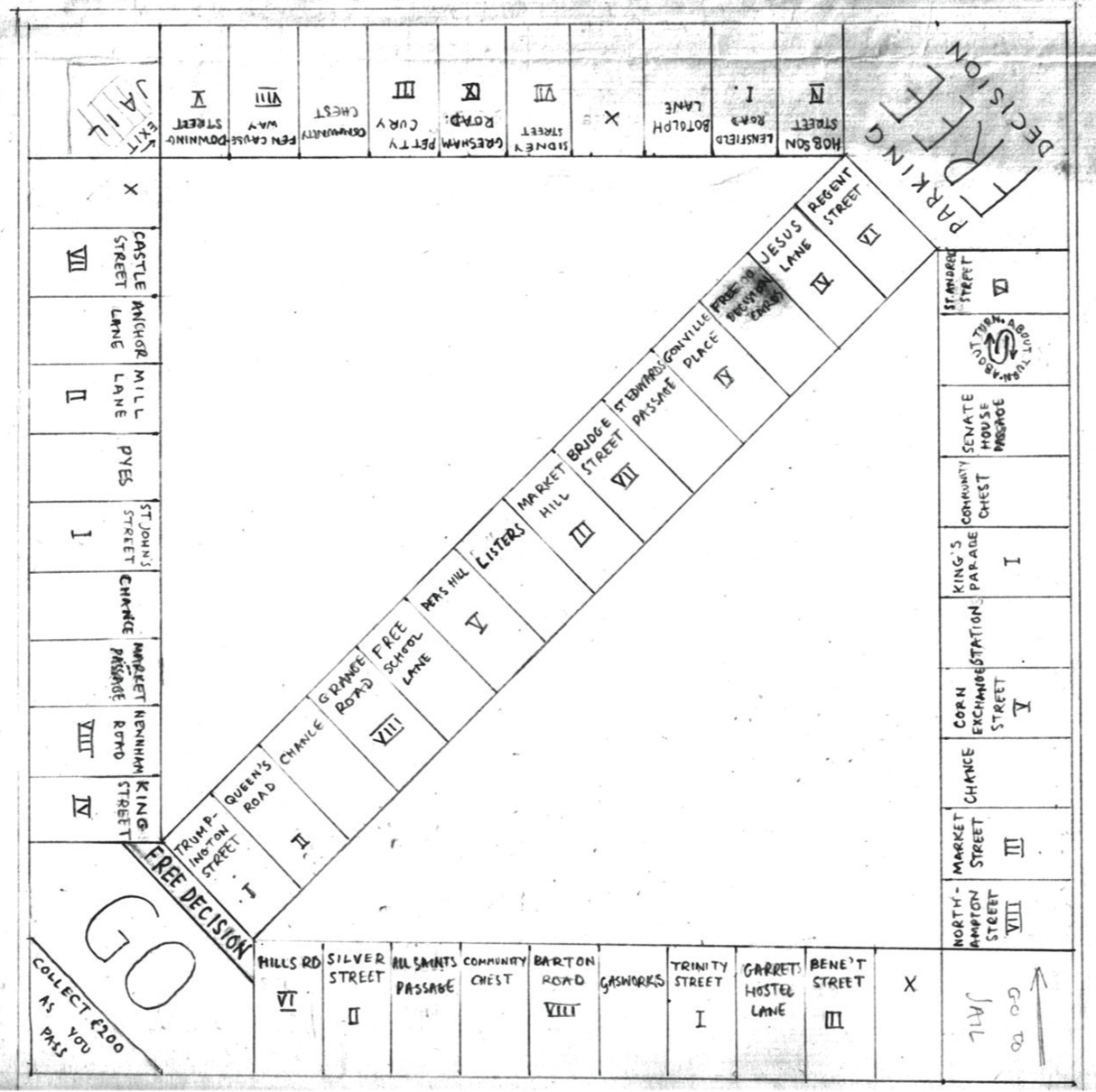 ---