Year 10
Key Dates for Year 10 2019-20
| Date | Event |
| --- | --- |
| 10 October | Early Closure at 14.30 for Open Evening |
| 11 October | School Closure for Staff Training |
| 15 October | Parent Information Evening |
| 9 December | School Closure |
| 10 December | Early Closure at 14.30 for Community Party |
| 12 December | Christmas Concert |
| 20 December | End of Autumn Term, Early Closure at 13.00 |
| 6 March | International Women's Day |
| 26 March | Parents' Evening |
| 8 May | Bank Holiday (Friday) |
| 13 May | Early Closure at 14.30 for Staff Training |
| 1-26 June | Year 10 Exams |
| 22-26 June | MFL Oral Exams |
| 10 June | Early Closure at 14.30 for Staff Training |
| 29 June - 10 July | Work Experience Fortnight |
| 15 July | Exam Results Event |
| 17 July | End of Summer Term, Early Closure at 13.00 |
Parent Information Evening - Tuesday 15th October 2019
On Tuesday 15th October we will be holding a Year 10 Parents Information Evening in the Hewett Hall. The doors will open at 5:45 pm for a prompt 6:00 pm start. The aim of this Information Evening is to provide you with details on key events your daughter will need to prepare for this year including:
New GCSE curriculum/Measuring progress
GCSE Expectations and Revision techniques (English, Maths and Science)
E-Safety awareness for KS4 students
Work Experience
We would like all students to be supported at this meeting by an adult and so no student will be allowed to attend without a parent or carer present. The event will finish at approximately 7:00 pm.
If you have any further questions regarding the Year 10 Parent Information Evening please do not hesitate to contact Ms Kennedy, Deputy Headteacher responsible for Key Stage 4 or Mrs Jean-Baptiste, Year 10 Student Progress Leader.
Ms L Wood
Year 10 Student Progress Leader
If you were unable to attend, the information given can be found here
Christmas Jumper Day
WSFG will be supporting Save The Children with a Christmas Jumper Day on Friday 13 December. A donation of £2 is required to take part in the event. This money will need to be given to Charity Reps who will take it to the Finance Office on Friday 13 December.
If you are taking part you will not need to wear your blazer but all other uniform/lanyard/jewellery rules apply. If you have any questions please see Ms Warren.
Thank you.
Work Experience Opportunity
Technology Company Capgemini has been in touch to say that their Work Experience application process is now open.
Some of you went to Capgemini on a trip last year and had a fantastic time!
If you are interested, please see Ms Philippou asap for application details.
Thanks
Ms Philippou
Advice Evening @ Monoux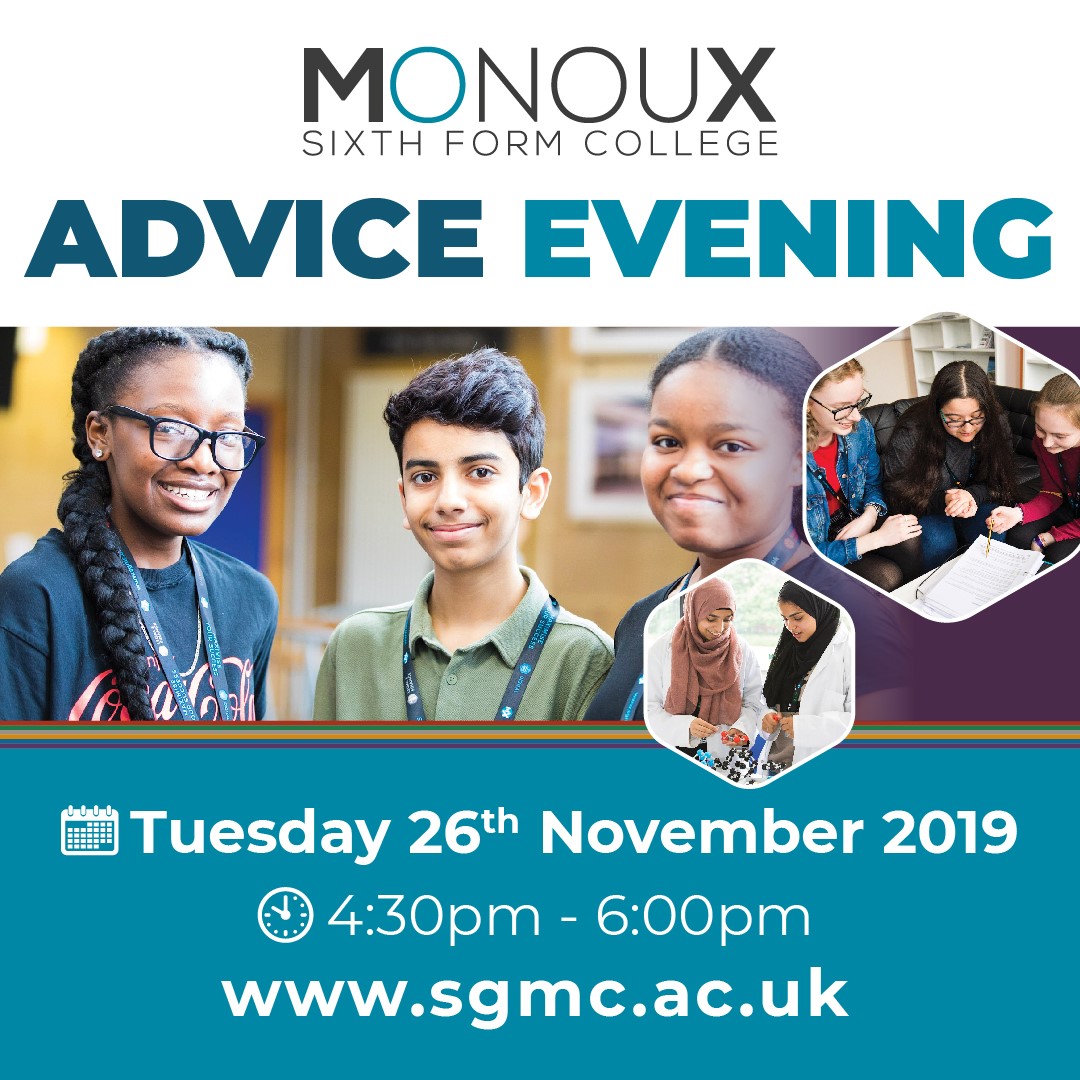 Key Stage 4 Book Deposits -important information!

On Tuesday morning all students who have paid a book deposit will be issued with a receipt.
You must keep this card in your conduct card wallet so that teachers can issue you your books.
At the end of a lesson, you will be required to show the card when books are being collected in from those students who have not yet paid their deposit.
For those students who have not yet paid their book deposit, once it has been paid on sQuid you should go to student services where payment will be checked and a receipt issued.
For Year 11 students who have not paid by October half term, you will be required to return books that have so far be loaned to you.
If your parents are having difficulty paying on sQuid, please see Ms Jolliffe at Student Services who will be able to issue instructions and guidance.
Ms Kennedy
Deputy Headteacher
Sketch Books
Please note all Sketchbook purchases MUST be made via sQuid.
Many thanks
Mrs R Jolliffe
Student Services
African Adventures Youth Development Programme

Dear Parents/Carers and Students
As you know, we run a very exciting school trip to Zanzibar with African Adventures. As much as we would love to, we can't take everyone, but we would like all of our students to have valuable, life changing experiences like this.
African Adventures have contacted us to let us know that they have launched their Youth Development Program which runs next summer for 16 to 18 year olds.
Individuals can choose between trips to Ghana, Kenya and Zanzibar.
Although this trip isn't run through our school, we would highly recommend African Adventures and the opportunities they offer. This will also be a fantastic opportunity to meet other like minded young people and to make new and exciting connections.
You can find all of the details at www.african-adventures.co.uk/ydp
It would be fantastic to see some of our students get involved.
If you have any further questions, you are welcome to email me on mphilippou@wsfg.waltham.sch.uk and if I can't answer your query I can pass it on to the African Adventures Team.
Good luck!
Ms Philippou
Assistant Headteacher
Chemistry Revision
Great summary sheets for all Chemistry topics:
Find these summary sheets for all AQA GCSE Chemistry / Trilogy topics here at
OR
I have also saved the relevant sections in Student resources/ Science/ 0 new AQA /Chem revise summary sheets (You tube)
Ms Brunas
Violence Against Women and Girls Project (VAWG)
Dear Parents and Carers
WSFG is working in partnership with various organisations in the Borough to raise awareness of violence against women and girls in Waltham Forest.
As a girl's school, we are a hub for young women to learn about this external challenge that can affect the well being of all. This project is aimed at Years 8-10 in particular.
The main focus of the project is building support in preventing and offering early help in relation to VAWG.
WSFG is one of a few secondary schools in Waltham Forest to embrace this whole school approach to this issue.
Ms Pratt
Assistant Headteacher
Lunch Money Loans
The number of students borrowing money for lunch increased dramatically last school year. Lunch money loans should be for emergency purposes only.
Walthamstow School for Girls offers a Top-Up facility via sQuid enabling both students and parents to check balances, top-up lunch money, pay for trips and other sundry items at their own convenience.
An automatic Top-Up can also be activated ensuring your daughter never runs out of money.
A reminder to parents/carers that if you wish to pay for your daughter's school meals by cheque, please make the cheque payable to 'Olive Dining Ltd'.

All students have also been given usernames and passwords to enable payments to be made online via our sQuid system. If you would like a reminder of your daughter's username and password please contact Student Services.
Ms Jolliffe
Student Services
GCSE Science Revision Guides
Science GCSE Revision Guides
The Science Department will be selling AQA GCSE Science Revision Guides to Years 9 & 10 from Student Services at a much reduced price.
You are able to buy them from Student Services for the following prices:
Combined Science (Higher or Foundation) £8.00 (list price £16.99)
Triple (Higher tier only - for students taking separate science) £11.00 for all 3 books (list price £32.97)
We would like to encourage all students to purchase the guide(s) as they will be a great aid to revision and learning.
Students entitled to Free School meals are able to purchase the books at half the price, £4 for combined, £5.50 for triple.
Mr Kerr
Head of Science
PSHE in Year 10