Year 10
2022-2023
KEY DATES 2022-2023

Parent / Carer Information Evening
---
2021-2022
Triple Science Option
Dear parent/carer
The school has undertaken a significant review of curriculum at both KS3 and KS4 over the last term which has resulted in us planning for significant changes to the Science provision at KS3 and KS4.
The letter linked below details these changes and how we plan to support students and families over the coming weeks with regard to this.
As detailed in the letter, we plan to offer an information evening to support families and have included an opportunity to submit questions for this information evening. Your questions can be submitted on this link.
Yours faithfully
Nick O'Brien
Deputy Headteacher/Director North East London Teaching School Hub (NELTSH)
Worried or Anxious?
Lunch Money Loans
The number of students borrowing money for lunch increased dramatically last school year. Lunch money loans should be for emergency purposes only.
Walthamstow School for Girls offers a Top-Up facility via sQuid enabling both students and parents to check balances, top-up lunch money, pay for trips and other sundry items at their own convenience.
An automatic Top-Up can also be activated ensuring your daughter never runs out of money.
A reminder to parents/carers that if you wish to pay for your daughter's school meals by cheque, please make the cheque payable to 'Olive Dining Ltd'.
All students have also been given usernames and passwords to enable payments to be made online via our sQuid system. If you would like a reminder of your daughter's username and password, please contact Student Services.
Ms Jolliffe
Student Service
---
2020-2021
New BAME Student Group

Dear Students,
We would like to set up a BAME group for students of Black, Asian and other Ethnic Minority groups.
Please complete this Questionnaire so we can make this happen.
The aim of this work is to create a 'safe space' for students to express their views and concerns in a non-judgmental environment where your peers understand and are able to empathise with you.
We would like to hear your views on how we can make this work so that it is an empowering and impactful group for you to be involved in and to make a difference.
Your view is important and change cannot happen unless you get involved.
Best wishes,
Mrs Jean-Baptiste
Associate Assistant Headteacher / Year 7 Student Progress Leader
GCSEPod
4 January 2021
Dear Year 9 Students and Parents/Carers
In order to support your remote learning, we would like students to activate their GCSEPod account. This is a GCSE platform that we already pay for as a school subscription and this has helped support learning in Year 9 , Year 10 and Year 11. All students in Year 9 are already registered on this system through the school and so you will need to activate your GCSEPod account. Click on this link or type 'GCSEPod' into your browser.
Go to the button "New to GCSEPod? Get Started" and follow the instructions. It is really important that you use the name that is listed for you in our school registration system so that your details can be matched up.
Spend some time getting to know the features of the platform and how the subjects are organised. GCSE subjects are broken down into topics and each topic is broken down into smaller chunks of information called 'pods' - each 'pod' is a short video that contains an explanation of a particular topic.
If you ever forget your username or password, your SPL, tutor or class teacher can check it for you and can reset your password, so please let them know!
Teachers will be setting you 'pods' to watch as part of their remote learning from next week and these will show up in the section called "assignments" within GSCEPod: teachers will leave instructions on the assignment and a deadline. When you watch a pod, make sure that you watch it to the end, make notes while you are watching in your exercise book (or on paper) and then complete the assignment so that your teacher can see that you are completing the work that has been set.
Kind regards
Ms Kennedy
Deputy Headteacher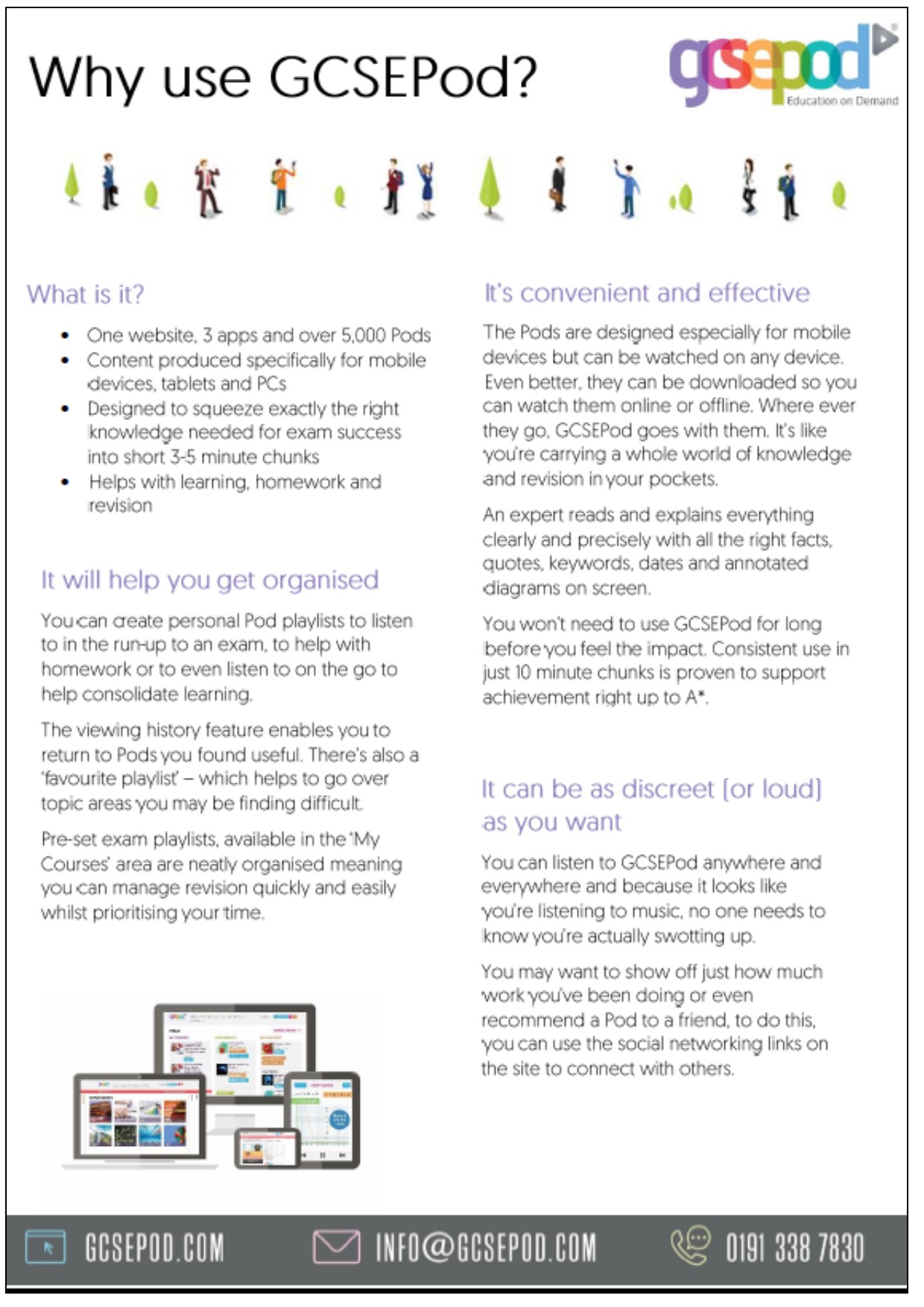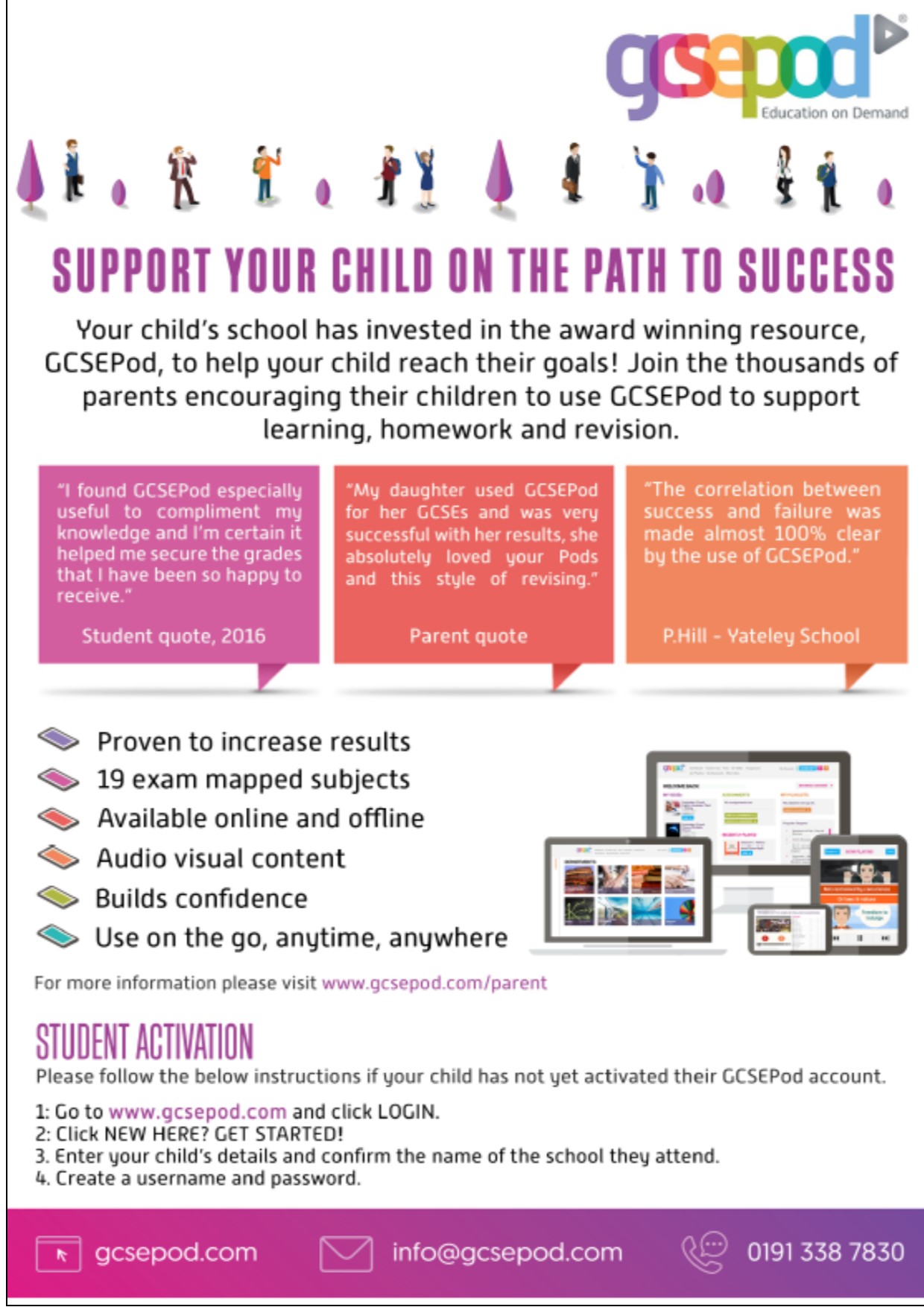 ---
2019-2020
A Message from Ms Philippou about START
20 April 2020
Dear Year 8/9 Students, Parents and Carers
I hope this email finds you and your families well.
I wanted to touch base with you with regards to careers and remind you that we have a great resource called Start that you can access.
Start provides lots of helpful advice and activities for you to browse. It has information on post-16 education, university courses, employability skills and on some industries.
Of course, not all of the information or areas listed will be of specific interest to you, but remember to be curious, to explore and to work with what is important and relevant to you. Remember that knowledge is power and the more you know, the better decisions you will be empowered to make in the future.
If you are a student: you can log in using your school profile. Let me know if you need any help. Remember to add your school email to your profile so that you can reset your password when you need to.
If you are a parent / carer: you too can create your own profile using the link above and access the same information as our students. Here are some instructions to help you
I hope that this is helpful.
Kind regards,
Ms Philippou
Assistant Headteacher
Violence Against Women and Girls Project (VAWG)
​
Dear Parents and Carers
WSFG is working in partnership with various organisations in the Borough to raise awareness of violence against women and girls in Waltham Forest.
As a girl's school, we are a hub for young women to learn about this external challenge that can affect the well being of all. This project is aimed at Years 8-10 in particular.
The main focus of the project is building support in preventing and offering early help in relation to VAWG.
WSFG is one of a few secondary schools in Waltham Forest to embrace this whole school approach to this issue.
Ms Pratt
Assistant Headteacher