Year 9
Key Dates for Year 9 2019-20

| Date | Event |
| --- | --- |
| 17 September | Parent Information Evening |
| 10 October | Early Closure at 14.30 for Open Evening |
| 11 October | School Closure for Staff Training |
| 21 November | Parents' Evening |
| 9 December | School Closure |
| 10 December | Early Closure at 14.30 for Community Party |
| 12 December | Christmas Concert |
| 16 December | Geography Trip to Natural History Museum (selected students) |
| 20 December | Options Book available on WSFG Website |
| 20 December | End of Autumn Term, Early Closure at 13.00 |
| 6 February | Options Evening |
| 14 February | Options Deadline |
| 6 March | International Women's Day |
| 23 April | Separate Sciences Test |
| 8 May | Bank Holiday (Friday) |
| 11-22 May | Year 9 Exams Fortnight |
| 13 May | Early Closure at 14.30 for Staff Training |
| 2 June | Holocaust Memorial Day |
| 10 June | Early Closure at 14.30 for Staff Training |
| 19 June | GCSE R.E. Trip to St Paul's & East London Mosque |
| 17 July | End of Summer Term, Early Closure at 13.00 |
Worried or Anxious?
Here is a booklet full of information that we hope will help our students and parents/carers during this uncertain time ...
A Message from your SPL 01 April 2020
1 April 2020
Dear students, parents and carers
I really hope you are all well and your family are healthy and safe at this very difficult time. It has been over a week since you were last in school and I wanted to touch base and reassure you that all staff at WSFG are thinking of you and are here to support you.
In these uncertain times, it is crucial for our school to stick together and to support one another. We have a safeguarding team on hand, so if you have any concerns please get in touch with me or your form tutor and we will contact you to ensure you are safe.
You know I am incredibly proud to be your SPL and it is very hard not to see you all each day and watch you develop further into confident, mature and enthusiastic members of our school community. Remember to look after each other. Minimising stress in times like these is vital for our mental health. Speak to each other on the phone, chat over social media, cheer up friends and family when they are having a down day and together I know we will all get through this situation.
I understand it must be very difficult to get used to this new way of working and I expect many of you are now starting to miss school, but we have to be flexible and adapt to the 'new normal'. You are all extremely resilient and I know you will be keen to continue with your learning and complete the work that has been set by your teachers. It is very important you have a routine to your day and do regular work but try not to get overly stressed and make sure you support each other.
I hope you are getting on well with the work-from-home packs (English, Maths, DT and Humanities) and these are keeping you busy. Make sure you enjoy other activities as well - daily exercise (I can highly recommend Joe Wicks PE lesson on YouTube & I have been doing these workouts every day), reading, keeping a diary, baking and doing whatever makes you happy. Be kind to your family, especially those of you who have siblings … I know they can be hard work sometimes, but we are all in this together and have to look after each other.
You can access learning materials on Teams via the school website Student area, using your Office 365 account. You can access support with Teams here.
We expect you to take a break from work during the Easter holidays, then we will begin the new term working from home using our remote learning technology. You should complete the work being set and let your teacher know you have understood an activity by using a 👍 (thumbs up) on the chat in Teams.
Please contact the school if you have issues with technology access at home. We know that some of you will have to share computers/laptops and that many of you will have to complete work using a mobile phone. Please phone the school and leave a message if you are concerned that you will not be able to access our remote learning technology (before or after the Easter holidays as no-one will be in school during the holidays) and we will get back to you.
We will be setting work for each subject, each week in the Teams Chat. You will submit work through the assignments section of Teams. You will be expected to check the work from each teacher and complete it by the end of the week, but they will not be sitting by their computer in the lesson time so don't expect an immediate answer!
Watch a video on how to submit work on Teams in Assignments if you are not clear:
https://www.youtube.com/watch?v=4_PD6u4w7iM
Submitting An Assignment In Microsoft Teams For Education - YouTube
A Complete Beginners Guide to Zoom (2020 UPDATE) Everything You Need to Know to Get Started - Duration: 36:57. Ben Balden - live a happier, fuller life Recommended for you.
GCSEPod
In addition to the work set on Teams, all Year 9s will be getting information about how to activate your GCSEPod account. We use this currently with Year 10 and Year 11 students. This platform covers many of the GCSE subjects that you will study and is made up of lots of short films called 'pods' that cover subject content. You will be set a small group of 'pods' to watch by your teacher and be expected to make notes on in your exercise book (or on paper).
After watching the pods, you will have a short assignment to complete to show that you have understood the pods and we can see whether you have submitted work to ensure that you do not fall behind. These resources have been designed to use on smart phones and so should be accessible to most of you. You can also download the pods, so you don't use up data. In order to prepare, please follow the registration instructions when you get them. Play around with the website to see how it is organised and watch the introduction films that show you how to navigate the site if you need help.
Please check your school e-mail regularly and check the Year 9 SPL Team for whole year group posts and fun challenges.
I am already very proud of you for the way you have dealt with this incredibly difficult situation, and I know you will do your best to complete the work that we set for you in preparation for GCSEs, and that you will continue to make us all proud.
Remember to stay at home, reflect and be thankful for everything positive in your life, be kind and support those around you. I am missing you all and look forward to seeing you again when we are back in school.
Take care
Ms Warren
Student Progress Leader Year 9
Parent Information Evening - 17th September 6-7pm
You are invited to our Year 9 Parent/Carer Information Evening on Tuesday 17th September in the Hewett Hall.
The doors will open at 5:45pm for a prompt 6:00pm start.
The aim of this Information Evening is to provide you with details on: key events your daughter will need to prepare for this year including:
Assessment System/Measuring Progress
E-safety
Green rewards
Introduction to GCSE Options
Science at Key Stage 4
Introduction to our Safer School Officer
We would like all students to be supported at this meeting by an adult, no student will be allowed to attend without a parent or carer present. The Information Evening is expected to finish at approximately 7:00pm.
If you have any further questions regarding the Year 9 Parent Information Evening, please do not hesitate to contact Ms Snowsill, Deputy Headteacher responsible for Key Stage 3, or myself.
Kind regards
Ms R Warren
Year 9 Student Progress Leader
If you were unable to attend the event, all the information is available here
Engineering Summer School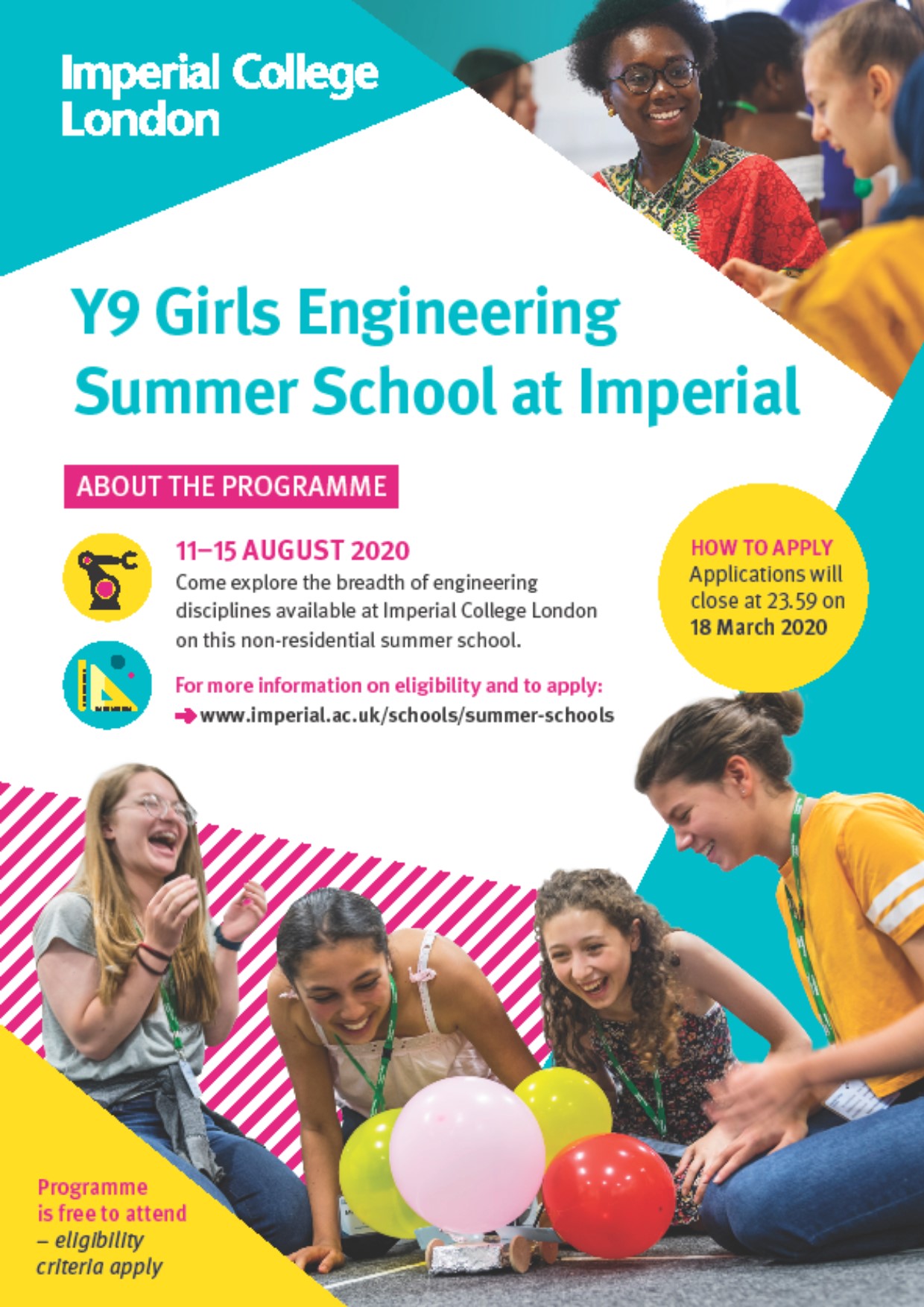 Virgin Money Giving Mini London Marathon
Virgin Money Giving Mini London Marathon
Sunday 26 April 2020
Would you like to represent Waltham Forest in this year's Virgin Money Giving Mini London Marathon on Sunday 26 April 2020
Age categories are:
Boys and Girls – Under 13
Born between 1 September 2006 and 28 April 2009
Boys and Girls – Under 15
Born between 1 September 2004 and 31 August 2006
Selection for Waltham Forest is as follows:
The runner must live or go to school in the borough.
The details of the event are here: https://www.minimarathon.co.uk/en/
Philosophy Club
KS3 Philosophy Club continues this half-term.
All inquisitive minds are welcome.
Philosophy Club topics of the past have included:
· Aliens
· How to change the world
· Language and what should people say and not say.
All topics can be considered and no question is considered too ridiculous.
Anyone interested in KS3 simply have to get a short note to Mr Caps (Humanities, Room S10) explaining why they would like to come and what topics they would like to explore.
Philosophy Club takes place for KS3 after school, every Week B Thursday.
We will start shortly after school and should finish by 4:30.
I look forward to seeing some of you there.
Mr Caps
African Adventures Youth Development Programme
Dear Parents/Carers and Students
As you know, we run a very exciting school trip to Zanzibar with African Adventures. As much as we would love to, we can't take everyone, but we would like all of our students to have valuable, life changing experiences like this.
African Adventures have contacted us to let us know that they have launched their Youth Development Program which runs next summer for 16 to 18 year olds.
Individuals can choose between trips to Ghana, Kenya and Zanzibar.
Although this trip isn't run through our school, we would highly recommend African Adventures and the opportunities they offer. This will also be a fantastic opportunity to meet other like minded young people and to make new and exciting connections.
You can find all of the details at www.african-adventures.co.uk/ydp
It would be fantastic to see some of our students get involved.
If you have any further questions, you are welcome to email me on mphilippou@wsfg.waltham.sch.uk and if I can't answer your query I can pass it on to the African Adventures Team.
Good luck!
Ms Philippou
Assistant Headteacher
Violence Against Women and Girls Project (VAWG)




Dear Parents and Carers
WSFG is working in partnership with various organisations in the Borough to raise awareness of violence against women and girls in Waltham Forest.
As a girl's school, we are a hub for young women to learn about this external challenge that can affect the well being of all. This project is aimed at Years 8-10 in particular.
The main focus of the project is building support in preventing and offering early help in relation to VAWG.
WSFG is one of a few secondary schools in Waltham Forest to embrace this whole school approach to this issue.
Ms Pratt
Assistant Headteacher
Lunch Money Loans

The number of students borrowing money for lunch increased dramatically last school year. Lunch money loans should be for emergency purposes only.
Walthamstow School for Girls offers a Top-Up facility via sQuid enabling both students and parents to check balances, top-up lunch money, pay for trips and other sundry items at their own convenience.
An automatic Top-Up can also be activated ensuring your daughter never runs out of money.
A reminder to parents/carers that if you wish to pay for your daughter's school meals by cheque, please make the cheque payable to 'Olive Dining Ltd'.

All students have also been given usernames and passwords to enable payments to be made online via our sQuid system. If you would like a reminder of your daughter's username and password please contact Student Services.
Ms Jolliffe
Student Services
GCSE Science Revision Guides

Science GCSE Revision Guides.
The Science Department will be selling AQA GCSE Science Revision Guides to Years 9 & 10 from Student Services at a much reduced price.
You are able to buy them from Student Services for the following prices:
Combined Science (Higher or Foundation) £8.00 (list price £16.99)
Triple (Higher tier only - for students taking separate science) £11.00 for all 3 books (list price £32.97)
We would like to encourage all students to purchase the guide(s) as they will be a great aid to revision and learning.
Students entitled to Free School meals are able to purchase the books at half the price, £4 for combined, £5.50 for triple.
Mr Kerr
Head of Science